Hendrix Plays Sgt Pepper
or
A Yankee in King Arthur's Court
June 4, 1967
Hendrix @ Olympia, London December 1967
Hendrix plays Sgt Pepper
Geniuses plus
We all acknowledge the genius of  both the Beatles and Jimi Hendrix, but we typically don't associate the two together. Hendrix famously covered Dylan's "All Along the Watchtower," but not Beatle songs.
Ironically the British Beatles, particularly Paul McCartney, helped put the Yankee Jimi Hendrix on the American map.
Hendrix plays Sgt Pepper
Long time coming
The talented Hendrix had already been an excellent guitarist backing up the Isley Brothers, Rose Lee Brooks, Little Richard, and Curtis Knight.  In 1966 in  Greenwich Village, he fronted Jimmy James and the Blue Flames, but it's lack of success made it an easy decision for him to accept Chas Chandler's offer to come to the UK. Chandler had just left the Animals and in the UK was able to connect Hendrix with various members of the British rock royalty such as Eric Clapton (nearly speechless after his initial experience hearing Hendrix),  Pete Townshend, and Paul McCartney.
Great Britain
Noel Redding came into Hendrix's orbit because Redding was auditioning as a guitarist for the renovating Animals. Mitch Mitchell, a jazz drummer, fit the type of power trio Chandler and Hendrix were building.
Hendrix plays Sgt Pepper
Beatles
The Beatles had completed recording Sgt Pepper's Lonely Hearts Club Band on April 21, 1967 and the world received it on June 1. How Hendrix first heard the album, whether he purchased his own copy or Paul McCartney had given an copy to him, isn't important. What is interesting was the Experience's opening number at their concert only three days later: "Sgt Pepper's Lonely Heart's Club Band." Hendrix may not have even known that McCartney and Harrison were in the audience.
Monterey Pop invitation
Even more important was what Hendrix did two weeks later at the last when he played the Monterey International Jazz and Pop Festival and changed American music forever.
Why was he playing that event? The festival's organizers had invited the Beatles to play, but they declined as they still did not want to be on a live stage. They did do an illustration for the event: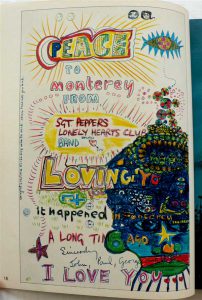 Jimi Hendrix Plays Sgt Pepper
Recommendation
Paul McCartney and the Beatles did something else. McCartney strongly recommended the "unknown" Jimi Hendrix Experience. And who would say no to a Beatle recommendation?
Paul McCartney and Ringo Starr had first seen The Jimi Hendrix Experience performing on 11 January 1967 at the Bag O'Nails club in London.
So it was on June 4, 1967 that McCartney, George Harrison, Jane Asher and Pattie Boyd watched them headline a bill at the city's Saville Theatre.
Hendrix plays Sgt Pepper
Beatles > Jimi
Thank you Jimi. Thank you Paul and the Beatles. We may have heard Jimi on this side of the pond without your help, but we certainly did because of your help.