Richard George Manuel
April 3, 1943 – March 4, 1986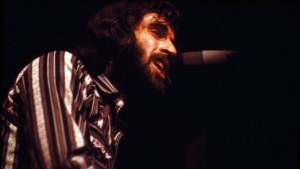 "She Knows" 1985-12-13, O'Tooles Bar, Scranton, PA by Rick Danko & Richard Manuel
Richard George Manuel
E  Pluribus Unum Band
It goes without saying that the five members of The Band were an amazing ensemble. Each contributed to a greater whole. Levon Helm's spice from the American South; Robbie Robertson's compositions; Rick Danko's humor; and Garth Hudson's keyboard anchor. An angelic Richard Manual hovered over all. Mainly on piano, it was his voice, sometimes a pulsating baritone, other times a hair-raising falsetto, that glued all.
Richard George Manuel
The Beginning 
Richard George Manuel was born in Ontario, Canada. His musical path parallels that of many musicians: he began playing piano at an early age and later formed a band, the Revols, with other teenage friends.
Dame Fortune always plays a part on our journey and after the Revols shared a bill (theirs in smaller letters) with Ronnie Hawkins and the Hawks. Hawkins recognized the genius of Manuel and put him in the band.
Richard George Manuel
Dylan arrives
In 1966, Dame Fortune smiled again. Or perhaps she smirked a smile. Having left Ronnie Hawkins and gone out on their own, Bob Dylan asked the five of them to back him on his new electric adventure. They did and became Bob's band before simply becoming The Band.
It was through Dylan that the band met his manager, Albert Grossman. And also through Dylan that, following his recuperation from a motorcycle accident, the band moved to  a house in West Saugerties, NY near Woodstock. The house was pink and, of course, the inspiration for their first album.
Richard Manual wrote three of the album's twelve songs: "In a Station," "We Can Talk," and "Lonesome Suzie." He co-wrote "Tears of Rage" with Bob Dylan.
Life in music's fast lane offers many diversions and addictions to heroin, cocaine, and alcohol grasped Manuel. His songwriting and general contributions to the band diminished.
Thanksgiving Day 1976 brought the Band's figurative and literal Last Waltz. The five would never take the stage again.
Richard George Manuel
Time out
The break-up provided Manuel with a respite which he used to recover from his addictions. During the early 80s he again performed, sometimes with a reconfigured Band, sometimes as part of an acoustic duo with Rick Danko.
Unfortunately, but the mid-80s, his addictions controlled him again and on March 4, 1986 he wife found him dead. He had hung himself.
In 1994, Manuel was posthumously inducted into the Rock and Roll Hall of Fame as a member of the Band.
               Three songs were later written in his memory:
The Band, "Too Soon Gone" (1993)
Ronnie Hawkins, "Days Gone By" (1995)
Robbie Robertson, "Fallen Angel" (1987)
…of the three, Robbie Robertson's is my favorite:
---
Are you out there?
Can you hear me?
Can you see me in the dark?I don't believe it's all for nothing
It's not just written in the sand Sometimes I thought you felt too much
And you crossed into the shadow land And the river was overflowing
And the sky was fiery red
You gotta play the hand that's dealt ya
That's what the old man always said Fallen angel
Casts a shadow up against the sun
If my eyes could see
The spirit of the chosen one In my dream the pipes were playing
In my dream I lost a friend
Come down Gabriel and blow your horn
'Cause some day we will meet again
All the tears, all the rage
All the blues in the night
If my eyes could see
You kneeling in the silver lightFallin', fallin', fallin' down
Fallin', fallin' down
Fallin', fallin', fallin' down Fallen angel
Casts a shadow up against the sun
If my eyes could see
The spirit of the chosen one All the tears, all the rage
All the blues in the night
If my eyes could see
You kneeling in the silver lightIf you're out there can you touch me?
Can you see me? I don't know
If you're out there can you reach me?
Lay a flower in the snow
---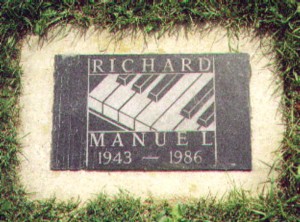 Richard George Manuel