Anthony Ray Hinton released
"They took off the white robe and put on a black robe."
Released April 3, 2015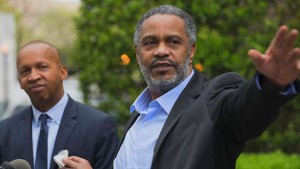 Anthony Ray Hinton released
Conviction
An Alabama jury convicted 29-year-old Anthony Ray Hinton of murdering two  fast-food managers in separate incidents in 1985.
The evidence was weak and his defense weaker. The only evidence linking Hinton to the crimes were bullets that allegedly had markings matching a revolver that belonged to Hinton's mother. There were no fingerprints or eyewitness testimony. After Hinton was convicted, subsequent tests found the bullets at the scene could not be matched to the gun he was accused of using.
Anthony Ray Hinton released
Death Penalty
But Alabama sentenced him to die. In 2003, a New York Times article wrote, "There are reasons beyond the firearms evidence to doubt Mr. Hinton's guilt. He was at work, several people testified, when the third shooting happened. The car he was said to have driven on the night of the third shooting had been repossessed months before. The restaurant robberies continued after his arrest." 
Hinton's court-appointed lawyer had spent only $1000 on an expert witness (despite the fact that Alabama law provides reimbursement for any reasonable defense expenses.) whose testimony was so weak he could not answer basic questions. 
Equal Justice Initiative
On February 24, 2014, through the efforts of the Equal Justice Initiative group, the US Supreme Court declared that "the criminal (Hinton) defendant's Sixth Amendment right to counsel is violated if his trial attorney's performance falls below an objective standard or reasonableness and if there is a reasonable probability that the result of the trial would have been different." (full text of Supreme Court decision)
According to the EJI site, "The Equal Justice Initiative is a private, nonprofit 501(c)(3) organization that provides legal representation to indigent defendants and prisoners who have been denied fair and just treatment in the legal system."
The site also states that, "3170 people in the United States currently are under a death sentence. Since the death penalty was reinstated in 1976, 1314 men, women, children, and mentally ill people have been shot, hanged, asphyxiated, lethally injected, and electrocuted by States and the federal government."
Victory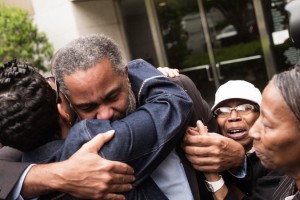 On April 3, 2015, Anthony Ray Hinton  was freed after EJI and its experts undermined the Alabama's case.
Anthony Ray Hinton released
ABC News report
Post release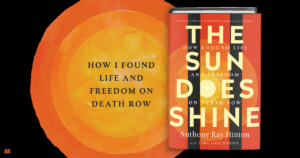 Since his release, Hinton has spoken in various venues about the injustices of the Alabama judicial system and other issues related to his conviction and imprisonment. He completed a memoir entitled The Sun Does Shine: How I Found Life and Freedom on Death Row (2018), and has given readings and talks around the country about the book and his experiences.
Anthony Ray Hinton released