Cannot Buy Beatles Love
April 4, 1964
Hit #1 on Billboard
Cannot Buy Beatles Love
Number 1
It's April 1964 and Beatlemania is world-wide.  The Beatles released "Can't Buy Me Love" on March 16 of that year and by April 4 it was, not surprisingly, #1.
Oh yea, and numbers 2, 3, 4, and 5 were also Beatle songs!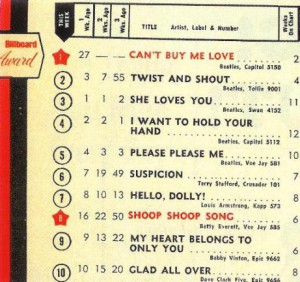 Cannot Buy Beatles Love
Me love or my love?
As infected as any teenager, I automatically loved the song, though the title seemed grammatically confusing.  Did they mean, "You cannot buy love for me"? Unfamiliar with the British use of "me" for "my", "You can't buy my love" didn't occur to me. 
In any case, I had my transistor radio on as I walked weekdays delivering the local evening newspaper or on Friday evenings collecting the paper's weekly charge (33 cents)  from my customers.
My radio was simply AM, of course. I hoped WABC or WMCA would play a few in a row and skip some commercials. It was still a few years away from a couple FM station owners realizing that these kids with paper routes had money to spend.
Cannot Buy Beatles Love
Paris inspired
The Beatles had performed for 18 days at the Paris Olympia Theatre, on a nine-act bill, playing two and sometimes three sets each day from January 16 to February 4, 1964.  They had just two days off in the run, on 21 and 28 January. It was during this time that Paul wrote "Can't Buy Me Love."
By the way, keep in mind that three days after that grueling 18 day visit, they flew to the United States for the first time for their famous Ed Sullivan Show appearances. 
Cannot Buy Beatles Love
Can't Buy Me Love
Paul McCartney in Barry Miles's Many Years from Now  said, "'Can't Buy Me Love' is my attempt to write a bluesy mode. The idea behind it was that all these material possessions are all very well but they won't buy me what I really want. It was a very hooky song. Ella Fitzgerald later did a version of it which I was very honoured by."
"Can't Buy Me Love" was mostly recorded on January 29, 1964 at EMI's Pathé Marconi Studios in Paris. It was the first the first Beatle single to feature just one lead singer.
Cannot Buy Beatles Love
Allan W Pollack
Allan W Pollack at his amazingly thorough Soundscape site writes: "We have here a very standard long form with two refrain-like bridges separated by two verse sections, one of which contains a guitar solo. However the combination within the same song of a verse section so traditionally bluesy with a refrain, intro and outro that is equally so non bluesy is far from routine and makes this number truly groundbreaking in its own quiet way."
That's exactly what I was thinking in 1964 while I delivered The Bergen Evening Record.
NOT!
Cannot Buy Beatles Love