Chuck Berry Johnny B Goode
released March 31, 1958
---
"Johnny B Goode was not Chuck Berry's first hit. He had topped the R & B charts with his first single, "Maybellene"  in 1955.  "Roll Over Beethoven" (1956) hit #2; "Too Much Monkey Business" (1956) #4; "School Day (Ring! Ring! Goes the Bell)" #1 in 1957.
And in 1957 he'd already had a R & B #1 with "Sweet Little Sixteen."
Chuck Berry Johnny B Goode
Johnny B Goode
Berry's "Johnny B Goode" was mostly autobiographical, though he was actually born in St Louis, not deep down in Louisiana close to New New Orleans way back up in the woods among the evergreens. But his St Louis street address was 2520 Goode Avenue. Love that trivia.
It is a song about the American Dream. It is about hope. That talent will prove out.
His mother told him "Someday you will be a man,
And you will be the leader of a big old band.
Many people coming from miles around
To hear you play your music when the sun go down
Maybe someday your name will be in lights
Saying "Johnny B. Goode tonight."
The song has become American icon covered by dozens of performers and with Chuck's sad death on March 18, 2017 we must carry his torch.
The song is ranked as number seven on Rolling Stone magazine's list of "the 500 Greatest Songs of All Time.
Many write of the similarity of Johnny B Goode's opening to Louis Jordan's "Ain't That Just Like a Woman." You can decide.
Berry's recording of the song was included on the Voyager Golden Record, attached to the Voyager spacecraft.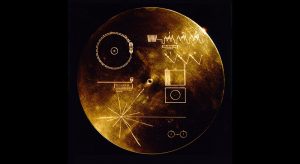 Keith Richards inducted Chuck Berry into the first Rock and Roll Hall of Fame on January 23, 1986.
His bio from the Rock and Roll Hall of Fame sums up Chuck Berry's contributions: 
While no individual can be said to have invented rock and roll, Berry arguably did more than anyone else to put the pieces together. As rock journalist Dave Marsh wrote, "Chuck Berry is to rock and roll what Louis Armstrong is to jazz." On "Maybellene" – Berry's first single, released in 1955 – he played country & western guitar licks over a base of rhythm & blues. The distorted sound of Berry's guitar captured the rough, untamed spirit of rock and roll. The song included a brief but scorching solo built around his trademark double-string guitar licks. It kicked off Berry's career in style and paved the way for a steady stream of classics over the next decade.
Berry died on March 18, 2017. (NYT obit)
Chuck Berry Johnny B Goode