Road From Woodstock To Bethel
---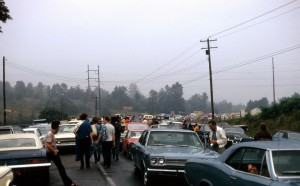 Woodstock Haze
Many people visit the town of Woodstock, NY to find Max and Miriam Yasgur's farm because of the oft told, but inaccurate, story:  that is where the Woodstock Music and Art Fair was.
Another inaccuracy is that the town of Woodstock denied Woodstock Venture's request to hold it  in the town itself.
Keep in mind that Michael Lang and Artie Kornfeld's original idea (one that Kornfeld has said was actually his wife's idea) was to create a recording studio in Woodstock. Many musicians lived in, near, the often visited the town.
Though Bob Dylan was the most notable among those musicians, Bob's band, The Band, was there of course and others included Janis Joplin, Richie Havens, Paul Butterfield, Van Morrison, John Sebastian, and even Jimi Hendrix.
(As an aside, it continues to confuse me why Lang and Kornfeld thought of studio would be a good idea when Albert Grossman was already doing just that and his Bearsville Studios would open in 1970.)
Lang and Kornfeld had proposed the studio idea to John Roberts and Joel Rosenman (already involved in Media Sound) in early February.
Road From Woodstock To Bethel
Woodstock Ventures
Their company, Woodstock Ventures, formed on February 28, 1969 (legally minus Kornfeld who was under contract to Capitol Records). Their general goals were to:
a recording studio in Woodstock

a music festival in nearby Saugerties (~ 10 miles away)
Road From Woodstock To Bethel
Rapid plans
In a month, things happened quickly regarding the festival's site.
March 29, 1969, Michael Lang had found a suitable site in Saugerties, NY right off the NY Thruway. On this date, John Roberts and Joel Rosenman met with a Mr Holmes, the lawyer for the site's owner, Mr Shaler. The lawyer emphatically told Roberts and Rosenman that the site was not for rent for such a purpose.

March 30, 1969, after the Saugerties refusal, Roberts and Rosenman spoke to Howard Mills about a piece of land in Wallkill, NY that Mills was going to develop. Mills agreed to rent the site for the festival.
You will notice that the town of Woodstock was not part of the festival's picture. It did not "refuse" or "kick out" Woodstock Ventures. And the owner of the proposed Saugerties site simply refused.
In other words. The…
Road to Woodstock
was actually the…
Road to Wallkill
which actually led to the…
Road to White Lake
but really to...
Bethel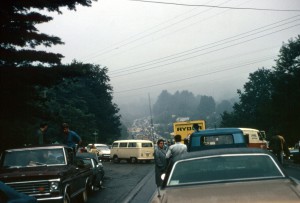 ---
Road From Woodstock To Bethel