September 12 Peace Love Art Activism
STUDENT ACTIVISM

September 12, 1905: The Intercollegiate Socialist Society (ISS) began. It was a national non-party group dedicated to the organization of current and former collegians for the socialist cause and the spreading of socialist ideas on campus. [Marxist History dot org article] (see December 2, 1964)
September 12 Peace Love Art Activism
US Labor History
Woonsocket strike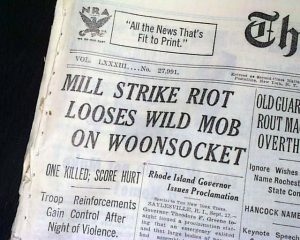 September 12, 1934: National Guardsmen fired on "sullen and rebellious" strikers at the Woonsocket (Rhode Island) Rayon plant, killing one and injuring three others. A correspondent said the crowd of about 2,000 "went completely wild with rage." Word spread, 6,000 more workers arrived at the scene and the city was put under military rule. The governor declared that "there is a Communist uprising and not a textile strike" in the state. [RI History article]  (see April 8, 1935)
September 12 Peace Love Art Activism
BLACK HISTORY
Cooper v. Aaron
September 12, 1958:  the Supreme Court asserted the supremacy of the Constitution as the law of the land and the authority of the federal courts to enforce lawful court orders. The case arose from the 1957 conflict over the integration of Central High School in Little Rock, Arkansas, in the face of opposition from local officials and a pro-segregation mob.
Important as it was in terms of constitutional law, Cooper v. Aaron did not end the school integration crisis in Little Rock. The decision applied only to orders from the lower courts. In the summer of 1958, segregationists who controlled the Little Rock school board voted to close the schools rather than integrate them. Thus, in what is known as "the lost year," the city's public schools were closed for the 1958–1959 academic year. They reopened in the fall of 1959 after citizens and business leaders, concerned about the impact of closed public schools on the city's future, captured control of the school board and reopened the schools. (additional info via PBS) (BH, see Sept 20; SD, see Sept 27)
Albany Movement
September 12, 1962: Martin Luther King Jr. decried the pace of civil rights progress in the United States. He also said that "no President can be great, or even fit for office, if he attempts to accommodate injustice to maintain his political balance." (BH, see Sept 13; see Albany for expanded story)
Birmingham West End High School
September 12, 1963: white students in Birmingham, Alabama, drag an African American effigy past West End High School. Two African American girls attended the desegregated school and a majority of the white students were staying away from classes. Police stopped this car in a segregationist caravan in front of the school to caution them about fast driving and blowing auto horns in front of a school. [Alabama dot com article] (BH, see Sept 15; SD, see Oct 22)
Grenada, Mississippi
Twelve years after the United States Supreme Court's landmark Brown v. Board of Education ruling holding school segregation unconstitutional, the city of Grenada, Mississippi, continued to operate a segregated school system. In August of 1966, a federal judge ordered that African American students be permitted to enroll in the formerly whites-only schools. Approximately 450 African American students enrolled prior to the scheduled start of the school year on September 2, 1966.
On September 2, the school district postponed the start of school by ten days. White leaders used that time to attempt to coerce African American parents into withdrawing their children from the white schools by threatening them with firing or eviction; as a result, 200 students withdrew.
On September 12, 1966, the Grenada schools opened, and 250 African American students attempted to integrate the schools. A large white mob surrounded the school and turned away most of the African American students. As the students retreated, members of the mob pursued them through the streets, beating them with chains, pipes, and clubs. At lunchtime, the mob returned to the school to attack the few African American students who had successfully entered. As the students left for lunch, members of the mob attacked them, leaving some hospitalized with broken bones. Reporters covering the story were also beaten.
The mob violence continued for several days, with no intervention from law enforcement. On September 16, a federal judge ordered protection for the students, and on September 17, thirteen members of the mob were arrested by the FBI. [Black Then article]  (BH, see Oct 15; SD, see May 27, 1968)
Boston
September 12, 1974: in Boston, opposition to court-ordered school busing turned violent on the opening day of classes. School buses carrying African-American children were pelted with eggs, bricks and bottles, and police in combat gear fought to control angry white protesters besieging the schools. The protests continued, and many parents, black and white, kept their children at home. In October, the National Guard was mobilized to enforce the federal desegregation order. [WBUR article] (BH, see Oct 3; SD, see February 6, 1986)
Steven Biko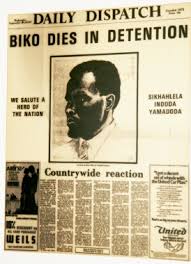 September 12, 1977: Steve Biko died while in police custody. Police had driven him naked in a truck 700 miles to Pretoria where he died in a prison cell. (see Peter Gabriel – "Biko" (1980) [Overcoming Apartheid article] (SA/A, see March 28, 1982; Biko, see January 28, 1997)
BLACK & SHOT
September 12, 2017: the Justice Department announced that six Baltimore police officers would face no federal charges in the death of Freddie Gray, the 25-year-old black man who died of a severe spinal cord injury while in custody.
"After an extensive review of this tragic event, conducted by career prosecutors and investigators, the Justice Department concluded that the evidence is insufficient," the department said in a statement, adding that it was unable to prove the officers "willfully violated Gray's civil rights."
The closure of the criminal civil rights investigation into Mr. Gray's death, which prompted unrest in Baltimore, a predominantly black city, and a federal examination of its police department's practices, means that no officers will be held criminally responsible in his death. [NYT article]  (see Dec 7)
BLACK & SHOT/Tyre Nichols
September 12, 2023: the Justice Department announced indictments of the former Memphis police officers — Tadarrius Bean, Demetrius Haley, Emmitt Martin III, Desmond Mills Jr. and Justin Smith– accused of brutally beating Tyre Nichols on federal criminal charges in connection with Nichols's death.
The four charges, handed up by a grand jury in the Federal District Court in Memphis, accuse each of the five men of various civil rights, conspiracy and obstruction offenses.
They faced two counts of deprivation of rights under color of law, as the grand jury found that on January 7, 2023 the officers had unlawfully assaulted Nichols, refused to intervene, and had failed to provide medical aid or tell medical responders about his injuries. The indictment said  that the two offenses led to Nichols's severe injuries and death. [NYT article] (next B & S, see ; next Nichols, see )
September 12 Peace Love Art Activism
Space Race
September 12, 1962: President Kennedy gave a speech at Rice University, future home of the Manned Spacecraft Center (which later will be renamed Johnson Space Center)
In it he famously stated:  We choose to go to the moon. We choose to go to the moon in this decade and do the other things, not because they are easy, but because they are hard, because that goal will serve to organize and measure the best of our energies and skills, because that challenge is one that we are willing to accept, one we are unwilling to postpone, and one which we intend to win, and the others, too. [text of entire speech](see Dec 13)
September 12 Peace Love Art Activism
September 12 Music et al
The Beatles
September 12, 1965: an August 14 taped performance broadcast on  "The Ed Sullivan Show." Taped before a live studio audience at Studio 50 in NY. The Beatles perform: 1) I Feel Fine 2) I'm Down 3) Act Naturally 4) Ticket to Ride 5) Yesterday 6) Help! (see Sept 13)
September 12, 1966: the made-for-TV show band, The Monkees, premiered on NBC. (see Oct 10)
September 12 Peace Love Art Activism
Feminism
Maude
September 12, 1972:  Maude, a spin-off of All in the Family, premiered, starring Beatrice Arthur as Maude Findlay, a leftist feminist who supports abortion and civil rights. (next Feminism see Oct 25)
Malala Yousafzai
September 12, 2014: the Pakistani army announced that 10 Taliban militants who tried to kill teenage activist Malala Yousufzai for her outspoken views on girls' education in the country's troubled northwest in 2012 had been arrested. [USA Today article] (see Oct 10)
September 12 Peace Love Art Activism
Hurricane Katrina
September 12, 2005: in the wake of what was widely believed to be incompetent handling of the aftermath of Hurricane Katrina by state, local and federal officials, FEMA director, Michael Brown, resigned, saying that it was "in the best interest of the agency and best interest of the president." His standing had also been damaged when the Boston Herald revealed his meager experience in disaster management before joining FEMA. (see Katrina for expanded story)
September 12 Peace Love Art Activism
Nuclear/Chemical News
September 12, 2011:  Macoule nuclear site (France). One person is killed and four are injured – one with serious burns – after an explosion in a furnace used to melt down nuclear waste and recycle it for energy. No radiation leaks nor damage to the plant were detected. [Reuters article] (see January 30, 2012)
September 12 Peace Love Art Activism
Terry Jones
September 12, 2013:  after being arrested on September 11, Terry Jones was released from the Polk County Jail after posting a $1,250 bond. (see Oct 15)
September 12 Peace Love Art Activism
 FREE SPEECH & Colin Kaepernick
September 12, 2016: Eric Reid knelt alongside Colin Kaepernick. 49ers teammates and Rams players raise their fists
Kaepernick maintained his protest, and was joined by several players set to take the field before Monday Night Football. As expected, safety Eric Reid knelt next to the quarterback during the national anthem, just as he did during the last week of the preseason. 49ers linebacker Eli Harold and safety Antoine Bethea stood, but with their fists raised in the air.
The 49ers players were joined by their opponents. Rams defensive end Robert Quinn (No. 94) and wide receiver Kenny Britt (No. 18) also stood with their fists in the air.  [USA Today article] (FS & CK, see Sept 16)
September 12 Peace Love Art Activism
LGBTQ
September 12, 2016: responding to a contentious North Carolina law that curbed anti-discrimination protections for lesbian, gay, bisexual and transgender people, the N.C.A.A announced that it would relocate all championship tournament games scheduled to take place in the state over the coming academic year. Among the events affected was the Division I men's basketball tournament, the N.C.A.A.'s most prominent annual event, which had six first- and second-round games scheduled to be played in Greensboro in March.
The announcement followed the N.B.A.'s decision in July to move its 2017 All-Star Game out of Charlotte but was seen as a particularly substantial blow to officials in North Carolina, where college basketball is central to the state's culture and pride. North Carolina had hosted more men's basketball tournament games than any other state, an N.C.A.A. spokesman said. [NYT article] (LGBTQ & NC, see Sept 14)
NYC/Conversion therapy
September 12, 2019: nearly two years ago, the New York City Council passed a far-reaching ban on conversion therapy, a discredited practice to change a person's sexual orientation or gender identity.
On this date, Corey Johnson, the Council speaker, who is gay, said the Council would act swiftly to repeal the ban.
The move was a gambit designed to neutralize a federal lawsuit filed against the city by a conservative Christian legal organization; if the case were to be heard by the Supreme Court, advocates for the L.G.B.T. community fear that the panel could issue a ruling that could severely damage attempts to ban or curtail conversion therapy. [NYT article] (next LGBTQ, see January 21, 2020)
September 12 Peace Love Art Activism
Immigration History
September 12, 2017: the Supreme Court agreed with the Trump administration and put on hold the September 7 lower-court decision that would have allowed more refugees to enter the country.
The court issued a one-paragraph statement granting the administration's request for a stay. There were no recorded dissents to the decision. [Washington Post article] (see Sept 14)
September 12 Peace Love Art Activism
Marijuana
September 12, 2018: Manhattan District Attorney Cyrus R. Vance Jr. asked a court to scrap 3,042 warrants for people who missed court dates and to toss out the cases themselves. He had recently decided to stop prosecuting many minor pot possession cases and argued it made sense to spare people potential arrests in old ones.
The cases included misdemeanor and violation-level pot possession cases that had sat open for as long as 40 years. [Eagle article] (see Sept 13)
September 12 Peace Love Art Activism
Sexual Abuse of Children
September 12, 2018: Pope Francis announced that he had summoned bishops from around the world to Rome for an unprecedented meeting focused on protecting minors.
It would be the first global gathering of church leaders to discuss the crisis. [Washington Post article] (next SAoC, see Oct 12; gathering, see February 21, 2019)
September 12 Peace Love Art Activism
Environmental Issues
September 12, 2019: the Trump administration completed the legal repeal of a major Obama-era clean water regulation, which had placed limits on polluting chemicals that could be used near streams, wetlands and water bodies.
The rollback of the 2015 measure, known as the Waters of the United States rule, had been widely expected since the early days of the Trump administration, when President Trump signed an executive order directing federal agencies to begin the work of repealing and replacing it. [NYT article] (see Sept 17)
September 12 Peace Love Art Activism