Beatles Brian Epstein Dies
August 27, 1967
As a teenage Beatle fan, the name Brian Epstein seemed to hover around the band's news, but who he was, what he was, what he did was not nearly as important as waiting for their next song or album and hearing about them.
Beatles Brian Epstein Dies
The Beginning of Brian
Brian Samuel Epstein was born on September 19, 1934. The Epstein family owned a furniture store and next to it was The North End Road Music Store [NEMS]. The Epsteins later expanded and took over NEMS.
Brian started to work at the family furniture store when he was 16 and became a good salesman. He wanted to be an actor, though, and convinced his parents to let him join the Royal Academy for Dramatic Arts to learn acting.
His aspirations did not meet the skills necessary and he returned to the family business.
Beatles Brian Epstein Dies
Brian Meets the Beatles
Epstein's father put Brian in charge of a new NEMS store. The store carried pianos, radios AND it had records. The store's record department was so successful that another NEMS store opened again with Brian in charge.
Epstein's store also sold Mersey Beat, a magazine that covered the local music scene. He himself became interested in that scene and began to contribute a column to it in August 1961.
Fortune smiled on this scene as Epstein's latest store was just around the corner from a local venue called The Cavern. He heard that a band called the Beatles were very popular and played there regularly.
On November 9, 1961 he decided to see what all their fans' and the band's youthful ruckus was all about.
From Epstein's autobiography: "I was immediately struck by their music, their beat, and their sense of humour on stage – and, even afterwards, when I met them, I was struck again by their personal charm. And it was there that, really, it all started."
Beatles Brian Epstein Dies
Brian Beatles Come Together
Beatles and Epstein agreed in principle that he would manage them a month later and on January 24, 1962 the five of them signed a contract. Well, technically, all but Brian signed. He reportedly said later he did not sign because, "…if they ever want to tear it up, they can hold me but I can't hold them."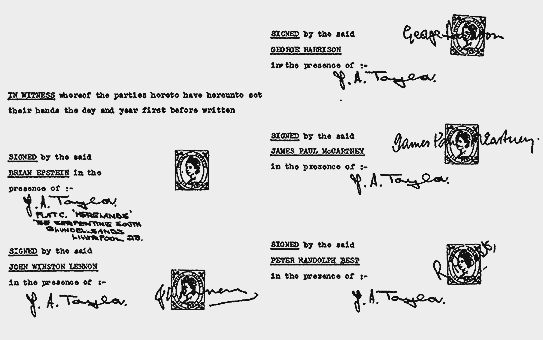 Beatles Brian Epstein Dies
Brian + Beatles = Beatlemania
During 1962, Epstein's guidance, perseverance, and unwavering belief in their talent pushed the Beatles through the media's gauntlet toward success.
They signed a record contract on June 4.

Ringo replaced Pete Best on August 18

The four recorded together for the first time on September 4.

They released their first single ("Love Me Do") on October 5.

January 11, 1963 they released "Please Please Me"

"Please Please Me"#1 in the UK on February 22, 1963

In November the newspapers used the word Beatlemania.
Beatles Brian Epstein Dies
Brian Epstein Dies
From the Epstein site: During the time Brian managed the Beatles…their career trajectory was meteoric. There was not a single reversal of fortune in the entire 5 3/4 years. Once he died the Beatles became embroiled in a tangle of conflicts, money squabbles and personal jealousies. They had lost the one man who united them and who was capable of resolving their differences.
…Brian [had taken]…care of every aspect of the Beatles' career. When he died the difference was immediately felt. While the Beatles continued to make magnificent music, their business affairs rapidly crumbled. Within two years of Brian's death the end of the Beatles was clearly in sight. By 1970 it was all over.
Beatles Brian Epstein Dies