1968 Miami Pop Festival
Before 1969
While my aim is to have pieces describing each of 1969's many festivals, mentioning a pre-1969 one is often useful as the several that preceded 1969's memorable year (capped by the Woodstock Music and Art Fair) helped encourage promoters to expand the number.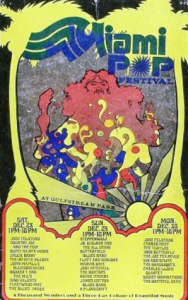 There were two Miami Pop Festivals in 1968. The first one was in May and Woodstock organizer Michael Lang  played a minor role in that festival's promotion.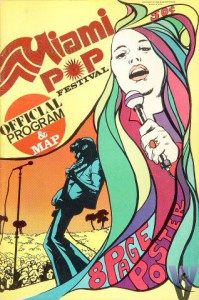 The second Miami Pop Festival began on December 28. An estimated 100,000 attended the three-day concert.  It was produced by Tom Rounds and Mel Lawrence, who had previously produced the seminal KFRC Fantasy Fair and Magic Mountain Music Festival in California. [A side note, the Fantasy Fair occurred before the Monterrey Pop Festival and so is actually considered the first rock festival.]
According to Rolling Stone (February 1, 1969), the Miami festival was "a monumental success in almost every aspect, the first significant — and truly festive — international pop festival held on the East Coast." Hallandale city officials, horrified by visions of stoned hippies dancing naked at Gulfstream, nixed plans for a second Miami Pop Festival.
1968 Miami Pop Festival
1968
Among the performers, were future Woodstock stars, the Grateful Dead, Paul Butterfield Blues Band, Richie Havens, Sweetwater, Canned Heat, and Country Joe and the Fish.
Of course it's difficult to find recordings or film of the event, but we are twice lucky. There is a film/still shot combination video of Jimi Hendrix doing "Foxy Lady."
1968 Miami Pop Festival
The Dead
And of course the Grateful Dead did record their performance. You can listen to it through the AMAZING collection at the Internet Archive site: Dead in Miami
According to Wikipedia's entry, some unique stories of the event were that:
Joni Mitchell invited Graham Nash and Richie Havens  to join her onstage to sing Dino Valenti's "Let's Get Together"
Jefferson Airplane's Jack Casady played bass guitar with Country Joe & the Fish

it was the first rock festival to have separate 'main' stages several hundred yards apart (the Flower Stage and the Flying Stage).
There is also some additional information from Miami.com which includes several pictures
1968 Miami Pop Festival