Incredible Robin Williamson
November 24, 1943
Happy birthday to you!
Who is Robin Williamson? He is best known being in the Incredible String Band. The band enjoyed international popularity mainly in the mid-60s. That popularity was sufficiently strong to merit an invitation to the Woodstock Music and Art Fair. The apocryphal tale is that though scheduled to play on Friday with other folk-type artists, they refused to play in that night's rain and their performance was pushed to Saturday between the much louder electric blues of the Keef Hartley Band and Canned Heat. Not the best spot for a group of tranquil and introspective musicians using acoustic instruments.
They also did not make it into the movie or the album the following year.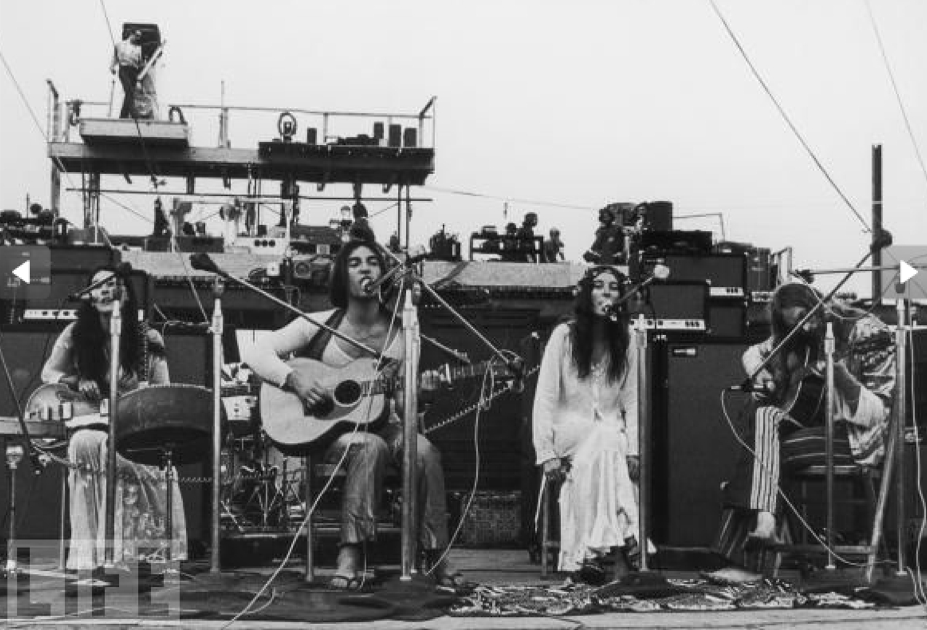 Listening to their set today [rather than looking at a crowd of 400,000 young people some of whom were wondering, perhaps, "Who were these people?"], dedicated fans hear the songs that made the band popular, but not famous. The crowd gave them warm applause following the set.
Incredible Robin Williamson
Hippie zeitgeist
An interesting thing is that ISB reflected the hippie zeitgeist as loved by those whose ears wiggled a bit when someone said, "Hobbit" or "Lord of the Rings." The sense of a simpler past, yet still with the shadow of evil not far away. Even Bilbo Baggins didn't start out with a sense of adventure.
Incredible Robin Williamson
Site info
From Robin Williams's site today: founder in the 1960's of the Incredible String Band and of the Merry Band in the 70's Robin has been at the forefront of the storytelling revival in Britain and America since the 1980's.
He was the first to focus on the restoration of Celtic Harp to it's ancient role as spontaneous accompaniment to spoken word.
He continues to tour internationally solo and as a duo with his wife ,singer multi -instrumentalist , Bina Williamson.
A most prolific and diverse songwriter ,Robin has made numerous records over his 50 year career ,most recently for ECM and Quadrant as well as on his own label Pigs Whisker Music.Twice nominated for a Grammy he is cited as an influence by Paul McCartney, Led Zeppelin and many contemporary acoustic and new folk artists.
Incredible Robin Williamson
Today
Robin Williamson and his wife Bina continue to perform regularly through out the United Kingdom. A recent news piece describing them for an upcoming concert stated:
They will perform a programme of original and traditional, magical and mystical songs, stories and music, garnered over Robin's varied 50-year musical career.
In that time he has gained a worldwide reputation, while Bina is a gifted singer-songwriter,and multi-instrumentalist in her own right.
Their music has been described by Robert Plant as "pure beauty through simplicity" and features east-west harmonies with harp, bowed psaltery and various other instruments. (click for site: Robin and Bina Williamson article)
Incredible Robin Williamson
Storyteller
And if you have a little time, perhaps you'd like to roll up and listen to Robin tell "A Tale of the Deeds of the Tuatha Dé Danann." It is "a bardic account of the two battles of Moytura, the sacred megalithic complex in Sligo. From the magical lore of ancient Ireland, this tale recounts conflicts of the ancestors at the dawn of the world. Stark, strange, beautiful, violent and hinting always at hidden truths, this of all ancient Celtic stories presents an insight into Druidic allegorical teachings." 
Delightful.
Incredible Robin Williamson
Painter
He had his first international exhibition in 2013 in the Catalonian town of Olot, renowned for its key role in early 20th century art.
If you have an enquiry please ring
Pigs Whisker Music 0044(0)2920231739
Or write  to
Pigs Whisker Music
P O box 309
Cardiff CF11 9HH
South Wales UK
Incredible Robin Williamson