Bo Diddley vs Ed Sullivan
November 20, 1955
Diddley vs Sullivan
On November 20, 1955 in New York City there wasn't a boxing match, but there was a Bo Diddley vs Ed Sullivan. On this date Diddley appeared on The Ed Sullivan Show. He was supposed to sing, "Sixteen Tons," the song written and first recorded by Merle Travis in 1946. Travis himself had had a gold record with it. Most of us are familiar with Tennessee Ernie Ford's version, also a big hit. In fact on March 25, 2015 the Library of Congress announced that it would induct Ford's version of the song into it's National Recording Registry.
Diddley's version, not surprisingly, doesn't sound much like Mr Ford's.
Bo Diddley vs Ed Sullivan
No 16 Tons
But instead of "Sixteen Tons" he sang his own eponymous "Bo Diddley." Ed Sullivan was infuriated and banned Bo Diddley from his show. He also said that Bo Diddley wouldn't last six months.
The ban lasted. So did Diddley.
Of course, this incident wasn't the only time Mr Sullivan had to choose between ratings and his sense of morality. See Elvis. See the Doors. See The Rolling Stones.
The story behind the dispute is vague. Apparently the request for "Sixteen Tons" came about because the show's staff heard Diddley casually singing "Sixteen Tons" in the dressing room.
Bo Diddley apparently said that when he saw "Bo Diddley" on the cue-card, he thought he was to perform two songs: "Bo Diddley" and "Sixteen Tons." Here's his 1:55 seconds of 1955 infamy.
Bo Diddley vs Ed Sullivan
Basilio v DeMarco
I don't remember the event, though it's likely I watched the show with my family as we did each Sunday. Nor do I remember that 10  days later on November 30 in an actual boxing match that Carmen Basilio retained his world Welterweight title by knocking out former world champion Tony DeMarco in the twelfth round, at Boston.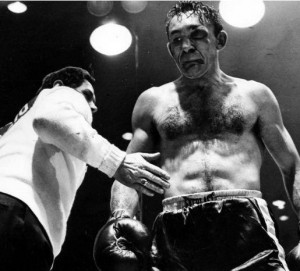 Bo Diddley vs Ed Sullivan