1969 Miami Rock Festival
1969 festival #50
December 27, 28, & 29
International Speedway, Hollywood, Florida
Last actual rock festival of 1969
"Last rock festival of the 60's"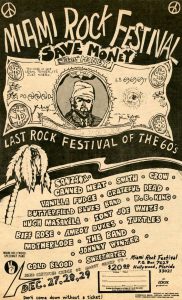 1969 Miami Rock Festival
1969: a year of festivals
And so we come to the end of 1969 and the many festivals of that year besides the Woodstock Music and Art Fair.
Back on April 1 we had the first one of 1969: the Palm Springs Pop Festival. By the end of June and the Denver Pop Festival there had already been eleven American festivals and on June 28 there would be the Bath Festival of Blues in England.
By the end of July, we'd have the Midwest Pop Festival in Milwaukee and it marked the 22th American festival.
By the end of August the New Orleans Pop Festival marked the 31st festival of 1969.
There were many other festivals as well during 1969 that I have not covered. They all fall under the category as "minor" but of course to those who organized them or to those who attended them, a festival is a festival.
I have not excluded any large American festival as far as I know. I know I have not included some of those so-called minor festivals, particularly in Michigan which seemed to have many local ones that summer.
1969 Miami Rock Festival
Miami
The 1969 Miami Rock Festival was the forty-third festival that year. I have mentioned the two UK festivals. And at the same time that the Miami Rock Festival was going on, the Mid Winter Pop Festival was not.
I included the Mid Winter because it seems (not much information about it other than its poster) like it would have been an amazing event–had it happened.
Interestingly, the Miami Rock Festival has nearly as little about it. Setlist.fm seems to show who played on certain days, but it is obviously incomplete since some of the bands listed below are not on the poster above and some of the bands named on the poster are not listed below:
Sat 27 December

Canned Heat*

Vanilla Fudge

Sun 28 Dec

Biff Rose

Cold Blood

Grateful Dead*

Johnny Winter*

Sweetwater*

The Amboy Dukes

Paul Butterfield Blues Band*

The Turtles

Mon 29 Dec

Santana*

The Band*

Tony Joe White
1969 Miami Rock Festival
Woodstock?
The amazing thing is that at least seven of the Woodstock artists were there. I have asterisked them.
1969 Miami Rock Festival
Grateful Dead
Despite the fact the above breakdown comes from Setlist.fm, the only band whose link has a set list is the Dead. No surprise there. And, of course, we have a link to a soundboard recording of their show: Grateful Dead on December 28, 1969.  What that recording shows is that they played:
Black Peter
Me And My Uncle
China Cat Sunflower ->
Jam ->
I Know You Rider ->
High Time
Cumberland Blues

Good Lovin' ->
Drums ->
Good Lovin'
Cold Rain And Snow
Hard To Handle
Mason's Children
Turn On Your Love Light
The Internet Archive site has the following comments:
It is possible that this is not the complete show, though it would be likely that only one or two songs may have preceded Black Peter. There are definitely some rough spots that vary throughout the recording (especially Black Peter), but it is overall very listenable for a show from a cassette master. Mason's Children was patched in from an alternate source (unknown lineage bootleg) as the primary source suffered from tape warble during this song. It is apparent that noise reduction was performed digitally on this song at some point on the secondary source, though the integrity of the sound does not suffer greatly. The pitch from the primary master was corrected using Sound Forge.
Black Peter comes in before the lyric "…just then the wind…" and is therefore missing a couple minutes or so. Good Lovin' cuts out just over a minute into the drum solo, obliterating several minutes at least. The first half of Cold Rain is missing as well.
This is a loud and very rowdy show, prompting some priceless banter from the band.
1969 Miami Rock Festival
Contact me

!
The only information I could find written about the festival was from the Miami Herald: Inspired by Woodstock the summer before, The Miami Rock Festival of December, 1969, drew thousands of young people determined to have fun and avoid paying admission, if they could. It wasn't in Miami. It took place at the Miami-Hollywood Speedway, then 15 long miles west of Hollywood, but now a housing development in the middle of Pembroke Pines. Performers included Mother Lode, Sweetwater, Canned Heat, Johnny Winter, the Paul Butterfield Blues Band, Vanilla Fudge and the Amboy Dukes. Fans were searched by police, lashed by cold winds and encouraged to "turn on to God" by Billy Graham. Graham said he appreciated the respectful welcome he got, but police made at least 47 arrests and one young man died in a fall from a spotlight tower.
If anyone has any other information or link to that information about this festival, please comment or let me know. Much appreciated.
1969 Miami Rock Festival
In 2019, a Mike Nason contacted me to say he'd just won an auction for the festival's program. Here are some of its pages:
1969 Miami Rock Festival
There was one more schedule 1969 festival, but it didn't happen: the Mid-Winter Pop Festival