1969 Mid Winter Pop Festival not
Not 1969 festival #51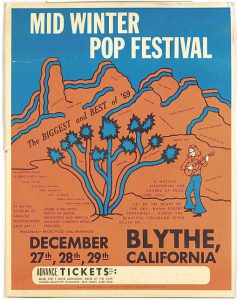 December 27, 28, and 29, 1969 (not)
Blythe, California (not)
According to the Desert USA site:  Blythe, California is agriculturally based but heavily influenced by tourism, Blythe is located on the California-Arizona border where Interstate 10 crosses the Colorado River. Blythe's population more than triples during the winter months with the arrival of visitors seeking relief from their cold climate home states during that season.
In the summer, in spite of extreme high Sonoran Desert temperatures, Blythe is a center for water sports along the Colorado River. Blythe is a small town and the people are very warm and friendly. Blythe's educational system offers students facilities from pre-school through community college.
1969 Mid Winter Pop Festival not
Poster says…
The Mid Winter Pop Festival was the BIGGEST and BEST of '69. At least that is what its poster proclaimed. Attendees were going to "See and Hear Dozens of GREAT STARS in Person!
It was going to be… A MUSICAL HAPPENING FOR LOVERS OF ROCK AND SOUL….
SET IN THE DRY, WARM DESERT SOUTHWEST – ALONG THE BEAUTIFUL COLORADO RIVER SOUTH OF
BLYTHE, CALIFORNIA
There would be no less than 14 HOURS OF FABULOUS ENTERTAINMENT EACH DAY !!!
100,000 ACRES WITH PLENTY OF WATER, SANITATION AND MEDICAL FACILITIES. CAMPING AREAS PROVIDED.
REASONABLY PRICED FOOD AND BEVERAGES
1969 Mid Winter Pop Festival not
Who would (not) be there?
Rotary Connection

Young Rascals

Bicycle

Linda Ronstadt

Laura Nyro

Eric Mercury

Chambers Brothers

Chicago Transit Authority

The Youngbloods

Brooklyn Bridge

Country Joe & the Fish

Pacific Gas & Electric

Steve Miller Band

Janis Joplin

Jefferson Airplane

Iron Butterfly

Neil Diamond

Buffy Sainte-Marie

…and many others
1969 Mid Winter Pop Festival not
Tickets
Tickets on sale at:
Jim Salle's

Fahrenheit

Gay's Men's Shop
1969 Mid Winter Pop Festival not
Poster
TO RECEIVE YOUR TICKETS TO THIS FESTIVAL BY RETURN MAIL, FILL IN THE COUPON AND MAIL TO:

MID-WINTER POPS FESTIVAL, INC.

2818 St Louis St.

New Orleans, La 70119
Or
MID-WINTER POPS FESTIVAL

PO Box 47846

Atlanta, Ga. 30340
Tickets were $21 each or $30 at the gate.
There was a limited quantity available so Mid Winter Pops Festival, Inc encouraged fans to buy early and save.
Mid-Winter Pops Festival, Inc of 2818 St Louis St, New Orleans, LA sponsored the event.
1969 Mid Winter Pop Festival not
djtees
A blog site called djtees.com has a long essay about the not-festival and has a few opinions and as with my research little to go on. Here's the complete post:
There is a genuine mystery about this festival. It's another for the 'it never happened' file and in that, no so unusual. As we know, The Man was always trying to fend off the freaks with legislation, sometimes successfully, mostly not. But the Mid Winter Pop Festival doesn't fall into that category. 
Blythe is a wee town on the border between California and Arizona, right out in the desert. Basically head east from Palm Desert on the 10 and you end up there. I love that road, it's so elemental and wild out there. You feel so tiny and transient compared to all that old nature.
And, as any snowbird who vacations in Palm Springs knows, the desert is lovely and warm in the winter and although it can be cold at night, it'd be perfect festival weather for late December. 
With a strong bill it was bound to attract interest. 
Brooklyn Bridge, Buffy Sainte-Marie, Iron Butterfly, Janis Joplin, Jefferson Airplane, Johnny Winter, Neil Diamond, Vanilla Fudge, Young Rascals
However, that isn't enough bands for a three day fest, nowhere near enough. And that is where the mystery starts. The poster doesn't even say where the gig was to be, just broadly referring to 'Blythe vicinity.' However, no applications for a festival were made in the area and no preparations were being made. No other words, no-one looking like Chip Monck with an army of longhairs armed with wood and nail guns had turned up anywhere near Blythe to put up a stage even a week or two before.
The San Bernardino Sun newspaper reported Riverside County Administrative Officer Robert T. Anderson said "The Blythe vicinity could mean a location in Riverside County, Imperial County to the South or in Arizona across the Colorado River," But no public agency in either Riverside or Imperial counties has authorized any pop festival in either county, he added. 
So what was going on? One of the ticket agencies listed in an advertisement in an underground newspaper said it stopped selling tickets after it was notified the festival was moved from a 100,000-acre Blythe ranch to an as yet undisclosed location. The ad, signed by Mid-Winter Pops Festival, Inc, New Orleans, promised, "Watch next week's ad for location 'funkiest spot in America."
But at that point, the trail goes cold. There was no further announcement and no Blythe festival or inheritor of that title seems to have happened. Now whether it was a scam all along, or a good idea that fell through, who really knows? However, the lack of bands on the bill, whether they were ever actually booked or not, I think is the clue. Other fests that had to be called off had a massive roster in place because you need about 30 bands for a 3-day show, Blythe had just nine. 
To me, it looks like someone used those bands to pull in some ticket sales, waited as long as possible, trousered the money and then cancelled a festival that was never going to happen. Also, it wasn't clear who was putting the festival on, who was behind Mid-Winter Pops Festival, Inc, New Orleans and usually, there was at least a known figurehead, or some rich kid putting up the money. Again, that's unusual. 
Advertising bands that were not confirmed bookings was a common scam, we saw it at the Northern California Folk Festival when Led Zeppelin were said to be on their way but hadn't been signed up. Sometimes this was wilful deceit, more often it was a failure of procedure and logistics. 
But it wouldn't be a surprise if someone advertised a festival by 1969, took money for tickets and then simply disappeared. It was easy to do in those analogue days. 
So Blythe never saw an influx of hippies and rockers and the desert kept on being quiet, wild and magnificent.
So…
…the event never happened and if you know why let me know.
1969 Mid Winter Pop Festival not
Here's the post listing all the rock festivals I've found or been informed about.