1969 Mid Winter Pop Festival not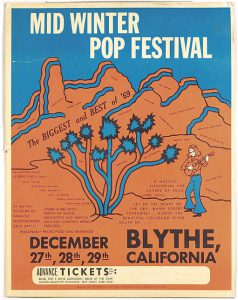 December 27, 28, and 29, 1969 (not)
Blythe, California (not)
---
According to the Desert USA site:  Blythe, California is agriculturally based but heavily influenced by tourism, Blythe is located on the California-Arizona border where Interstate 10 crosses the Colorado River. Blythe's population more than triples during the winter months with the arrival of visitors seeking relief from their cold climate home states during that season.
---
In the summer, in spite of extreme high Sonoran Desert temperatures, Blythe is a center for water sports along the Colorado River. Blythe is a small town and the people are very warm and friendly. Blythe's educational system offers students facilities from pre-school through community college.
Poster says…
---
The Mid Winter Pop Festival was the BIGGEST and BEST of '69. At least that is what its poster proclaimed. Attendees were going to "See and Hear Dozens of GREAT STARS in Person!
---
It was going to be… A MUSICAL HAPPENING FOR LOVERS OF ROCK AND SOUL….
---
SET IN THE DRY, WARM DESERT SOUTHWEST – ALONG THE BEAUTIFUL COLORADO RIVER SOUTH OF 
---
BLYTHE, CALIFORNIA
---
There would be no less than 14 HOURS OF FABULOUS ENTERTAINMENT EACH DAY !!!
---
100,000 ACRES WITH PLENTY OF WATER, SANITATION AND MEDICAL FACILITIES. CAMPING AREAS PROVIDED.
---
REASONABLY PRICED FOOD AND BEVERAGES
---
Who would (not) be there?
Rotary Connection

Young Rascals

Bicycle

Linda Rohstad

Laura Nyro

Eric Mercury

Chambers Brothers

Chicago Transit Authority

The Youngbloods

Brooklyn Bridge

Country Joe & the Fish

Pacific Gas & Electric

Steve Miller Band

Janis Joplin

Jefferson Airplane

Iron Butterfly

Neil Diamond

Buffy Sainte-Marie

…and many others
1969 Mid Winter Pop Festival not
---
Tickets on sale at:
Jim Salle's
Fahrenheit
Gay's Men's Shop
---
According to the poster, 
---
TO RECEIVE YOUR TICKETS TO THIS FESTIVAL BY RETURN MAIL, FILL IN THE COUPON AND MAIL TO:
MID-WINTER POPS FESTIVAL, INC.
2818 St Louis St.
New Orleans, La 70119
Or
MID-WINTER POPS FESTIVAL
PO Box 47846
Atlanta, Ga. 30340
---
Tickets were $21 each or $30 at the gate.
---
There was a limited quantity available so Mid Winter Pops Festival, Inc encouraged fans to buy early and save.
---
Mid-Winter Pops Festival, Inc of 2818 St Louis St, New Orleans, LA sponsored the event.
Oh yea…
---
The event never happened and if you know why let me know. I cannot find anything.
Please follow and like us: