Beatles Shakespeare
April 28, 1963
Excerpt of Paul and John speaking parts of "A Midsummer Night's Dream" from the Around the Beatles TV special.
The many roads musicians travel are not necessarily the weed, whites,  and wine-filled ones that fans imagine. The key to breaking through is exposure. Performances night after night can fine tune a group's show and songs, but small venues provide small audiences.
True in the 60s as it is today, electronic media can reach far more ears and eyes than those nightly gigs. Given the chance, a group will jump, however reluctantly, onto whatever opportunity presents itself.
So it was for the Beatles.
Being able to perform songs was the obvious and key part. John, Paul, George, and Ringo did not realize that dressing up and performing Shakespeare was also part of deal.
Beatles Shakespeare
Around the Beatles
The morning of  April 28, 1963 the soon-to-be-Fab Four showed up at Rediffusion's Wembley Studios, London.  They rehearsed and did a radio interview before the show's taping.
The "story" was supposed to be set in the Globe Theatre in the round, thus the show's name.
Jack Good was the director. He would later give us the TV show Shindig!.
From the Beatles Bible site: The Beatles took part in two segments in the show: a musical set and a spoof of Act V Scene I of Shakespeare's A Midsummer Night's Dream. John Lennon, Paul McCartney and George Harrison also mimed a trumpet fanfare at the start of the show, before Ringo Starr appeared with a flag to set off a cannon ball. The group also introduced PJ Proby's performance.
For the Shakespeare spoof, Lennon took the female role of Thisbe, McCartney played Pyramus, Harrison was Moonshine and Starr played Lion. Incidentally, McCartney later owned a cat he named Thisbe.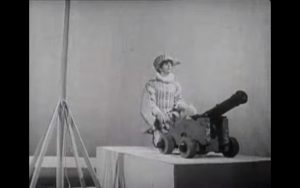 The Beatles lip-synced Twist And Shout, Roll Over Beethoven, I Wanna Be Your Man, Long Tall Sally, Can't Buy Me Love, and did a medley that included: Love Me Do, Please Please Me, From Me To You, She Loves You and I Want To Hold Your Hand. They closed with their cover of the The Isley Brothers' Shout, the only time their performance  of the song was recorded.
The show aired on May 6, 1964.
Beatles Shakespeare
PJ Proby
Ironically, the person who got the biggest immediate media bump was American singer PJ Proby who performed "Walking the Dog" and "Cumberland Gap."