Bassist Tommy Shannon
April 18, 1946
Happy birthday to you!
It was while listening to Johnny Winter's Progressive Blues Experiment album (oh that first cut–"Rollin' and Tumblin'" with Johnny's slide, Uncle John Turner's drums, and Tommy Shannon's bass!) and reading its cover that I first saw Tommy's name.
Bassist Tommy Shannon
Woodstock Music and Art Fair
That August weekend's hunger, time, work obligation, soaking rain, and car concerns sent me home from Woodstock on Sunday and I missed bands I'd come to see. Johnny Winter was one of them and hearing that set today makes me wish there were time machines.
Before I continue, let me thank Donna Johnston who wrote the bio notes from Tommy Shannon's site. Click thru for the complete story. It's a long and interesting one.
Tommy Shannon was born on April 18, 1946 in Tucson, AZ, but grew up in west Texas. Like many musicians' stories, he played in various bands during high school.
After high school, he moved to Dallas and there met Uncle John Turner. Turner eventually became drummer for young Johnny Winter and one night Tommy went to hear his friend play. The visit became an invitation by Johnny to Tommy to join the band.
Never much into the blues, Winter immersed Shannon via a vast record collection. According to Shannon, ""After I … listened to all that stuff, all the way back to the beginning, when I picked up my bass and started playing the blues, it was just the most natural thing I'd ever done"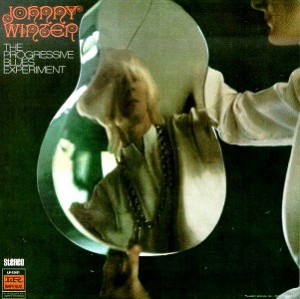 They recorded Progressive Blues Experiment in 1967, released it in 1968, and played Woodstock in 1969.
Sidelined
After Johnny Winter formed a new band, Tommy and Uncle John continued with other musicians. The musician's life offers many opportunities and for Tommy Shannon some of those opportunities forced the legal system to deny Shannon any interaction music scene. At one point he was a bricklayer.
In 1980, Fortune smiled on Tommy Shannon and old Texas friend Stevie Ray Vaughan invited Shannon to join Vaughan's Double Trouble band. He did and life was good again.
Bassist Tommy Shannon
Too good for his own good
Both Tommy Shannon and Stevie Ray Vaughan sought help.
Again Donna Johnston, "The story of Tommy's time with Stevie is well known: the musical highs of sold-out concerts all over the world (including that magical Carnegie Hall gig), [NYT article] the multiple Grammys, the gold and platinum records…and then the personal lows of drug and alcohol addiction, which eventually led the two best friends to enter rehab facilities on the same day in October, 1986."
They emerged healthy again, but Fortune frowned this time. On August 27, 1990 after a performance with Eric Clapton, Vaughan's helicopter crashed killing him and other members of Clapton's group. [NYT article]
Bassist Tommy Shannon
Arc Angels
Tommy Shannon and the other members of Double Trouble wandered musically after Vaughan's death, but in 1992 he and others briefly formed the Arc Angels and released the highly-acclaimed eponymous Arc Angel album.
Here they are on the Letterman Show, June 9, 1992. Bassist Tommy Shannon
Nearly Stoned
Tommy thought he would replace Bill Wyman as the Rolling Stones bassist, but that didn't happen.
The band Storyville was next.
After that breakup, Double Trouble re-formed and continued to give us great music.
Bassist Tommy Shannon
Tommy Shannon Blues Band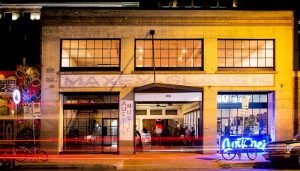 Nowadays, Tommy can be heard regularly with his Tommy Shannon Blues Band at Antone's in Austin. His band mates are Tommy Taylor and David Holt.
Many happy returns Tommy Shannon!
Bassist Tommy Shannon