Dallas Taylor Woodstock Prisoner
April 7, 1948 — 

January 18, 2015
Dallas Woodrow Taylor, Jr
Dallas Woodrow Taylor Jr. was born in Denver and raised in San Antonio.
When he was about 10  his mom brought him to see the "The Gene Krupa Story" movie. It inspired his musical choice and his course in life was set.
Dallas Taylor

Woodstock Prisoner
Clear Light
For better and worse from there, Taylor's path to fame and infamy was similar to the one that many have shared. He dropped out of high school at 16 and headed for Hollywood. In 1966 he helped form the psychedelic band Clear Light. A good example of their style is their song "Mr Blue" a cover of folk singer Tom Paxton's song.
The band released one album, still considered an underground classic of the psychedelic genre.
Dallas Taylor

Woodstock Prisoner
Crosby, Stills and Nash
In 1969 Dallas Taylor became the drummer for the recently formed group that David Crosby, Graham Nash, and Stephen Stills had formed. As part of Crosby, Stills, and Nash, Taylor liked to say that he made his first million — and his last million — by the time he was 21.
Dallas Taylor

Woodstock Prisoner
Road too often taken
The band played the Woodstock Music and Art Fair and went on, as you already know, to phenomenal success. That success included the availability of various pharmaceuticals that Taylor tried and became addicted to. Those addictions led to behavior that even the Who's drummer Keith Moon warned Taylor about.
C, S, N, & Y fired him, but he did later become the drummer for Still's band Manassas. 
He described his downfall this way: "I was one of the lucky ones. I managed to destroy my music, but none of my suicide attempts worked."
In 1990, he told People magazine, ""I was more famous as a junkie than a drummer."
Dallas Taylor

Woodstock Prisoner
Counselor and Author
Eventually  achieving sobriety, Taylor became a drug counselor and in 1994 wrote a memoir entitled Prisoner of Woodstock.  Former band mate and famous addict himself David Crosby wrote in the book's introduction, "There are a whole list of mistakes, peripheral traps that pull you away from the central and only important concern — music, Money, glory, fame, sex, adulation, peer group approval, competition and one's own emotional baggage all distract you from your original purpose. As far as I know, Dallas didn't miss any of these mistakes. They crept up on him, and jerked the rug out from under him, and derailed him and almost killed him." [see Kirkus review as well]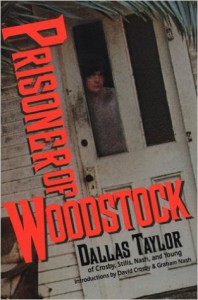 Dallas Taylor

Woodstock Prisoner
Declining Health
Taylor himself wrote: "I understand what it is like to be an angry, depressed addict who needs so badly to be liked that he gets on stage and sweats and bleeds and hopes that people will somehow connect.
"But as addicts whose only real happiness is being high–whether it's on dope or music, writing, acting or painting–success becomes our worst enemy. When self-hatred runs so deep, it is never alleviated by fame or wealth."
He finally got sober in 1985, but in 1989 doctors diagnosed terminal liver disease. In 1990 he had a liver transplant.
In 2005, his wife Patti McGovern-Taylor donated a kidney for Taylor.
Dallas Taylor

Woodstock Prisoner