1966 San Francisco Trips Festival
January 21, 22, & 23,  1966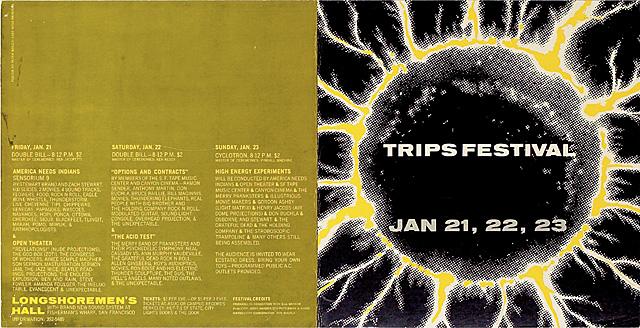 1966 San Francisco Trips Festival
Festival evolution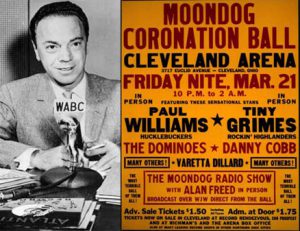 The first rock festival in the sense most people think of, that is, an outdoor multi-day event with a variety of performers can be traced back to the 1967 Fantasy Fair and Magic Mountain Music Festival which happened a few weeks before the more famous Monterey International Pop Music Festival.
Of course, Alan Freed had large indoor rock concerts beginning in March 1952 with his Moondog Coronation Ball.
Rock music had expanded over the 14 years since that four-hour one-night event and by 1966 the music scene in San Francisco evolved into the Trips Festival.
1966 San Francisco Trips Festival
Stewart Brand
Stewart Brand was the main organizer of the festival  Trained as a biologist, he had discovered the use of peyote while doing research concerning Native Americans. From that study, he founded the America Needs Indians organization.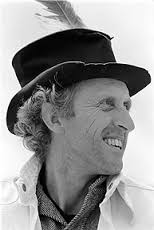 Like many Americans in the 1960s, space exploration fascinated him. He wondered why a satellite had never taken a picture of our planet from space?  With that question in mind, Brand made buttons asking that quesiton ["Why haven't we seen a photograph of the whole Earth yet?] and drove across the United States selling the buttons in an effort to raise awareness of the question.
In 1967 NASA took the whole Earth picture and in 1967 Brand used it on the cover of his new publication, the Whole Earth Catelog.
1966 San Francisco Trips Festival
Promo
The advertisement for the festival said that it would be "…the FIRST gathering of its kind anywhere. the TRIP –or electronic performance –is a new medium of communication & entertainment."
In other words, it would be a festival of performance art and those in attendance were part of the show. It also included a liquid light show, something new but eerily familiar to those acid test initiated.
1966 San Francisco Trips Festival
Buchla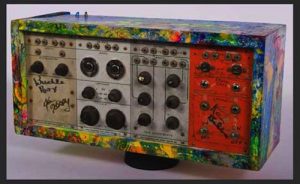 Prankster Ken Babbs recalls, "We had this guy build us a soundboard; Buchla [Donald "Don" Buchla} . He lived in San Francisco and he built us this thing called the Buchla Box. I think he worked on the Moog synthesizer. This guy was unbelievable. …he had ten speakers set up … in the balcony. He had this board in which he could run the sound around in circles…[and] … would isolate one, and have sound wheeling around the room. He had this thing like a piano that was just flat and you ran your fingers across it and it would play the notes. Made it himself, absolutely fantastic. He made up this box for us that was essentially a mixer and a mike amp and a speaker box and an earphone box. " Jerry's Brokendown Palace site
1966 San Francisco Trips Festival
Acid Test
The idea was not new. Ken Kesey, Ken Babbs, and the other Merry Pranksters had begun acid tests in November 1965.  In a sense, the Tests were miniatures of what the Trips Festival would do on a grander scale. Unfortunately for Ken Kesey, police had arrested him a second time for marijuana possession. He could not participate at the Trips Festival as Ken Kesey, but did manage to be there in disguise appropriately in a space suit. He stayed in the balcony and spoke over the PA system. To avoid jail time, Kesey would soon fake his suicide and flee to Mexico. Another story. Another time.
1966 San Francisco Trips Festival
Impact
The Trips Festival was a success on many levels. Like those who would become part of Woodstock Nation tribe, attendees realized that there were many more of Them than they'd realized. They had arrived.
The three-day event earned money (unlike Woodstock!) and the idea helped Bill Graham decide to use the Fillmore Auditorium  as a rock venue on a regular basis.
1966 San Francisco Trips Festival