Remembering Drummer Phillip Wilson
September 8, 1941 – March 25, 1992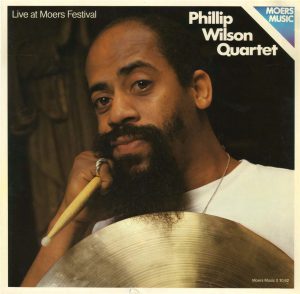 Remembering Drummer Phillip Wilson
From the start…
It is interesting how we "discover" a musician only to find that they were far larger and wider than we ever suspected. Think Columbus and his "discovery" of the Americas.
I first saw his name when I started listening to the Paul Butterfield Blues Band, but Phillips was well-established already when he joined Butterfield in 1967.
Wilson had made his recording debut in 1962 on with Sam Lazar on Playback. In the mid-'60s, Wilson became a member of the Art Ensemble of Chicago, an avant-garde jazz group. He cut albums with it as well as the band's co-founder Roscoe Mitchell.
Remembering Drummer Phillip Wilson
Paul Butterfield Blues Band
Joining Paul Butterfield and Gene Dinwiddie in 1967, Wilson soon found himself playing at the first most famous rock festival: the Monterey International Pop Festival.  Though the audience and resulting movie gave Jimi Hendrix, Janis Joplin, and the Who the stellar ovations, Paul Butterfield Blues Band garnered recognition as well.
Phillip Wilson was also with the band when it played early that august sunny Sunday morning in Bethel, NY just before Sha Na Na and Jimi Hendrix. One of the songs featured was Wilson's "Love March."
Remembering Drummer Phillip Wilson
Post Woodstock…
Wilson remained with the Butterfield until the early '70s. From there he always remained active as a player, a producer, a composer, and occasional vocalist with:
Anthony Braxton

Full Moon

Julius Hemphill

Lightin' rod

Roscoe Mitchell

David Murry

Hamiet Bluiett

INTERface

Martha and Fontella Bass

Lester Bowie

Peter Khuh

James Newton

Elliot Sharp

Bill Lasell

The Last Poets

Deadline

Soren Anders

Frank Lowe

Blues Brass Connection

The Rance Allen Group

Art Ensemble of Chicago

Paul Zauner's Blue Brass
He also released a few of his own albums including The Phillip Wilson Project.

Remembering Drummer Phillip Wilson
 Untimely death
I had originally posted that "In 1992, Wilson was murdered  while walking near Central Park in New York City. Though a common belief, it is false."
"Anonymous" recently made the following comment: As a matter of fact, Phillip Wilson was murdered by Marvin Slater on March 25, 1992, at 440 East 9 Street in Manhattan. During the trial in 1997, the motive was not disclosed. Slater is serving time in upstate prison for the premeditated murder of Phillip. The accomplice "T" was released by the police the day before the trial. Phillip was not anywhere near Central Park when he was assassinated. There are various false descriptions published on the internet.
Always appreciate reader input. Thank you.
Remembering Drummer Phillip Wilson
Update…
It's always interesting to write a few words about a musician and a few days after discover a new article about them.  The Chicago art gallery Corbett vs. Dempsey recently released Phillip Wilson's previously out-of-print album Esoteric from the Hat Hut catalog. Here is some of what the article had to say:
…Phillip Wilson—a Saint Louis native who moved to Chicago and became an early member of the AACM (he was the original drummer in the Art Ensemble of Chicago) as well as a key figure on the local blues scene (he played in the Paul Butterfield Blues Band). Wilson made Esoteric in Paris during two sessions—one in November 1977 and another in May of the following year—and it mixes solo percussion pieces with expansive duos featuring brilliant trumpeter Olu Dara (better known to some as the father of rapper Nas). In 1978 Wilson would record the more widely known Duet with AEC trumpeter Lester Bowie, but it was on Esoteric that he first worked out some of those ideas (the opening three-part suite on Esotericis called "Lester B").
It's a stark album, even when Dara—one of the most lyrical trumpeters to emerge from the 70s avant-garde—joins in. In fact, as you can hear below on a piece titled "Caul Call: The Eso," Dara experiments with all kinds of smears and textural effects, using half-valving and tonguing techniques to vary his brash, malleable tone from bright and clarion-clear to blubbery and rumbling—his extended techniques helped set the table for current brass radicals such as Peter Evans, Nate Wooley, and Axel Dörner. Wilson is the focal point, though, moving from tough beats to abstract explorations of sound that rely on different parts of his kit—it's all of a piece for Wilson, as melody, groove, and pure color merge and pull apart. Few records convey such an unadulterated adoration for the sound of the drums, not simply on a micro level but also in how all a trap set's components work together. (Article link)
Remembering Drummer Phillip Wilson
Second update: Chicago Reader link to a  2016 article ["An out-of-print experimental gem from drummer Phillip Wilson gets new life" about the re-release of Wilson's Esoteric album. (thank you Bernard Elias for the link)
Remembering Drummer Phillip Wilson
Please follow and like us: