Palm Springs Pop Festival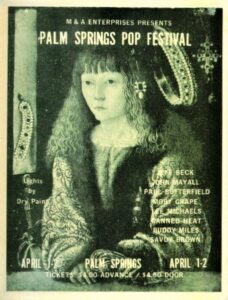 Before I began giving museum tours at Bethel Woods Center for the Arts, I, like many, thought that other than the Woodstock Music and Art Fair, there were few other festivals that summer. 
Yes, Woodstock had spawned the scores of other multi-day festivals that followed in the 70s and beyond, otherwise 1969 was empty.
Not so.
I have found dozens of others and the Palm Springs Pop Festival is the first  outdoor multi-day one I've found in 1969.
While it might not have the cachet that Woodstock has–not 500,000 people, mud slides, skinny dipping, closed highways, et cetera–it did have a great line up, several of whom would be visiting Bethel, NY later that summer.
There isn't too much about the Palm Springs Pop Festival–like many of the other 1969 festivals. It was unique in that it took place over two non-consecutive days and also took place at two different venues.
Palm Springs Pop Festival
♥  #2  ♥
Day 1…April 1, 1969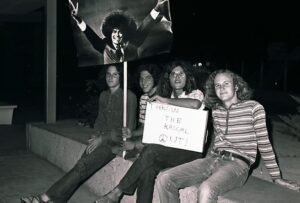 According to the Palm Springs Life dot com site, "Students came from San Diego and Los Angeles by the carloads hoping to purchase tickets for the two concerts that were sponsored by Los Angeles FM stations as part of the two-day pop music festival."
The drive-in marquee messaged: "Tuesday only Palm Springs Pot Festival from 6 to Midnight "Come high and stay high."
In a foreshadowing of that upcoming historic festival, those who could not get in broke holes in the fences and pushed in.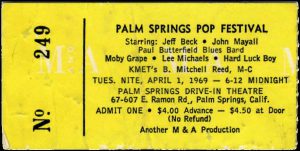 Palm Springs Drive-In Theatre
MC KMET's B Mitchell Reed

Jeff Beck (billed but didn't appear)
Moby Grape (billed but didn't appear)

Procol Harum (replacement for above)

Flying Burrito Brothers (replacement for above)

Gram Parsons

Timothy Leary

John Mayall

Lee Michaels

Hard Luck Boy
Day 2…April 3, 1969
Palm Springs Angel Baseball Stadium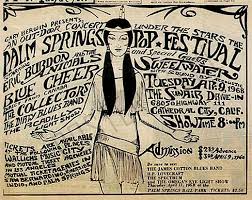 The second night was marred.  After the 3,500 ticket holders went in, police kept potential gate-crashers away
The crowd spread out and gas station owner Harlan "Moose" Moore shot and killed 16-year-old Richard Bradford from Venice, CA. Authorities determined it was self-defense or what in today's parlance is called stand-your-ground.
Here is a news report years later about that day's festival:
Ike and Tina Turner Revue

Savoy Brown

Buddy Miles Express

Canned Heat




Palm Springs Pop Festival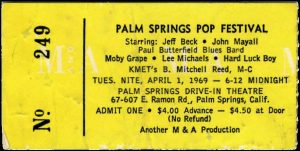 Again from the Palm Springs site, " A Riverside Press-Enterprise editorial of April 9, 1969, concluded: "The week has gone, but a bad feeling lingers on. The record makes essential the kind of thoughtful long-range preparation that can cut down on the chances for a repetition."
Permits were not issued for outdoor concerts in Palm Springs for more than a decade.
According to the djtees.com site, "Rolling Stone reported one festival-goer as saying, We're the new breed, proclaimed Mike Henderson, 22, of Long Beach. Sooner or later we're going to take over the country. Then we'll be able to do what we want to do, and we'll have a peaceful planet."
Such sentiment sounds sadly familiar.
Palm Springs Pop Festival
Next 1969 festival: LA Free Press Festival