Mick Jagger Performance 1970
Warner Bros Records released the soundtrack album to the movie Performance on 19 September 1970. The album featured Mick Jagger, Ry Cooder, Randy Newman, The Last Poets, Buffy Sainte-Marie, and Merry Clayton.
"Turner's Murder" by Merry Clayton Singers.
I was 20 and thought I knew it all. At least all I needed to know. Ok, most of it.
Mick Jagger Performance 1970
So Sharp
I was learning that there were many more cool things than the half dozen or so things that I already knew were cool: important things like knowing how to tie a Windsor knot or to whistle using my two pointer fingers to curl the front of my tongue. Knowing several nicknames for marijuana (albeit, never actually using it).
When I saw Mick Jagger on the cover of the Performance soundtrack, I was confused. It was Mick, wasn't it? Why is he dressed like a woman. He was dressed like a woman, wasn't he?
Apparently there was one more thing to know was cool, yet not actually doing that thing.
Mick Jagger Performance 1970
Mick in the movies
Performance was Mick Jagger's first movie role. It was done in 1967 and by then those fab four friends of his had already done two movies: Hard Day's Night (1964) and Help! (1965).
Performance was neither of those things. Jagger was not going to play a musician chased by hundreds of fans for 87 minutes or a musician chased by dozens of villains for 92 minutes.
Jagger played a former rock star turned landlord, sort of.
Actor James Fox plays a gangster on the run and eventually hides out at the house of a Turner (Mick Jagger). There are already sexual shenanigans going on at Turner's. Fox joins Turner and the three woman already there. Ménage de cinq.
Mick Jagger Performance 1970
Warner Brothers blinks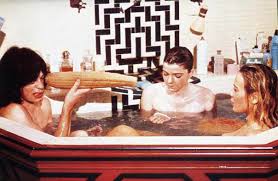 Donald Cammell and Nicolas Roeg directed the film in 1967, but Warner Brothers, the studio, decided it could not release it. Reportedly, the wife of one Warner Brothers executive vomited while watching it.
Warner Brothers did finally release a version of the film in 1970. A highly edited version.
Over the years, various revised editions have been released. The last one, and most true to the original, was not released until 2007.
At its 1970 release, Roger Ebert said: "Performance" is a bizarre, disconnected attempt to link the inhabitants of two kinds of London underworlds: pop stars and gangsters. It isn't altogether successful, largely because it tries too hard and doesn't pace itself to let its effects sink in. But it does have a kind of frantic energy"
Other reviews thought it unworthy of the word film.
Mick Jagger Performance 1970
Cult classic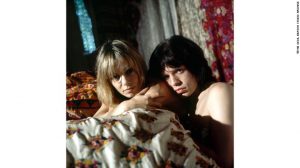 Gradually, though, it found itself viewed far more favorably. From Wikipedia: In 1995 Performance appeared at number 30 in a Time Out magazine "all-time greats" poll of critics and directors
In the September–October 2009 issue of Film Comment, Mick Jagger's Turner was voted the best performance by a musician in a film.
In his 15-hour documentary The Story of Film: An Odyssey, Mark Cousins says: "Performance was not only the greatest seventies film about identity, if any movie in the whole Story of Film should be compulsory viewing for film makers, maybe this is it.
Mick Jagger Performance 1970
Performance soundtrack
I was more into music than cinema and decided to buy the soundtrack. Powerfully odd is how I would have described it then and now as well.
I again saw the name Jack Nitzsche: the name I often saw on the back of albums, but had no idea who he actually was, Other album names were familiar, too: Randy Newman; Merry Clayton, Ry Cooder, Buffy Sainte-Marie, the Last Poets, and Mick Jagger, of course.
For me, I've learned several times that a soundtrack usually needs the movie. I learned why background music is just that.
Here are the tracks:
Side One:

"Gone Dead Train" – Randy Newman
"Performance"  (Merry Clayton)
"Get Away"  (Ry Cooder)
"Powis Square (Ry Cooder)
"Rolls Royce and Acid"  (Jack Nitzsche)
"Dyed, Dead, Red"  (Buffy Sainte-Marie)
"Harry Flowers"  (Jack Nitzsche, Randy Newman)

 Side two:

"Memo from Turner"  (Mick Jagger, Keith Richards)
"Hashishin" (Buffy Sainte-Marie, Ry Cooder)
"Wake Up, Niggers" (The Last Poets)
"Poor White Hound Dog" (Merry Clayton)
"Natural Magic" (Jack Nitzsche)
"Turner's Murder" (Merry Clayton Singers)
Mick Jagger Performance 1970