Saturday Evening Post Hippie
September 23, 1967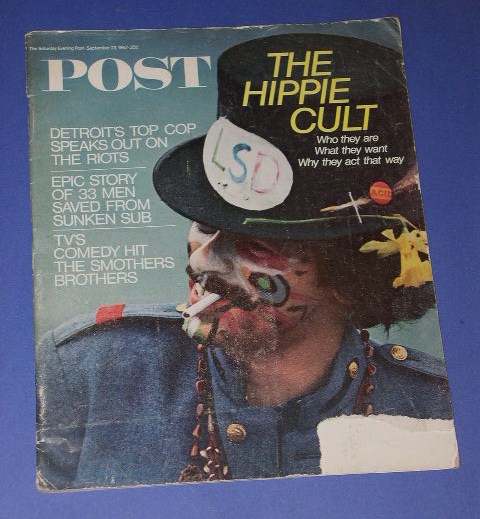 hip·pie, noun
Especially in the 1960s, a person of unconventional appearance, typically having long hair and wearing beads, associated with a subculture involving a rejection of conventional values and the taking of hallucinogenic drugs.
Synonyms: flower child, Bohemian, beatnik, long-hair, free spirit, nonconformist, dropout.
Saturday Evening Post Hippie
Genesis
In 1958, deliberately associating young non-conformists with the Red Menace of Communism, the media picked up on the term Beatnik first used by San Francisco Chronicle's columnist Herb Caen.
Those who choose to or are thrust into a counter-cultural position always face the the Establishment's sticks and stones.
Seven years later another San Francisco newsman, Michael Fallon, this time from the Examiner, christened a younger generation's counter-cultural with the term hippie in an article about the Blue Unicorn coffeehouse.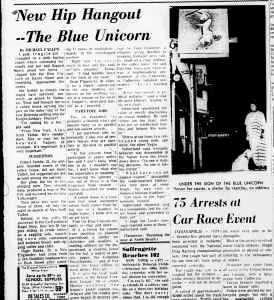 Fallon described the young woman at the start of his article as "A pale fragile girl shrouded in a pink burlap shawl which concealed her mouth and jaw and flapped down around her knees…. She looked as though she might have survived, narrowly, an attack by Bedouins."
Not complimentary.
Saturday Evening Post Hippie
How many "hippies"?
On tours in the Museum at the Bethel Woods Center for the Arts, I talk about who attended the Woodstock Music and Art Fair. If we judge by by the mainstream media's pictures taken that weekend, there were 500,000 hippies: unwashed (unless they were skinny dipping in Fillipini Pond), muddy (unless they weren't), high (unless they weren't), long-haired (unless they weren't), drop outs (ditto, eh?).
I will show guests a picture I took that day and point out that if one looks beyond the many media hippie images, one will find "a lot of white kids getting sunburned."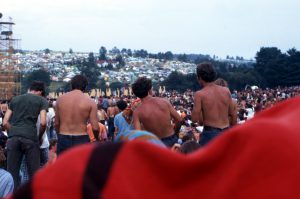 The Saturday Evening Post was not the first print media to feature an article about the so-called hippie. Keep in mind that in 1967 there were still just three major–actually two major (NBC & CBS) and one not so major (ABC)–TV networks. No 24-hour news cycle. No tweets. No electronic social networks. Millions of readers subscribed to magazines, newspapers, or journals. In the 1950s, the Post had reached 6 million households per week!
Perhaps as a reminder of the print media's sway, keep in mind E F Hutton's successful commercial approach in the 1970s and 1980s. Remember "When E.F. Hutton talks, people listen"? That's the kind of power the print media still had, though it was starting to wane.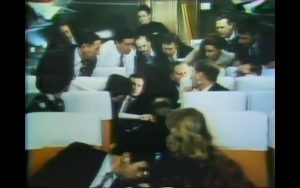 Saturday Evening Post Hippie
Hippie Cult
The Post's article suggested (strongly) that a hippie belonged to a cult. Unthinking, brainwashed, taken advantage of. The cover's headline includes the questions (that the article inside will apparently answer):
Who are they

What do they want

Why do they act that way
In addition to the hippie article [Hippies: Slouching Towards Bethlehem], the edition also had The Howard Hughes Underground, The Brothers Smothers, Tom & Dick, The Rescuer, and Will Joe Frazier Be The Next Champ?
In early 1969, Martin Ackerman announced that the February 8, 1969, issue would be the magazine's last. Ackerman stated that the magazine had lost $5 million in 1968 and would lose a projected $3 million in 1969.
This time, it was the Saturday Evening Post doing the slouching. Toward bankruptcy. [full disclosure: it did resurrect itself and is now a bimonthly and digital publication.]
Saturday Evening Post Hippie
Hippie,  Saturday Evening Post Hippie,  Saturday Evening Post Hippie,