Reprise Signs Jimi Hendrix
May 21, 1967
Reprise Signs Jimi Hendrix
Jimmy Who?
I doubt any of us know that on May 21, 1967 Reprise Records signed a guy named Jimi Hendrix. Would we have even known the name Jimi Hendrix in May 1967?
An American kid from Seattle who'd joined the Army not so much out of a sense of patriotism, but an alternative to jail. That hadn't gone well, but he made a friend with Billy Cox.
Reprise Signs Jimi Hendrix
Apollo Theater amateur
That in 1964 he'd won first prize in an Apollo Theatre amateur contest or that he'd worked with the Isley Brothers, Rosa Lee Brooks, Little Richard, or Curtis Knight?
Maybe you saw him (accidentally?) as Jimmy James and the Blue Flames in Greenwich Village when Jimi decided he needed to be himself, not a back up guitarist.
Reprise Signs Jimi Hendrix
NYC Unknown
You may know now, but didn't know then, that Keith Richard's girlfriend Linda saw him playing in New York and recommended Hendrix to Andrew Loog Oldham, the Rolling Stones' manager. Oldham declined.
One did accept. Some of you do know that it was the Animals' bassist Chas Chandler who was leaving the Animals and looking to produce did think Hendrix was a good choice, particularly for the song "Hey Joe."
Reprise Signs Jimi Hendrix
Chas Chandler
Chandler brought Hendrix to the UK and from that point the road to fame was relatively short. In no time Hendrix was impressing people. We might find that an understatement. How could he not have impressed. Keep in mind, "we" here State-side weren't that impressed and an English woman had to convince a second English man the Hendrix had great talent.
Chandler helped Hendrix form the Experience and in the fall of 1966 they began dates and recording singles. "Hey Joe" and "Purple Haze" did OK in the UK. In March 1967, Hendrix, in a way to "enhance" his stage performance, upped the guitar-smashing of  Pete Townshend to guitar-burning.
Reprise Signs Jimi Hendrix
UK Are You Experienced?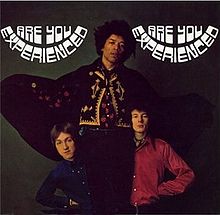 On May 12, 1967 the Are You Experienced album was released in the UK. It did very well and missed being the #1 album only because another album did better. Some album called Sgt Pepper's Lonely Hearts Club Band.
And that's what we were all listening to this side of the pond.
Reprise Signs Jimi Hendrix
Hey Joe?
As referenced above, Reprise Records signed Hendrix on May 21, 1967. The single "Hey Joe" failed to chart here!
Luckily one of the band members, a Paul McCartney, from that Beatles group strongly recommended Hendrix to the Mamas and the Papas who were helping to organize The Monterey International Jazz and Pop Festival. His legendary performance there that June 18 left mouths literally agape and in mesmerized wonder.
Reprise Signs Jimi Hendrix
US Are You Experienced?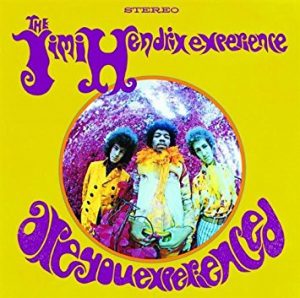 Reprise released the US version of Are You Experienced  on August 23 and Hendrix finally made his Billboard splash.
Richie Unterberger's All Music review begins with, "One of the most stunning debuts in rock history, and one of the definitive albums of the psychedelic era. On Are You Experienced?, Jimi Hendrix synthesized various elements of the cutting edge of 1967 rock into music that sounded both futuristic and rooted in the best traditions of rock, blues, pop, and soul. It was his mind-boggling guitar work, of course, that got most of the ink, building upon the experiments of British innovators like Jeff Beck and Pete Townshend to chart new sonic territories in feedback, distortion, and sheer volume. "
He became the biggest rock and roll star of his time playing gig after gig, festival after festival.
But there would be a new member of the "27 Club."
Three years and 26 days later after the release of his US album, Hendrix would be gone.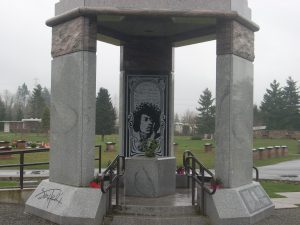 Reprise Signs Jimi Hendrix