December Music et al
Bob Dylan
Mid-December 1960: Dylan leaves Minnesota for New York. He will stop at a number of places along the way. (see January 24, 1961)
Thelonius Monk
In December 1961: Thelonius Monk with John Coltrane album released.
From Michael Nastos in All Music: Universally regarded as one of the greatest collaborations between the two most influential musicians in modern jazz (Miles Davis notwithstanding), the Jazzland sessions from Thelonious Monk and John Coltrane should be recognized on other levels. While the mastery of the principals is beyond reproach, credit should also be given to peerless bassist Wilbur Ware, as mighty an anchor as anyone could want. These 1957 dates also sport a variety in drummerless trio, quartet, septet, or solo piano settings, all emphasizing the compelling and quirky compositions of Monk. A shouted-out, pronounced "Off Minor" and robust, three-minute "Epistrophy" with legendary saxophonists Coleman Hawkins, Gigi Gryce, and the brilliant, underappreciated trumpeter Ray Copeland are hallmark tracks that every jazz fan should revere. O
December Music et al
Bob Dylan
In mid-December 1961: shortly after recording his first album for Columbia, Dylan moved into his first rented apartment in the middle of West Fourth Street, a tiny, scruffy place above Bruno's Spaghetti Shop, and persuaded his girlfriend, Suze Rotolo, to move in with him. (see January 1962)
December Music et al
Jimi Hendrix
In December 1965: The Leaves released single of "Hey Joe" later covered by Jimi Hendrix. (September 24, 1966)
December Music et al
News Music
In December 1966: Simon and Garfunkel's Seven O'clock News/Silent Night Beginning softly at first, a newscast reports various discomforting events and gradually overrides Simon and Garfunkel singing of Silent Night.
December Music et al
Rock Venues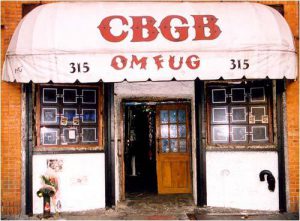 In December 1973: New York bar owner Hilly Kristal opened CBGB in December 1973 at 315 Bowery in Manhattan, the site of his former establishment, Hilly's on the Bowery. Before that, Kristal had put most of his energy into a West Village nightclub. When noise complaints forced him to close, he focused on his property in a less desirable part of town. (see October 11, 2006)
December Music et al