Miracle 22nd Street
Whether you ever believed in Santa or not, belief in kindness and generosity will always prevail.
We all know that Santa's address is simply "North Pole."  Since the North Pole is outside the United States, it has no zip code, not that it would need one for a letter to get there.
Does Santa have a pied-à-terre?  Apparently so and it's an apartment #7 on W 22nd Street in New York City.
Jim Glaud and Dylan Parker lived in that apartment. And for the first few years several letters arrived addressed to Santa. A prank of some sort? Too few to be of any consequence, but in 2010 that changed: scores of Santa letters started to arrive.
1962-themed party
Jim and Dylan decided to do something and practiced a bit of subterfuge. They would have a holiday party and get a little help from their friends. It's theme was 1962.
As people arrived other guests asked them, "Did you get a letter yet?"  Friend after friend selected a letter and read. Then they decided to help.
There were over 400 letters–more than party guests could do–so Jim and Dylan started to reverse panhandle.  Opening a brief case filled with letters, they asked co-workers, neighbors, and eventually simply people on the street, "Would you like to be Santa?"
Miracle 22nd Street
Nearly complete success
All but a few of the letters received a response. Sometimes Santa's helper simply mailed the gift. Sometimes Santa's helper hand delivered the gift.
Why 22nd Street?
Many have asked how the address became associated with Santa? Some guessed that somehow a school or church newsletter used the address (a member's address?).  Or another suggested that it could be traced back to The Night Before Christmas author Clement Clarke Moore, whose estate was nearby. He had received letters written to Santa after the publication of his classic poem in 1823.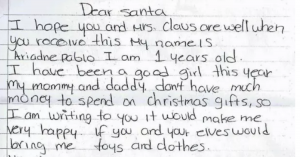 Miracle 22nd Street
The Giving Goes On
They continued each year and not a single letter has gone unanswered since 2010's first batch — with people from all over the country and the world swooping in to help.
Jim and Dylan have moved, but they kept in touch with the new tenants and politely ask them to join the legacy–which each has.
Nowadays, some of the then young recipients are old enough to become helpers themselves and have done just that.
Miracle On 22nd Street
Miracle On 22nd Street is a non-profit run by Jim and Dylan and has spread well beyond New York City. In a 2016 People magazine article Jim said, "We've had people from Hawaii to Alaska, Germany to London, Nicaragua, Abu Dhabi, Tokyo — all helping. I guess that's the power of social media. Why would a woman from Abu Dhabi care about some family from Corona, Queens? It's amazing."
The organization has an internet footprint, of course:
Miracle 22nd Street
The Allusionist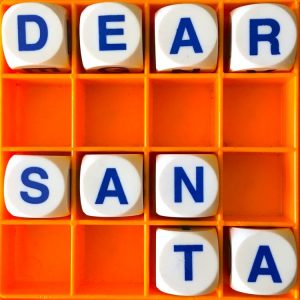 I first heard of Jim and Dylan from a Radiotopia podcast ("Dear Santa"),  Helen Zaltzman's The Allusionist, though, as is always the case, their story has being around the media for years.
Miracle 22nd Street