Blackboard Jungle
Bill Haley & His Comets singing "Rock Around the Clock"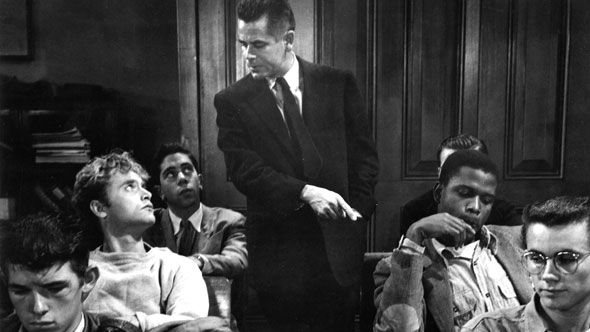 In the 1950s many Americans thought they saw Communists in every nook and cranny. And Americans blamed what they defined as social ills on Communism's influence.

Civil Rights? Communism.  

Folk music? Communism. 

Homosexuality? Communism.

The Beat Generation? Communism.

Juvenile delinquency? Communism.

Rock and Roll? Communism.  
           The novel 

Blackboard Jungle

 was published in 1954. Ed McBain, using the pseudonym Evan Hunter,  wrote the book.  The following year Richard Brooks directed the film. 

           The film reinforced the popular view that teenagers, particularly those who lived in the cities, were out of control. Disrespectful. Lazy. Intemperate.

           The movie opened with Bill Haley & the Comets "Rock Around the Clock." The song was actually the B-side of a single the band had released in May 1954, "Thirteen Women (and Only One Man in Town)." The single didn't go far on the charts. Not until its now-famous B-side opened the movie.
           On July 9, 1955, "Rock Around the Clock" became the first rock and roll recording to hit the top of Billboard's Pop charts. The song stayed there for eight weeks.

           But it was on this date, May 17, in 1955 that the so-called Princeton Riot occurred.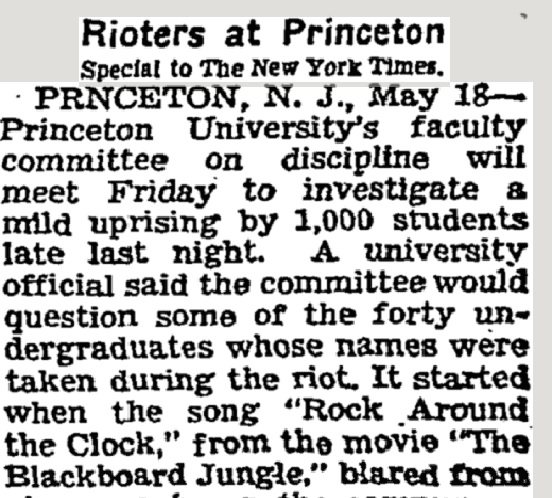 Blackboard Jungle
           That Blackboard Jungle was in the news was not new. On March 28, 1955, Memphis, Tennessee's censor board had banned the film. 

           In fact 1955 was a tough year for rock and roll promoters. On May 22,  Bridgeport, Connecticut authorities had cancelled a Fats Domino concert because of the dangers of "Rock and Roll."  Similar rock and roll concert cancellations due to local officials' fear of possible violence occurred in Boston, Atlanta, Newark, Asbury Park, New Jersey, and Burbank, California. 

           And remember that the Ed Sullivan Show had presented only the top half of Elvis Presley's first appearance.

           As for that Princeton riot, the faculty committee suspended four students.
           On August 26,  Blackboard Jungle was removed from consideration at the Venice Film Festival because of objections by the U.S. Ambassador to Italy, Clare Boothe Luce, but the movie received four Oscar nominations (won none). 

           Today considered a landmark film about the 1950s. And though Bill Haley's song was not the first rock and roll song, it is often credited with making rock and roll popular far beyond its 1950 boundaries. 
Please follow and like us: