Hugh Romney Wavy Gravy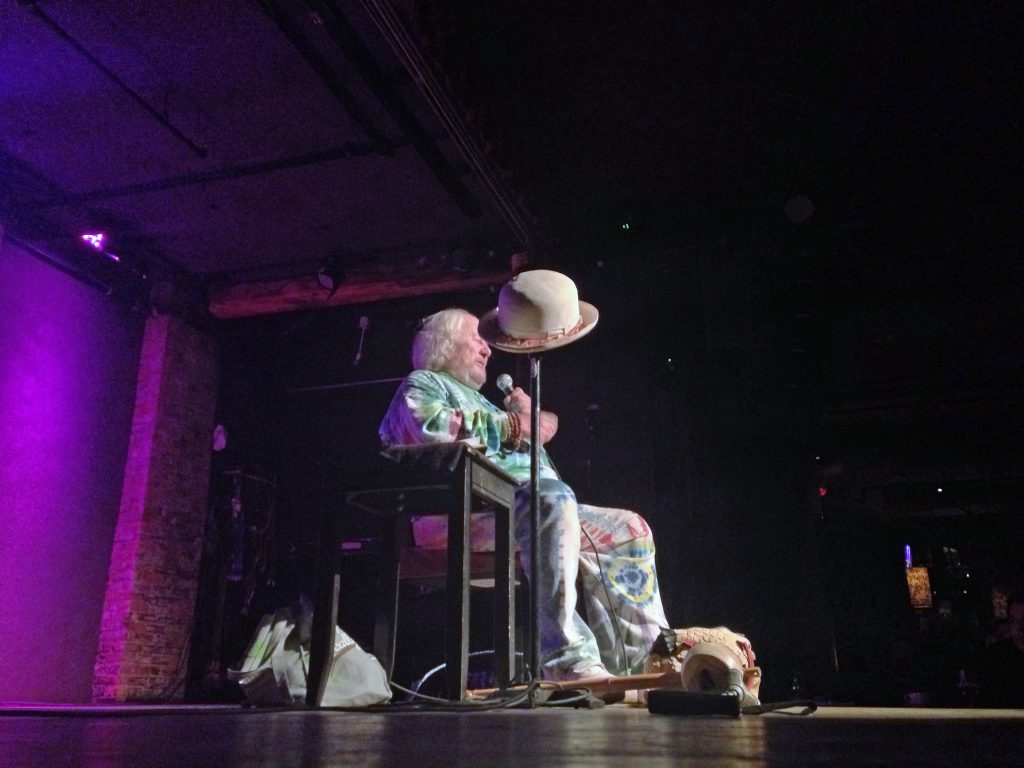 Born May 15, 1936
Of all the colorful characters associated with the magnificently muddy Woodstock, Wavy Gravy  is the most memorable one. Of course, he was simply Hugh Romney then, a member of the Hog Farm, food purveyor, and in charge of the Please Force which he may not have realized until he and the Farm arrived at NY's JFK airport on August 7.
His response to the reporter's question about the Hog Farm being security people is classic Gravy:
"I feel secure, I don't know what security means. I never was called a security person before. You're the first person to call me that. How do you feel? Do you feel secure?"
The Hog Farm was the Please Force.
Hugh Romney Wavy Gravy
Early On
Hugh Nanton Romney Jr. was born on May 15, 1936 in East Greenbush, New York, a suburb of Albany. His mother's name was Charlotte. His father, also named Hugh, was an architect.
For me, his most interesting early story is one that had him as a young child  living in Princeton, NJ in the early 40s.  He remembers a neighbor taking him for walks. He especially remembers that neighbor's long uncombed white hair sticking in various directions. Don't we wish we were alongside for a walk with Wavy and Albert Einstein?
His parents broke up and he moved back to New York,  to Albany with his mom, where he attended grade school. When his mother remarried, they moved with his stepfather to West Hartford, CT, where he attended middle and high school. He graduated William Wall High School in Hartford in 1954.
Romney enlisted in the Army right after graduation.  He received an honorable discharge after a 22 month stint. In an interview with Edward Sanders, Romney said, ""I am in no way recommending the military as a career choice. The Korean War had just wound down and I figured it was a reasonable assumption that I could slip in and out before the next little war rolled around. It was a dumb decision on my part but it helped pay for my college education." 
He enrolled in Boston University in 1957 to study theater and fell in love with the Beatnik vibe then booming.
From the same interview: "I started jazz and poetry on the East Coast. I think I was the first one to do it. I was at Boston University and I read
about this stuff on the West Coast, and we immediately put some stuff together, and went into this joint on Commonwealth Avenue in Boston, Pat's Pebble in the Rock."
Hugh Romney Wavy Gravy
Greenwich Village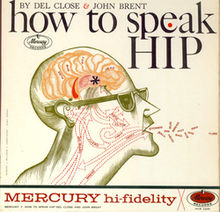 After a year and a half in Boston, Hugh Romney enrolled in the Neighborhood Playhouse School of the Theater in New York City. He'd graduate there in 1961. Other well-know grads are Gregory Peck, Joanne Woodward, Robert Duvall, Christopher Lloyd, Jeff Goldblum, James Caan, June Carter Cash, Mary Steenburgen, and many many others.
In 1958 John Mitchell had opened the Gaslight Cafe.  Later Clarence Hood purchased it and his son Sam managed it. Romney became a regular performer at the Gaslight, eventually taking up the role of entertainment director with friend John Brent. Sometimes musicians played between poets, but poetry not music was the Cafe's main goal.
One of the "things" associated with Beatniks was snap fingers rather than applaud. The origins of that was very practical. The Cafe's basement air shafts and windows let out any noise, like applause. Neighbors complained. Please don't applaud, just snap your fingers.
Brent and actor/writer Del Close did a 1959 album on the Mercury label, "How to Speak Hip." Later, Brent went off to Second City in Chicago
Hugh married Elizabeth "D'Jazian" at the gaslight. The Rev Gary Davis officiated. ""Dave Van Ronk was there, Tommy Paxton was there, Dylan was there, and my mother. She came down (from Connecticut) for the wedding and was freaked out! Gary Davis was way too weird for her, plus he using Peter Rabbit instead of the Bible. He brought Peter Rabbit by accident."
The marriage lasted three years.
Another piece of lore that surrounds Romney, is that Bob Dylan wrote "A Hard Rain's A-Gonna Fall"  on Romney's typewriter in his room upstairs from the Gaslight. Another version is that Dylan wrote the tune in Chip Monck's Gaslight apartment.  Both may be true. Or not.
Hugh Romney Wavy Gravy
Lenny Bruce/California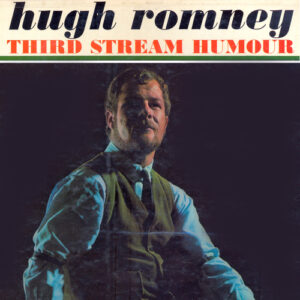 In 1962, Romney moved to California. Why? ""…at the request of Lenny Bruce, who became my part-time manager. Recorded Hugh Romney, Third Stream Humor for World Pacific Records. (I recorded this live when I was the opening act for Thelonius Monk on the night the great Club Renaissance in Los Angeles closed its doors forever.)"
Around 1963, Romney joined The Committee, an improv group, in San Francisco. His wife Elizabeth gave birth to their daughter Sabrina.
What else was 1963? "Purchased a condo in Marin City and a Packard Caribbean convertible in Hollywood. Tuned in, turned on, and dropped out — way out. Entered deep space. Left wife, daughter, and stuff and
journeyed to northern Arizona to join up with Hopi Indians and await the coming global cataclysm. (The Hopis said I was early but let me hang out anyway and regroup my head.) Connected with interconnectedness of everything and surrendered to Law of Sacred Coincidence. Returned to Los Angeles and regrouped life. Divorced wife, gave away stuff, and began to float aimlessly on the ocean of one thing after another."
Hugh Romney Wavy Gravy
1964/Hog Farm
Again from the Sanders interview: "Financed free-floating lifestyle through sale of single ounces of marijuana packaged in decorator bags and containing tiny toys. (The dubious apex of this short-lived profession was when I scored a kilo for the Beatles.)"
He also met Bonnie Jean Beecher (his future and present wife) at her cafe, the Fred C Dobbs in Los Angeles. They would marry in 1965.
And at this time arrives the Hog Farm. "We acquired it while living rent free on a mountaintop in Sunland, California, in exchange for the caretaking of forty actual hogs. Within a year of moving there, the people engaged in our bizarre communal experiment began to outnumber the pigs. At first we all had separate jobs. I had a grant to teach brain-damaged children improvisation while teaching a similar class to contract players at Columbia Pictures. Harrison Ford was one of my students. My wife Bonnie was a successful television actress. Joining the scene were musicians, a computer programmer, a race-car driver, a telephone company executive, a cinematographer, several mechanics, and a heap of hippies."
Hugh Romney Wavy Gravy
Acid Tests 
He became involved in Ken Kesey and the Merry Prankster's famous Acid Tests, but did not, despite author Tom Wolfe's assertion, put LSD in the Kool Aid. In fact, Romney is still upset with the assertion. He did know Wolfe and Wavy Gravy's discomfort is that Wolfe never asked him if the story was true.
Hugh Romney Wavy Gravy
New Mexico
In 1967, the Hog Farm, minus hogs, headed to  New Mexico where they'd bought a  twelve-acre farm in Llano. It was also around this time that his back became so serious problem that surgery was necessary.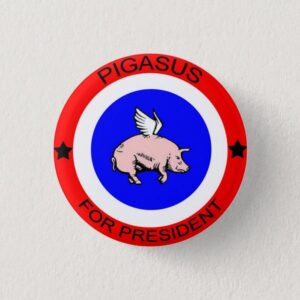 In 1968, he helped run a Pig for President: Pigasus.
Hugh Romney Wavy Gravy
1969/Woodstock/Wavy Gravy
Romney's home was somewhat fluid, but New Mexico was his and the Hog Farm's base. The invitation to be part of the Woodstock Music and Art Fair was at first disbelieved, but became a reality, of course.
From Bethel, NY the commune moved onto the Texas International Pop Festival where after a conversation with BB King, Hugh Romney became Wavy Gravy.
Hugh Romney Wavy Gravy
Long and Winding Road
Where has life taken Wavy Gravy since then? Just to name and not explain:
1969…participated in Robert Frank's documentary, Life Raft Earth, also known as the Starve-In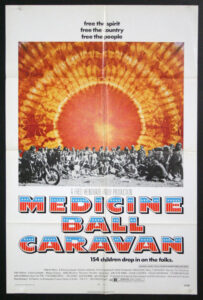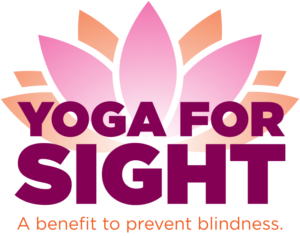 From the Grateful Bears Facebook page: Grateful Bears are overjoyed to have Joan Baez joining our ever-growing family. All profits for Joan's signature bear will go to The SEVA Foundation. Co-founded by Ram Dass and Wavy Gravy, SEVA has saved the eyesight of over 5 million individuals worldwide. Sign up for your own Grateful Joan Bear here: www.gratefulbears.com
1972, Howdy Do-Good Gravy Tomahawk Truckstop Romney born at the Tomahawk Truckstop in Boulder, Colorado. He has since simplified the name to Jordan Romney.

moved to Berkeley, CA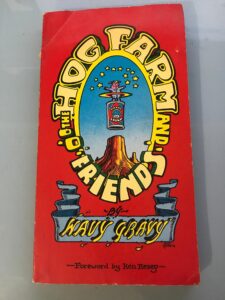 Wavy continues to be an activist and living the ideals that many profess and many fail to live up to. And other know that very well.
Hugh Romney Wavy Gravy