Canadian Bassist Brad Campbell
October 22, 1945 – November 14, 2019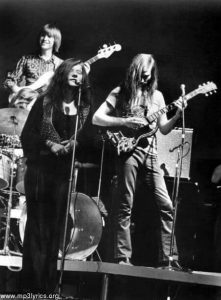 Brad Campbell played at Woodstock as part of Janis Joplin's Kozmic Blues Band. Of course, like all musicians, he'd had things happen before and many things following.
Canadian Bassist Brad Campbell
Early on
Among the beautiful gifts these Woodstock Whisperer posts serendipitously  bestow are comments from someone who was at the event the post is on or knew the person the post is about. Below you can read a comment by an Ian Box, but it is such a great background comment that I want to include it in the post itself. Thank you Ian.
Hi. My name is Ian Box. I am the brother of Graeme Box. One correction, in the band's early years they where called The Shamokins.

I knew Brad from about the age of 10 and I hung out with Brad after he returned from San Francisco for a few years. He still had his Triumph TR6.
I took the B/W picture of Brad wearing the headphones at the top of this article. It was taken shortly after his return in his mom's basement in Clarkson, now part of Mississauga.
I have alot of fond memories listening to music under headphones in that basement with Brad. He teamed up with my brother Graeme often and they played alot of great music together. Occasionally they let me play acoustic.
Although I was a number of years younger than Brad, it never seemed to bother him. He was quite simply one of the coolest people I have have ever known. I was privileged to watch him play his bass many times. He was in that level of talent not many musicians ever reach.
He was also one of the funniest people I have ever known. Growing up he was close friends with my brother Leigh and Wayne Cooper. To see these 3 guys together often left me in tears from laughing.
He had several jobs during the time I hung out with him. He work at a Steel Mill, was a Baliff for Mississauga and got his license to drive heavy road equipment.
It was a great shock when I learned of his passing. Even though I hadn't been in contact with him for many years I still think of him as one of my best friends from that time of my life. My most sincere condolences to Linda and her family.
Last Words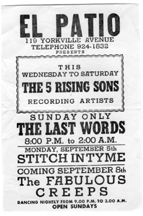 Though little known in the US, the first big band Brad Campbell played in was the Canadian band, The Last Words. The original group was comprised of Graeme Box (lead guitar), Ron Guenther (drums) and Brad's brother Noel Campbell (piano).
According to a Barbed Wire Design article, The Last Words began in Clarkson, Ontario in 1961 as the The Beachcombers.  Began and ended after two gigs.
Then, liking Ronnie Hawkins, they became the Nighthawks.
In 1964 Noel Campbell left the band, but before leaving invited brother Brad to join. Brad played bass.
Now they were The Smamokins band, but that soon changed to The Last Words.
Canadian Bassist Brad Campbell
I Symbolize You
Their first single in 1965, The Laugh's On Me / She'll Know How, for RCA Canada received very little air play, but in 1966 they hit the Canadian charts with a Columbia release, I Symbolize You / It Made Me Cry.
In late 1966, they released their last charted single, Give Me Time / Drive A Mini Minor, again on Columbia.
Bill Dureen left the group in 1967 and the remaining members continued with three others until 1968. Next was joining "The Paupers" with Skip Prokop (Lighthouse).
An interesting aside, Albert Grossman managed the Paupers and in early 1967 when Monterey Pop organizers were inviting groups, Grossman pushed to have the Paupers there. They did perform on the festival's first night, but this was before Campbell was in the group.
Luckily for Brad…
Canadian Bassist Brad Campbell
Janis Joplin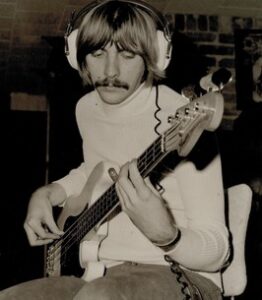 In 1968 he went to New York.
He auditioned for Janis Joplin and she instructed her agent Albert Grossman to hire Brad.
He joined the Kozmic Blues band in late 1968. He'd eventually join Janis Joplin's Full Tilt Boogie Band.
A Know Your Bass Player article wrote: To my ears, the Kozmic Blues Band and Full Tilt Boogie Band, with bassist Brad Campbell, were the perfect match to advance Janis' groundbreaking artistry after she departed Big Brother & The Holding Company.
Throughout I Got Dem Ol' Kozmic Blues Again Mama (1969), Pearl (1971),  and tracks on the archival In Concert (1972) [Campbell} fortified Ms. Joplin's forays into soul and rhythm and blues on such classic tracks as "Try," "Move Over," "Half Moon," and "Me and Bobbie McGee" with harmonic and rhythmic passages evocative of the Motown, Stax, and Atlantic Records session masters – who, at the time, were his peers.
Canadian Bassist Brad Campbell
Post Janis
Brad returned to Canada after Janis's death.
He'd married and begin a family and apparently worked for the courts. 
His 2019 obituary read: Brad Campbell passed away suddenly and peacefully on November 14, 2019. Survived by his loving wife Linda of 45 years. Cherished by his loving daughters; Melissa, Diana and Meredith. As per his wishes cremation has taken place. He will be missed by family and many friends. Brad will also be remembered for his love and passion for music. Donations in Brad's memory may be made through www.musicounts.ca.
His Discography from the Discogs site.
Canadian Bassist Brad Campbell