Declan O'Rourke Buried Deep
Buried in the Deep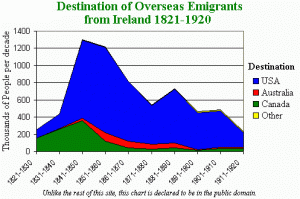 ---
To many starving Irish, the light at the end of the hunger tunnel was a ship to America.  Some two million emigrated in a period of a little more than a decade (1845-55).  Ireland's population before the famine was about 8.5 million meaning that nearly a quarter of its population left in those 10 years.
---
Declan O'Rourke Buried Deep
---
Of course the poor cannot afford comfortable space aboard a ship. In fact, these poor literally became ballast. Ships bringing cargo to Europe found that these millions leaving were a source of both revenue and ship stability back across the stormy Atlantic.
---
Declan O'Rourke Buried Deep
---
The ships cargo area simply became human holds where disease spread quickly among those whose health was already poor. The choice was to know one would die at home or hope to survive the trans-Atlantic journey.
---
Declan O'Rourke Buried Deep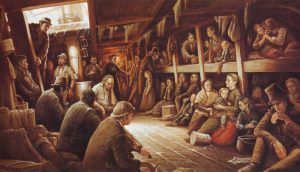 ---
Once again, O'Rourke opens the song with soft acoustic guitar and softly sings:
---
The land where I was born is forsaken,
And I can no longer call it home
It's beauty is forlorn
It's no place for my family
Ach o mo bhroin.
(Ach o mo bhroin is Irish for "But for my grief")
---
Again, the music belies the content. Until the bag pipes slowly enter
Declan O'Rourke Buried Deep
---
To people who'd never been on a ship, to people who likely could not swim, to people who'd already buried family, to people starving, to people hanging by a thread, the prison of the cargo became a living mass coffin.
---
America is calling
Until they died. Then the Atlantic became their grave. Buried in the deep.
---
When I die they'll put me over
That'll cure my broken heart
My dreams can go no further
We're buried in the deep
Where hunger cannot find us
---
Edward Laxton wrote The Famine Ships: The Irish Exodus to America.  (1997 LA Times review)
---

Declan O'Rourke Buried in the Deep
---
---
Please follow and like us: