Recording Engineer Tom Dowd
Remembering and appreciating
October 20, 1925 – October 27, 2002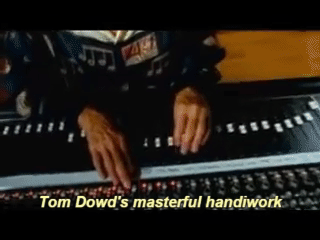 Recording Engineer Tom Dowd
The Triumvirate
The Atlantic Records triumvirate: Ahmet Ertegun, Jerry Wexler, and Tom Dowd.
Thomas John "Tom" Dowd was born on October 20, 1925 in New York City and into a musical atmosphere: his father was a concertmaster, his mother an opera singer.
While attending Columbia University the military drafted him, but he continued to attend Columbia University and also working on the Manhattan Project" the secret development of the atomic bomb.
Recording Engineer Tom Dowd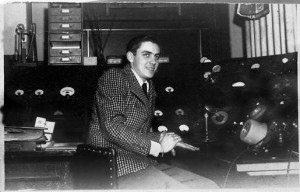 Physics lab to recording studio
He thought he would continue his studies in nuclear physics, but decided to work in music.
According to his Rock and Roll Hall of Fame bio, "After the war, he was hired as a sound engineer at a New York studio in 1947 and began doing freelance work for Atlantic Records in 1949. Under Dowd's direction, the label switched from recording onto acetate discs to tape, resulting in improved fidelity and preservation. He introduced the label to stereo recording in 1952. Atlantic hired him as a full-time engineer in 1954. In addition to engineering countless sessions, he built the label's recording console and designed its eight-track studio.sole and designed its eight-track studio."
In his memoir, Rhythm & the Blues: A Life in American Music, Jerry Wexler described the relationship between Ahmet Ertegun, himself, and Dowd: "Our gig [Wexler and Ertegun] was to get the music played right and righteous in the studio; Tom's job was to capture it on tape. It was up to him to find a mix of timbres, bass, treble and midrange; to load a much volume as possible without distortion. Tom pushed [the volume controls] like a painter sorting colors. He turned microphone placement into an art."
Whose music was Dowd an integral part of? The list is a who's who of great music over the decades:
Bobby Darin's Mack the Knife
John Coltrane's My Favorite Things
Aretha Franklin's Respect
Cream's Disraeli Gears
Allman Brothers Idewild South, Eat a Peach, Live at the Fillmore East
Derek and the Dominos' Layla
Lynyrd Skynyrd
Ronnie Van Zant
Eric Clapton
Rod Steward
Recording Engineer Tom Dowd
In his own words…
Here he speaks about the evolution of recording music
Recording Engineer Tom Dowd
Lifetime Achievement
In 2002 he was presented a Lifetime Achievement award from the National Academy of Recording Arts and Sciences.
Dowd died October 27, 2002 (NYT obit) and in 2003 an outstanding documentary about his life  came out: Tom Dowd and the Language of Music.
Tom Dowd was posthumously inducted into the Rock and Roll Hall of Fame in 2012.
Recording Engineer Tom Dowd