Rev Gary Davis Van Gelder
Reverend Gary Davis
The discography of the Reverend Gary Davis is longer than the four albums he recorded at the Van Gelder Studios in Englewood Cliffs, NJ.
And there are recordings that some of his students did while they were trying to learn the guitar playing intricacies that Davis could do.
I will stick with the four recording sessions that he did at Van Gelder mainly because of that studio's fame for so many classic recordings, particularly jazz.
Rev Gary Davis Van Gelder
Gary D. Davis
Gary Davis was born on April 30, 1896 in Laurens, South Carolina. He was the oldest of eight children and the only one to survive.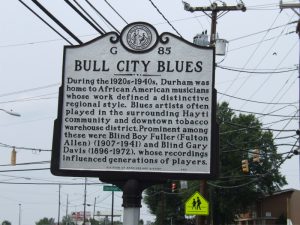 In his 20s he moved to Durham, North Carolina and barely supported himself busking in its streets mainly the blues until he was ordained a minister in 1937. At that point, despite requests, he tried to get away from "secular" music, particularly when recording.
He moved to New York in the 40s where he continued busking and living in poverty. To supplement his income, he gave guitar lessons. $5 a lesson.
Van Gelder Recording Sessions
While he had been recorded several times earlier than his first Van Gelder session, the highest quality recordings came from those in Englewood Cliffs.
August 24, 1960
Rev Gary Davis Van Gelder
Harlem Street Singer
Matt Fink in his All Music review says, "…Gary Davis laid down 12 of his most impassioned spirituals for Harlem Street Singer. Starting off the session with a version of Blind Willie Johnson's "If I Had My Way I'd Tear That Building Down," here renamed "Samson and Delilah," Davis is in fine form. His vocals are as expressive as Ray Charles' while similar in richness to Richie Havens' work. Harlem Street Singer features his inspired country blues fingerpicking as well. Many moods color the selections, from the gentle "I Belong to the Band" to the mournful "Death Don't Have No Mercy," only to be followed by the joyous shouting of "Goin' to Sit Down on the Banks of the River." Overall, the collection is well worth the purchase and should be considered essential listening for fans of country blues or gospel."
Track listing
Unless noted otherwise, all compositions are by Davis:
"Samson and Delilah" (Traditional) – 4:02
"Let Us Get Together" – 3:08
"I Belong to the Band" – 2:54
"Pure Religion" (Traditional) – 2:57
"Great Change Since I Been Born" – 4:03
"Death Don't Have No Mercy" – 4:41
"Twelve Gates to the City" (Traditional) – 3:08
"Goin' to Sit Down on the Banks of the River" – 2:55
"Tryin' to Get Home" – 3:46
"Lo I Be With You Always" – 4:17
"I Am the Light of the World" – 3:34
"I Feel Just Like Goin' On" – 3:29
Rev Gary Davis Van Gelder
August 10, 1961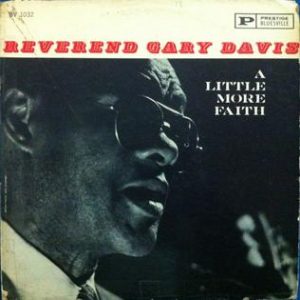 A Little More Faith
Again Bruce Elder from AllMusic: Gary Davis' second album for Prestige Records is a confusing affair, at least as far as its title — Little More Faith is how it's listed in lots of reference sources, but its front cover calls it A Little More Faith, while its spine (at least for the CD issue) calls it Have a Little Faith. But by whatever name it's called, it's a masterpiece: its dozen songs recorded on one day in August of 1961 are nothing less than priceless. Davis presents an easy virtuosity on his solo guitar, and runs his voice across a surprisingly wide range in what is mostly gospel repertory. Not that any blues fans will mind his approach: Davis was one of those figures where the sound and feel of blues becomes indistinguishable from those of gospel. He was just doing what came naturally on this record, laying down 12 songs he knew well from across decades of performing, including a raw and affecting "Motherless Child" and the upbeat, inspiring "There's a Bright Side Somewhere." And his easy, unselfconscious approach demonstrates that he never once thought twice about his contributions to an already classic body of music. Included among the jewels here are some of the roots of the blues revival of the next generation, including Davis' rendition of "I'll Be All Right Some Day," a song that Jorma Kaukonen parlayed into a killer opening for his solo magnum opus, Quah, about 13 years later. And speaking of natural, the stereo mastering of this album works amazingly well, despite the fact that it puts Davis' voice on one channel and his guitar on another; mono sound might be more authentic, but this way you can fully appreciate his playing and his singing, each on its own terms.
Track listing
Unless noted otherwise, all compositions are by Davis:
"You Got to Move" (Traditional) – 3:18
"Crucifixion" – 4:57
"I'm Glad I'm in That Number" – 2:58
"There's a Table Sittin' in Heaven" – 3:28
"Motherless Children" (Traditional) – 4:12
"There's a Bright Side Somewhere" (Traditional) – 3:12
"I'll Be All Right Some Day" – 3:03
"You Better Mind" – 3:26
"A Little More Faith" – 3:40
"I'll Fly Away" (Albert E. Brumley) – 4:32
"God's Gonna Separate" (Traditional) – 3:35
"When I Die I'll Live Again" – 3:28
Rev Gary Davis Van Gelder
Late 1961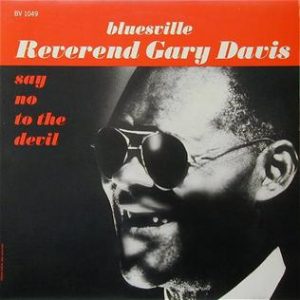 Say No to the Devil
Bruce Elder in his AllMusic review states, "His second Prestige album of 1961 shows the Rev. Gary Davis not breaking stride for a second, even in the wake of the triumphant A Little More Faith. The repertory here is perhaps a little more traditional gospel in orientation, and the songs more cautionary in nature — but that doesn't stop Davis from displaying some overpowering dexterity, and if anything his singing is even more exuberant here. And this time out, in addition to his six-string guitar, he treats us to his powerful 12-string playing on "Time Is Drawing Near" and "Lost Boy In The Wilderness," the latter a shimmering five-minute showcase for the instrument that's almost worth the price of admission by itself; and he also shows off his considerable harmonica dexterity — of a distinctly old-school style — on "Hold To God's Unchanging Hand" and "No One Can Do Me Like Jesus." The stereo mix on this album, when compared to its predecessor, is also a bit more naturalistic, without sacrificing any detail in the finely nuanced playing or singing, and the result is an album as fine as its predecessor, and an equally worthy part of any serious acoustic blues collection.
Track listing
Unless noted otherwise, all compositions are by Davis:
"Say No to the Devil" – 4:01
"Time Is Drawing Near" – 4:26
"Hold on to God's Unchanging Hand" (Traditional) – 4:35
"Bad Company Brought Me Here" – 3:38
"I Decided to Go Down" – 4:25
"Lord, I Looked Down the Road" – 4:20
"Little Bitty Baby" (Traditional) – 4:32
"No One Can Do Me Like Jesus" – 3:40
"Lost Boy in the Wilderness" – 5:01
"Tryin' to Get to Heaven in Due Time" – 4:24
Rev Gary Davis Van Gelder
March 2, 1964
The Guitar & Banjo of Reverend Gary Davis
From Richie Unterberger at AllMusic: Because this is an all-instrumental recording, it's an offbeat entry into the catalog of a performer known both as an important guitarist and as a singer. Some might miss Davis' vocals on this 1964 recording, but on the other hand there are plenty of records with him singing around. This gives listeners a chance to hone in on his dexterous guitar skills, blending ragtime, folk, and blues, usually on guitar (though he plays banjo on a couple of songs, and harmonica on one). "Maple Leaf Rag" is a natural showcase for Davis' talents, and "Candy Man," which may be his most well-known song, is here presented without words, making for an interesting juxtaposition with more commonly heard versions on which he (or others) sings. As further evidence of his eclecticism, there's a version of "United States March aka Soldier's Drill" — not the best format for his strengths, certainly, but an illustration of his ability to adapt his style to unexpected material.
Track listing
Unless noted otherwise, all compositions are by Davis:
"Maple Leaf Rag" (Scott Joplin) – 2:58
"Slow Drag" – 2:27
"The Boy Was Kissing the Girl (and Playing the Guitar the Same Time)" – 2:42
"Candy Man" – 2:54
"United States March" (Traditional) – 6:31
"Devil's Dream" (Traditional) – 3:50
"The Coon Hunt" (Traditional) – 3:32
"Mister Jim" – 4:15
"Please Baby" – 3:18
"Fast Fox Trot" – 2:22
"Can't Be Satisfied" – 2:55
Rev Gary Davis Van Gelder