Activist Brownie Mary Jane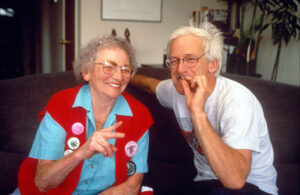 On December 22, 1922 a girl was born in Chicago.  The parents, Irish-Catholic and conservative in their views, named their baby Mary Jane. They had no irony in mind, but it would turn out to be exactly that.
Mary Jane Rathburn grew up in Minneapolis and attended a Catholic grammar school. As was the case in many schools during the 30s, teachers physically punished recalcitrant students.  The problem with caning a recalcitrant student is they might fight back.
Mary Jane did. Mary Jane left school. Mary Jane left home. Mary Jane became a waitress, a job that would be her primary one for most of her life. At least the primary one if someone asked her, "So what do you do for a living?"
Mary Jane was far more than a waitress.
Activist Brownie Mary Jane
Early activism
She campaigned for the right of miners to form unions. In the late 1940s, she worked as an activist promoting abortion rights for Minneapolis women.
In between, during World War II and living in San Francisco, she married, had a baby in 1955, and named her Peggy. Divorced, Mary Jane  and Peggy moved to Reno, Nevada. In  1974, a drunk driver hit and killed Peggy.
Activist Brownie Mary Jane
San Francisco again
Mary Jane moved back to San Francisco.
In 1974 she met fellow activist Dennis Peron at Cafe Flore. They shared a joint.
Cafe Flore was in the Castro district, a largely gay area of San Francisco. During the war, the armed services dishonorably discharged soldiers found to be gay and many of those discharges took place at the port of San Francisco. Many stayed.
Activist Brownie Mary Jane
Becoming Brownie Mary
In  the late 1970s Mary Jane began to supplement her income by baking brownies. She decided that adding marijuana to her brownies would make them what she described as "magically delicious."
Mary Jane was not the first to use cannabis as an ingredient. Humans had been using it for centuries. Most famously in the west was the Alice B Toklas's fudge recipe that was included in her 1954 cookbook.
In 1981 the law caught up with Mary.  It raided her apartment and hauled away "35 lbs of margarine, 50 lbs of flour and sugar, 22 dozen eggs, 21,000 sq ft of plastic wrap, and 20 lbs of high-grade cannabis."
Mary was upset they said it was margarine. She said she only used the best butter.
In order to pay for her legal defense, she sold her belongings – including the kitchen table.
A judge sentenced her to 500 hours of community service which she willingly completed by working at a hospital with young men who were dying of the yet-unnamed AIDS.
For the rest of her life she continued to minister to AIDS patients and providing for some relief by bringing her increasingly famous brownies. She bought nearly all the ingredients with her own money. Somehow, the marijuana appeared for free from generous growers.
Two other arrests occurred, but her reputation of assistance led to a lenient sentence. The last charge was dropped.
Activist Brownie Mary Jane
Medical Marijuana
As the AIDS crisis grew and the use of cannabis demonstrated its  obvious and effective analgesic properties, Brownie Mary became increasingly involved in the Proposition P campaign to recommend its legalization for medicinal use in San Francisco in 1991.  She received a standing ovation at its hearings.
The proposition passed overwhelmingly but not until 1996's passage of Proposition 215 was the recommendation legalized.
In 2008 the medical marijuana group "Americans for Safe Access" estimated that California had more than 200,000 doctor-qualified medical cannabis users.
Activist Brownie Mary Jane
 San Francisco Cannabis Buyers Club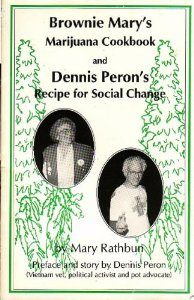 In 1992 San Francisco declared a 'Brownie Mary Day'  to honor her work with dying patients in the AIDS ward. 5,000 people rallied in her praise.
That same year, she and Dennis Peron founded the San Francisco Cannabis Buyers Club. The Buyers Club was meant to provide a place for safe distribution of medical cannabis to people with cancer, AIDS,  and other diseases. Akin somewhat to the Prohibition speakeasies of the 1920s, the product was illegal and raids regular.
Just weeks before the Prop 215 vote, police arrested Dennis Peron.
Activist Brownie Mary Jane
Disabilities catch up
By the mid-1990s, arthritic knees forced her to retire but she continued to bake and support positive marijuana legislation.
A Marijuana dot com article said, "Her sympathies were always with the underdog, the poor, the busted and the downtrodden," John Entwistle Jr., a former legalization advocate and longtime friend of Rathbun, told Marijuana.com. "One could see that she had overcome tremendous difficulties in her own life and that created a natural empathy and sense of compassion for others that was tangible and sincere."
Brownie Mary  died of a heart attack at age 76 on April 10, 1999.
On April 17, 300 people, including her friend, district attorney Terence Hallinan, attended a candlelight vigil held in her honor in the Castro.
Hallinan told a crowd of several hundred people gathered at her memorial that she was a hero who will "one day be remembered as the Florence Nightingale of the medical marijuana movement."
Friend and partner activist Dennis Peron said, "I figure right now she's making a deal with God: If you let me in, I'll make you a dozen brownies on the house.' "
Activist Brownie Mary Jane