Quill Roger North
If I asked for a show of hands if you've heard of the band Freak Mountain Ramblers,  my sense is I'd see few hands. Not even mine.
When doing tours at the Museum at Bethel Woods Center for the Arts, I always ask, "Who was the opening act on Saturday?" Most Woodstock fans know that Richie Havens famously opened the festival on day one  because of his famed impromptu composition, "Freedom," but only the most obsessive Woodstock fans (yes, my hand is raised) know the name Quill.
I was there that Saturday afternoon when Quill opened day 2 and I took a picture. I wasn't up close so I decided to put my borrowed binoculars up to the lens of my borrowed 35 mm camera and see what happened. This is what happened:
Quill Roger North
New England roots
The band  came out of New England, fertile grounds for musicians who became well-known far beyond that area: the J. Geils Band featuring Peter Wolf, Skunk Baxter (Doobie Brothers, Steely Dan, Ultimate Spinach), Jim Hodder (Steely Dan), and others.
An excellent piece by Wade Lawrence, the Director & Sr. Curator at Bethel Woods Center for the Arts Museum stated that "Brothers Jon and Dan Cole began performing their own songs around Boston in 1966, creating Quill in 1967 when they brought in keyboardist Phil Thayer and drummer Roger North from the band Catharsis (both classically trained musicians) and guitarist Norm Rogers from Morning Star Blues Band."
Quill Roger North
Woodstock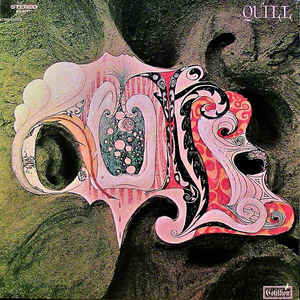 Woodstock Ventures hired the band not just to play at Woodstock but to be good-will ambassadors playing music for free for the Bethel community and local "institutions" in the days leading up to the festival itself.
Unfortunately for the band, none of their 30 minutes set
They Live the Life
That's How I Eat
Driftin'
Waitin' for You
…make the album or movie.
Such exposure could have done for them what that exact exposure did for Santana. Joe Cocker, and Sly.
Here's their whole set (slide up to the 7.02 mark)
Cotillion Records released an album (Quill) but Jon left the band. A second album was recorded, but went unreleased.
Quill Roger North
North heads west
Following Quill's breakup, north played with Odetta a bit and then with the Holy Modal Rounders–the west coast version.
He now lives in Portland, Oregon and currently plays in the Freak Mountain Ramblers.  A popular band that was inducted into the Oregon Music Hall of Fame in 2018.
Quill Roger North
North Drums
Roger also designed North Drums which have a curved-shape to project the percussion toward the audience.
Though only manufactured between 1973 and the early 1980, the drums had developed a admirable following by such drummers and artists as Boz Scaggs, Alan White, Doug Clifford, Billy Cobham, Russ Kunkel, Joe English, and Gerald Brown.
Quill Roger North