Detroit Teddy Harris Jr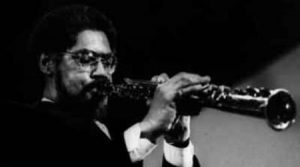 August 27, 1934 – August 22, 2005
I often entitle my little bios of Woodstock performers by including the word "Woodstock" before or after their name. An SEO strategy.
In the case of Teddy Harris, the word Woodstock, however  much apropos, is far too limiting because his roots and branches are  Detroit.
As he says above, "Nobody swings as hard as Detroit."
Detroit Teddy Harris Jr
Detroit
Theodore Edward Harris Jr. was born in Detroit on August 27, 1934.
His first music teacher was his father, jazz organist Theodore Harris Sr.
A Metrotimes article recounts his early musical milestone: as a precocious 7-year-old, [Harris] had a musical epiphany…at the Paradise Theatre. As recounted in Harris family lore, the curtains opened, the youngster jumped up on his seat, pointed at Duke Ellington on stage and pronounced, "That's what I want to be."
Harris himself talked about his home's musical atmosphere: "I came up in a house full of music. I had uncles that sang; they sang like birds. They had a trio called the Cosmopolitan Trio, and they sang in churches throughout the area. My father was their accompanist. Every Saturday my father would give me a haircut, and after I would listen to the guys sing and rehearse."
In high school, he served as student band director.
Detroit Teddy Harris Jr
New England
In 1955 Harris attended the New England Conservatory for a time before being drafted in 1956.  Before he left he  was part of Jackie Wilson's first hit "Reet Petite (The Finest Girl You Ever Want to Meet)."
Detroit Teddy Harris Jr
Germany
The military did not interfere with his musical journey. He performed as guest saxophonist with the 7th Army Symphony Orchestra and Soldier's Show Company
Detroit Teddy Harris Jr
Paris
After his discharge in 1959 he studied with  Nadia Boulanger in Paris before returning to Detroit.
Detroit Teddy Harris Jr
Back in Detroit
Harris had known Berry Gordy, Jr and when Harris returned to Detroit in 1961, he became part of Gordy's growning  Motown enterprise. He worked with Marvin Gaye, Martha Reeves, the Temptations and Smokey Robinson.
Detroit Teddy Harris Jr
Woodstock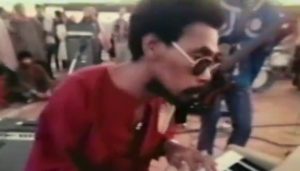 Bassist friend Rod Hicks got Harris to join the Paul Butterfield Blues Band,  which led to Harris's presence at Woodstock. He described flying over the site as looking at "biggest Indian pow-wow in the world."
After Paul Butterfield, Harris spent 16 years as musical director for the Supremes.
Post Woodstock
In the early 1980s Harris formed the New Breed Bebop Society Orchestra while heading a summer arts workshop for economically disadvantaged youngsters.
During the mid 1980s, Harris led the house band at Dummy George's, and led a big band often accompanied with The Detroit Voices.
Awards
Some of the awards he received were: Outstanding Contributions (United Negro College Fund) 1986; Distinguished Recognition Medal (City of Detroit) 1990; State of Michigan Special Tribute 1992; Legends of Jazz International Hall of Fame; Michiganian of the Year 1993; Jazz Masters Award 1993; 1993 Key to the City of Detroit; Spirit of Detroit Award 1994, Governor's Michigan Artist Award 1995.
Teddy Harris died of prostate cancer at John D Dingell VA Medical Center in Detroit.
The Motown Forever site said of Harris: There was always an elegance about Teddy Harris Jr., from the fluid caress of his piano and saxophone work, to the curlicue grace and bebop lyricism of his arrangements, to the hip presence with which he led his bands and mentored generation after generation of young jazz musicians.
Detroit Teddy Harris Jr