Dr Joe Witkin Woodstock
Happy birthday
March 7
Joe Witkin played keyboards for Sha Na Na at Woodstock. According to an undated statement by Joe himself, "Hey, I'm just a guy from Brooklyn, N.Y. who like (sic) to play music. My mom still tells me I used to sing the Hallelujah Chorus in my crib. Piano at age three. Lessons at age six. I'm still learning at forty-nine plus. First guitar in Junior High. Folks got me a funky paisley Hofner 6-string electric in Germany in 1964. And an Ampeg Gemini II. Blue tolex with one 15″. Man, was I in heaven. Heard the Beatles and had to learn bass, too. Robin's-egg-blue Hagstrom, made in Sweden. My goal was to perfect the guitar AND bass parts of every Beatles song. Still doing the Mozart-Beethoven thing on piano, too. Some fine teachers in New York City!"
Dr Joe Witkin Woodstock
Columbia
He joined the Glee Club at Columbia, also did Beach Boys music, also was in The Soul Syndicate, a 12-piece Columbia-based band.
Apparently he had a plate large enough for a lot of music and in 1968 he joined Columbia's King's Men, a sub-part of the Glee Club. Serendipity stepped in one night and with some time to spare, the King's Men spontaneously started singing 50s songs. Keep in mind that by the late 60s, most of the songs were barely 10 years old.
The student reception was great.
Dr Joe Witkin Woodstock
Grease Under the Stars
As a result of that success, The King's Men did a special 50s concert called Grease Under the Stars that was so well received that the group, now Sha Na Na, started getting gigs.
One of those gigs was at Steve Paul's Scene and one night Michael Lang and Artie Kornfeld stopped in, loved what they saw, and offered them $300 to play at a festival. Sha Na Na accepted.
Dr Joe Witkin Woodstock
Woodstock and Doctor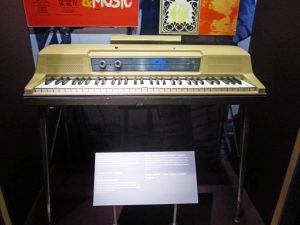 He wound up with an old Wurlitzer electric piano that is now proudly exhibited in the Museum at Bethel Woods Center for the Arts.
After he graduated from Columbia in 1970, he left Sha Na Na. The idea was never to make Sha Na Na a career.  He became Dr. Witkin,  an ER physician (now retired) who did his internship and residency at University California at San Diego. He worked at Scripps Hospital East County and at Sharp Grossmont Hospital in the San Diego area.
The band still exists, but only Donny York and Jocko Marcellino remain from the dozen who played Woodstock that famous Monday morning.
Dr Joe Witkin Woodstock
Corvettes
Witkin may have left Sha Na Na, but he didn't leave music.
In the late-Eighties joined the "Legends Doo Wop 'n Roll Revue" which a Howard Blank had formed. In 1989, Witkin answered an ad about auditioning for the band. He preferred doing guitar, but that spot was not open. He became its keyboardist. Deja vu all over again.
His wife Carol joined as a background vocalist.
In March of 2003, Legends changed its name to  The Corvettes. Carol became manager.
The band's site describes the band: "Take a large pinch of nostalgia – that feeling that makes you tingle inside, and brings you face-to-face with the tastes, smells, and feelings of your past. Combine it with the best well-known hits of the fifties and sixties. Stir until totally danceable. Arrange the music on a platter exactly as people remember it. Embellish with glitter, add a helping of wild-and-crazy, and sprinkle with a generous portion of laughs. Serves thousands…
Ladies and gentlemen…Dr Joe Witken.
Dr Joe Witkin Woodstock