Bobby Charles Swamp Pop
February 21, 1938 – January 14, 2010
Bobby Charles….Big Boys Cry. 
The intro is Bob Dylan from his Theme Time Radio Hour (Season 1, Episode 39—Tears)
When I watched Martin Scorsese's The Last Waltz, I couldn't believe how many amazing musicians had come to the party.  I'd heard of nearly all the performers (surprised about Neil Diamond), but Bobby Charles was unknown to me.
He shouldn't have been.
"See You Later Alligator"? Bobby Charles wrote it.
One of my favorite singles was Fats Domino's "Walking to New Orleans." Bobby Charles, again.
He's barely a part of the released movie, barely seen in the group performance of "I Shall Be Released."

The song he did do ("Down South In New Orleans") was on the released soundtrack, but not featured in the movie itself. A video-taped outtake of his "Down South In New Orleans" exists. Unfortunately for Charles, it's Levon Helm's voice that mainly heard. Perhaps a reason for the song's exclusion? Or perhaps the brighter starlight of Louisiana compatriot Dr John who had preceded Charles in the show ("Such A Night") and stuck around for Down South.
Bobby Charles Swamp Pop
Abbeville, Louisiana
Robert Charles Guidry was born in Abbeville, Louisiana and thus it is no surprise that he grew up listening to Cajun music.
When he was 15, he heard Fat Domino's "Goin' Home" on the radio.  It was a revelation. According to the Poderosa Stomp site, "…Charles remembers the epiphany this way: "That was it, it changed my life forever. It hit me hard. Something hits you that hard you don't forget it."
Bobby Charles Swamp Pop
White?
He had written "See You Later" for his idol Fats Domino, but Fats didn't do alligator songs.  Charles ended up singing the song over the phone to Leonard Chess, of Chess Records in Chicago.
Heard, but unseen, Chess sent a airplane ticket to Charles.
In 2012 Terry Gross, of NPR's Fresh Air show, did a piece on Charles. Ed Ward spoke on the report: "…when Charles showed up at his office, Chess said something I can't say on the air. The sentence ended with the word "white" and a question mark, though. "  (The report has plenty of great song snippets by Charles.)
Bobby Charles Swamp Pop
Homebody
Though a successful songwriter, a jealous wife and a dislike of touring kept him off the road.  When a divorce eased that issue a bit, a pot bust in 1971 put him on the run rather than be jailed.
Where did he end up? A place called Woodstock, NY.  A place he'd never heard of, not even the festival.
Bobby Charles Swamp Pop
Albert Grossman
I suppose it's hard to be a musician in Woodstock and not run into others in the business. Fortunately for Charles, he ran into Albert Grossman, the manager of, among others, Bob Dylan and Janis Joplin.
Along with his neighbors (I guess you've already figured out that they were the guys with the last names Helm, Hudson, Robertson, Manuel, and Danko), he recorded an album. One that people who know it and have it will enthusiastically tell someone who doesn't, "Oh yea, you should get it!"
Bobby Charles Swamp Pop
Light In the Attic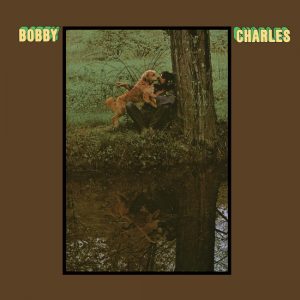 Here's the track list. Click on a title for a sample.
He did release more albums  with equal outstanding quality and equal non-commercial success.
In 2004  the double CD Last Train to Memphis was a retrospective of his compositions, with guest appearances by Neil Young, Willie Nelson and Fats Domino.
Bobby Charles Swamp Pop
Louisiana Music Hall of Fame
On September 24, 2005, Charles lost his home to Hurricane Rita when it struck southwest Louisiana.
In October 2007, he was inducted into the Louisiana Music Hall of Fame in 2007. The site has a great summary of his life and music.
Among that summary, is the amazing fact that Charles neither played an instrument nor read or wrote music.
Keith Spera said in a NOLA article, "Songs popped into his head, fully formed. To capture them, he'd sing into the nearest answering machine; sometimes he'd call home from a convenience store pay phone."
By the early 2000s he was in poor health with diabetes and was in remission from kidney cancer. He died on January 14, 2010. He was 71.
Bobby Charles Swamp Pop