October 18 Music et al
Transistor radio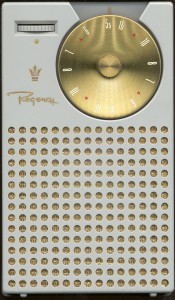 October 18, 1954: Industrial Development Engineering Associates announced the first practical transistor radio, the Regency TR-1. [PBS article] (see Nov 1)
October 18 Music et al
Quarry Men
October 18, 1957: The Quarry Men performed at the New Clubmoor Hall (Conservative Club), Norris Green, Liverpool. This was Paul McCartney's first appearance with the group. The line-up for The Quarry Men was John Lennon, Paul McCartney, Eric Griffiths, Colin Hanton, and Len Garry. Paul McCartney, suffering from a case of the stage jitters, flubs his guitar solo on the song "Guitar Boogie". Upset with his playing, Paul tries to make amends by showing John a song he had written, "I Lost My Little Girl". John then shows Paul some songs that he has composed. The two start writing songs together from that moment, which marks the birth of the Lennon-McCartney songwriting partnership. Pete Shotton, out of the group by this time, had no real musical ability and knew it; he was almost relieved when, during a drunken argument, John Lennon had smashed Pete's washboard over Pete's head. That was the end of Pete Shotton's career as a Quarry Man. (see January 24, 1958)
October 18 Music et al
WNEW-FM
October 18, 1967:  press release from WNEW-FM announcing that Rosko will be joining station on October 31. (see Oct 29)
October 18 Music et al
Rolling Stone magazine

October 18, 1967: the first issue of Rolling Stone magazine released with a cover dated Nov 9 and featuring a photograph of John Lennon in the film How I Won the War. [Roger Ebert movie review] (see Dec 22)
October 18 Music et al
John & Yoko arrested
October 18, 1968:  the Drug Squad arrested John Lennon and Yoko Ono. Lennon and Ono were temporarily living at Ringo Starr's flat at 34 Montagu Square, London. Following a tip-off from a newspaper journalist friend, they had thoroughly cleaned the flat to make sure it was free of drugs.
Lennon related: All of a sudden, there was this knock on the door and a woman's voice outside, and I look around and there is a policeman standing in the window, waiting to be let it. We'd been in bed and our lower regions were uncovered. Yoko ran into the bathroom to get dressed with her head poking out, so they wouldn't think she was hiding anything. Then I said, 'Ring the lawyer, quick,' but she went and rang Apple. I will never know why…. That thing was set up. The Daily Express was there before the cops came. In fact, Don Short had told us, 'They're coming to get you,' three weeks before. So, believe me, I'd cleaned the house out, because Jimi Hendrix had lived there before in the apartment, and I'm not stupid. I went through the whole damn house. [Beatles Bible article] (see Nov 1)
October 18 Music et al
"I Can't Get Next To You"
October 18 – 31, 1969: "I Can't Get Next To You" by The Temptations #1 on the Billboard Hot 100.
October 18 Music et al