Wynonie Harris Good Rockin Tonight
R & B #1 song
October 5, 1948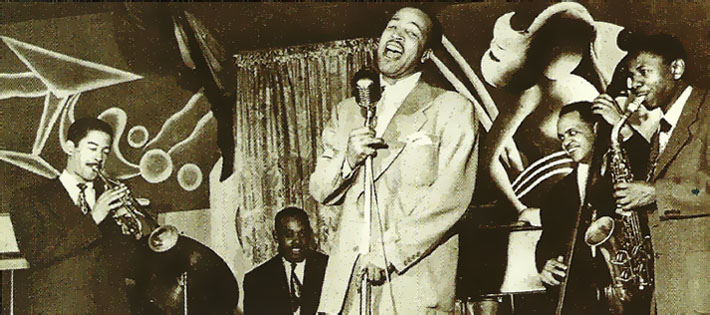 Roots of Rock
Before there was Rock 'n' Roll, there was Rhythm & Blues. We don't call rock R & R (that's something else), but we do call the latter R & B and when Wynonie Harris sang R & B, it was rock and roll.
Wynonie Harris Good Rockin Tonight
Wynonie Harris
Most seem to agree that Wynonie Harris was born in Omaha, NE. What the actual date and year were is not as definite. On August 24, 1915? 1920?  Not that important I suppose.
Harris initially found success in his hometown at Jim Bell's Harlem,club. He danced. Played drums. Sang.
Mr Blues
In 1940 he moved to Los Angeles and continued to find success as a live performer. In 1944, while in Chicago, bandleader Lucky Millinder hired him as his band's new singer.
Harris's nickname was Mr Blues, not because of soulful singing as his lyrics which some thought smutty and indecent. ("I like my baby's puddin' I like it best of all…She promised she wouldn't give no one her puddin' but me.")
Lucky Millinder
Harris first appeared on stage with Lucky Millinder and his Orchestra on April 7, 1944. One of the songs he sang was "Who Threw the Whiskey in the Well."   He recorded that song with Millinder in May though Decca did not release it until April 1945 because of the war shortage of the shellac used to press records.
The song was a big hit with both black and white audiences, a rare thing in the 1940s.
Wynonie Harris Good Rockin Tonight
Goin' solo
Harris quit the orchestra (money issues) and moved back to Los Angeles. Over the years he signed with various labels, but Harris continued to sing powerful songs that, unless one looks at the songs' dates, are surely great rock songs.
One of his biggest hits was Good Rockin' Tonight written by Roy Brown. Brown offered the song to Harris who refused it. Brown recorded it himself and had a hit with it.
Wynonie Harris Good Rockin Tonight
Rockin'?
Then Harris recorded it in his style which gave the great song even greater energy. In this case, the rockin' referred to is music, not sex as the term rock and roll is a euphemism for.
In 1954 Sam Phillip's Sun Records released the 19-year-old Elvis Presley's cover of the song. It was Presley's second release. It was not a hit for him.
Covers
Many others have covered the song. Carl Perkins, Paul McCartney, Bruce Springsteen, and Ricky Nelson among them, but did you know that the Doors, minus Jim Morrison, covered it?
Death

Harris died of esophageal cancer on June 14, 1969, aged 53, at the USC Medical Center Hospital in Los Angeles.
Wikipedia link about Good Rockin' Tonight
Wynonie Harris Good Rockin Tonight