November 9 Peace Love Activism
Feminism
Matilda Josyln Gage
November 9, 1882: Gage's daughter,Maud, married L. Frank Baum in the parlor of the Gage home. Under the influence of his wife and mother-in-law, Baum became an enthusiastic convert to feminism. He was, ''a secure man who did not worry about asserting his masculine authority,'' and he was not bothered that Maud had the upper hand in the marriage; in fact he seemed to welcome her take-charge attitude. His feminist beliefs would have a profound effect on his fiction. Nearly all of his child heroes were girls, girls who rely on their own resources and not on the aid, or validation, of men. He thought men who did not support feminist aspirations ''selfish, opinionated, conceited or unjust -- and perhaps all four combined,'' as he wrote in a newspaper editorial. ''The tender husband, the considerate father, the loving brother, will be found invariably championing the cause of women.''(Feminism, see March 8, 1884; Gage, see "March" 1886)
US Labor History
John L Lewis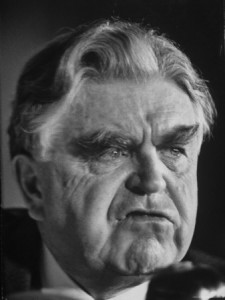 November 9, 1935: United Mine Workers president John L. Lewis and other labor leaders formed the Committee for Industrial Organization.

Joe Hill
In 1936, based on a 1925 poem by Alfred Hayes (1911 – 1985), Earl Robinson (1910 – 1991) wrote the song "Joe Hill" in 1936. Joan Baez has sung the song throughout her career, most notably at the 1969 Woodstock Music and Arts Festival [at the time of the concert, Baez's husband, David Harris, was in prison for draft evasion]. (see Dec 30)
INDEPENDENCE DAY
November 9, 1953: Cambodia independent from France. (see October 26, 1955)
Black History
Emmett Till
November 9, 1955:  returning to Mississippi one last time, Moses Wright and Willie Reed testified before a LeFlore County grand jury in Greenwood, Mississippi. The grand jury refused to indict Milam or Bryant for kidnapping. The two men go free. 

November 9, 1961: the Professional Golfers Association eliminated the "Caucasian" clause from its constitution. (BH, see Nov 17; see Emmett Till)
PGA
November 9, 1961: the Professional Golfers Association eliminated the "Caucasian" clause from its constitution. (see Nov 17)
George Whitmore, Jr
November 9, 1964: Whitmore's trial for the attempted rape and assault of Borrero opened in Brooklyn. (When a defendant faces trials for more than one crime, it is a common tactic of prosecutors to try the least serious case first so that, if convicted, the defendant will have a criminal record when he goes to trial for a more serious crime. This will discourage the defendant from taking the stand in the latter trial. If the defendant nonetheless chooses to testify, the prior conviction may be used for impeachment purposes on cross examination. It also may be used against the defendant at sentencing.) (see George Whitmore)
SOUTH AFRICA/APARTHEID
November 9, 1976: The United Nations General Assembly approved 10 resolutions condemning apartheid in South Africa. (see April 27, 1977)
Timothy M. Wolfe resigns
November 9, 2015, Timothy M. Wolfe, the president of the University of Missouri system, announced that he was resigning amid a wave of student protests over the school's handling of racial tensions. Wolfe announced his resignation as the university's governing board met in Columbia, the centerpiece of the four-campus system. Wolfe took to the podium before a meeting of the Board of Curators and made the announcement before a room full of reporters and other spectators. The announcement seemed to jar the people in the room. (see January 8, 2016)
Beatles
November 9, 1961, The Beatles before their US appearance: The Beatles performed at the Cavern Club at lunchtime. That night they appear at Litherland Town Hall, Liverpool (their final performance at that venue). This is a major day for The Beatles, although they are unaware of it at the time--in the audience at the Cavern Club show is Brian Epstein, dressed in his pin-stripe suit and seeing The Beatles for the first time. Accompanying Epstein is his assistant Alistair Taylor. Epstein will recall his first impressions in a 1964 interview: "They were fresh and they were honest, and they had:star quality. Whatever that is, they had it, or I sensed that they had it." Over the next few weeks, Epstein becomes more and more interested in possibly managing The Beatles and he does a lot of research into just exactly what that would entail. When he speaks with the group's embittered ex-manager Allan Williams, he is told, "Brian, don't touch 'em with a fucking barge pole." Nonetheless, Epstein invites The Beatles to a meeting at his record store on December 3. 
James Brown
November 9, 1968: James Brown gave support to the civil rights movement with his song, "Say It Loud — I'm Black and I'm Proud (Part 1)," which hit number one on the R & B charts for a record sixth straight week.
FREE SPEECH
March 9, 1964: New York Times v. Sullivan. The First Amendment, as applied through the Fourteenth, protected a newspaper from being sued for libel in state court for making false defamatory statements about the official conduct of a public official, because the statements were not made with knowing or reckless disregard for the truth. Supreme Court of Alabama reversed and remanded, i.e. the Court held that defamatory falsehoods about public officials can be punished -- only  if the offended official can prove the falsehoods were published with "actual malice," i.e.: "knowledge that the statement was false or with reckless disregard of whether it was false or not." Other kinds of "libelous statements" are also punishable. (FS, see Mar 30; Sullivan, see April 6)
Vietnam
War Protest
November 9, 1965: in New York City, 22-year-old Catholic Worker Movement member Roger Allen LaPorte set himself on fire in front of the United Nations building in protest of the war. Before dying the next day, LaPorte declared, "I'm against wars, all wars. I did this as a religious act." (NYT article) (see Nov 14)
Massachusetts v. Laird
November 9, 1970: the Supreme Court voted 6-3 in Massachusetts v. Laird not to hear the case of Massachusetts's anti-draft law. The state had passed a law which allowed its citizens to decline to fight in any undeclared war, even if the person was drafted. The law was passed in opposition to the draft and the war in Vietnam. The 1st Circuit found the war constitutional and thus struck down the law. (see Nov 17)
Native Americans
Alcatraz Takeover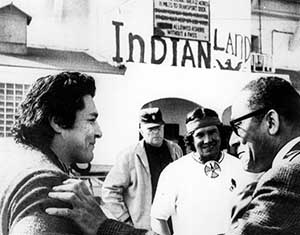 November 9, 1969: Mohawk Indian Richard Oakes leads an attempt to occupy Alcatraz Island twice in one day. Fourteen Native Americans stay overnight and leave peacefully the following morning.  The video following is a report on the takeover. (see Nov 20)
LGBTQ
Jones v. Hallahan
November 9, 1973: The Kentucky Court of Appeals ruled in Jones v. Hallahan that same-sex couples may not marry. The case came after Marjorie Jones and Tracy Knight applied for and were denied a marriage license in Jefferson County, KY. (see Dec 15)
November 9 Peace Love Activism
Dissolution of the USSR
Fall of the Berlin Wall
November 9, 1989: East Germany's communist government allowed all citizens direct passage to the west, rendering the Berlin Wall obsolete. (NYT article) (see Nov 28)
Iraq War II
November 9, 2006: Iraqi health minister reports 150,000 Iraqi civilians have been killed in the war — "about three times previously accepted estimates." (see Dec 2)
Arthur Bremer
November 9, 2007: after 35 years of incarceration, Arthur Bremer (shot George Wallace) was released from prison. His probation ends in 2025.
DEATH PENALTY
November 9, 2016: Nebraskans voted overwhelmingly to restore the death penalty and nullify the historic 2015 vote by state lawmakers to repeal capital punishment. Rural voters voted to "repeal the repeal" by margins as large as 4-to-1 in counties outside Lincoln and Omaha. (see Dec 13)
November 9 Peace Love Activism, November 9 Peace Love Activism, November 9 Peace Love Activism, November 9 Peace Love Activism, November 9 Peace Love Activism, November 9 Peace Love Activism, November 9 Peace Love Activism, November 9 Peace Love Activism, November 9 Peace Love Activism, November 9 Peace Love Activism, November 9 Peace Love Activism, November 9 Peace Love Activism, November 9 Peace Love Activism, November 9 Peace Love Activism, 
Please follow and like us: