Summer 2021 COVID 19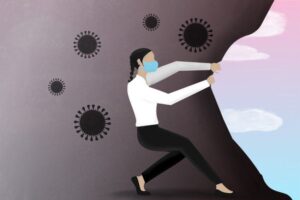 It depended where Americans lived that began to determine the incidence of COVID cases and deaths: declining in some places allowed many to have the sense that their lives could be lived normally again, but increasing elsewhere.
Outside the US, it was the same story, only where it was worse it was much worse.
3,898,466 COVID Deaths Worldwide
June 22: 179,920,639 cases; 3,898,466 deaths worldwide
617,968 COVID Deaths USA
June 22: 34,436,062 cases; 617,968 deaths in the US
% Vaccinated in the USA
June 22: 53.6% at least once; 45.4% both
Brazil Surpasses Half-Million Deaths
On June 24, 2021, the New York Times reported that Brazil recently surpassed 500,000 official Covid-19 deaths, the world's second-highest total behind the United States. About 1 in every 400 Brazilians had died from the virus, but many experts believed the true death toll might be higher.
Home to just over 2.7 percent of the world's population, Brazil accounted for nearly 13 percent of recorded fatalities, and the situation there was not easing.
Summer 2021 COVID 19
States with below-average vaccination rates have almost triple the rate of new Covid-19 cases compared to states with above-average vaccination rates, according to new data from Johns Hopkins University.
States with lower rates of vaccination had reported an average of 6 new cases per 100,000 residents every day over the past week, according to Johns Hopkins.
States with higher vaccination rates reported an average of 2.2 new cases per 100,000 residents each day over the past week. [
CNN article
]
4,000,563 COVID Deaths Worldwide
July 5: 184,918,656 cases; 4,000,563 deaths worldwide
621,335 COVID Deaths USA
July 5: 34,598,361 cases; 621,335 deaths in the US
% Vaccinated in the USA
July 5: 54.9% at least once; 47.4% both
Summer 2021 COVID 19
4 million plus
July 8, 2021: the world's known coronavirus death toll passed four million on Thursday, a loss roughly equivalent to the population of Los Angeles, according to the Center for Systems Science and Engineering at Johns Hopkins University.
It took nine months for the virus to claim one million lives, and the pace has quickened since then. The second million were lost in three and a half months, the third in three months, and the fourth in about two and a half months. The number of daily reported deaths has declined recently.
Those are officially reported figures, which are widely believed to undercount pandemic-related deaths.
"The numbers may not tell the complete story, and yet they're still really staggering numbers globally," said Jennifer B. Nuzzo, an epidemiologist at Johns Hopkins University's Bloomberg School of Public Health. [NYT article]
US Discouraging Trend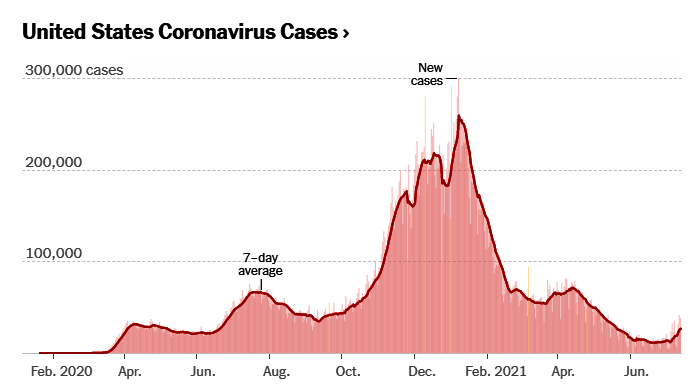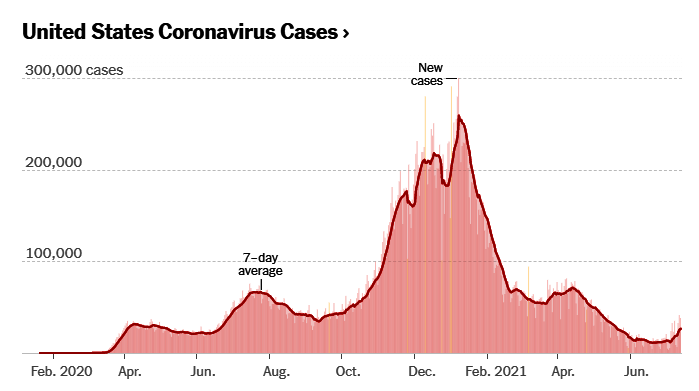 July 14, 2021: reports of new coronavirus cases were rising again across the United States, a discouraging trend fueled by the spread of the Delta variant and the sputtering vaccination campaign.
The country's outlook remained far better than at previous points in the pandemic: Nearly half of all Americans were fully vaccinated, cases and hospitalizations remained at a fraction of their peak and deaths were occurring at some of the lowest levels since the early days of the pandemic.
Yet infections were rising in almost every state. Daily case numbers had increased at least 15 percent over the last two weeks in 49 states, including 19 states that are reporting at least twice as many new cases a day. Full-fledged outbreaks have emerged in a handful of places with relatively low vaccination rates, including Arkansas, Missouri, Louisiana and Nevada.[NYT article]
4,077,275 COVID Deaths Worldwide
July 14: 189,339,902 cases; 4,077,275 deaths worldwide
623,838 COVID Deaths USA
July 14: 34,848,068 cases; 623,838 deaths in the US
% Vaccinated in the USA
July 14: 55.6% at least once; 48.1% fully
Summer 2021 COVID 19
Pandemic of the Unvaccinated
July 16, 2021: as the highly contagious Delta variant of the coronavirus fueled outbreaks in the United States, the director of the Centers for Disease Control and Prevention warned  that "this is becoming a pandemic of the unvaccinated."
Cases, hospitalizations and deaths remained far below the winter of 2020's peak and vaccines were effective against Delta, but the agency's director, Dr. Rochelle P. Walensky, urged people to get fully vaccinated, pleading for people to do it for their family and community.
The number of new virus cases was likely to increase in the coming weeks, and those cases were likely to be concentrated in areas with low vaccine coverage, officials said at a White House briefing on the pandemic.
Dr. Walensky added that "we are seeing outbreaks of cases in parts of the country that have low vaccination coverage, because unvaccinated people are at risk, and communities that are fully vaccinated are generally faring well." [NYT article]
African countries left with scarce vaccine supplies
July 15, 2021: the African continent was in its deadliest stage of the pandemic so far, and there was little relief in sight.
The more contagious Delta variant was sweeping across the continent. Namibia and Tunisia reported more deaths per capita than any other country. Hospitals across the continent were filling up, oxygen supplies and medical workers were stretched thin, and recorded deaths jumped 40 percent last week alone.
But only about 1 percent of Africans had been fully vaccinated. And even the African Union's modest goal of inoculating 20 percent of the population by the end of this year seemed out of reach.
Rich nations had bought up most doses long into the future, often far more than they could conceivably need. Hundreds of millions of shots from a global vaccine-sharing effort had failed to materialize. [NYT article]
Unnecessary Predicament
July 25, 2021: Dr. Anthony Fauci said that the United States was in an "unnecessary predicament" of soaring COVID-19 cases fueled by unvaccinated Americans and the virulent delta variant.
"We're going in the wrong direction," said Fauci, describing himself as "very frustrated."
He said recommending that the vaccinated wear masks was "under active consideration" by the government's leading public health officials. Also, booster shots might be suggested for people with suppressed immune systems who have been vaccinated, Fauci said. [AP article]
4,174,999 COVID Deaths Worldwide
July 25: 194,802,376 cases; 4,174,999 deaths worldwide
626,762 COVID Deaths USA
July 14: 35,199,465 cases; 626,762 deaths in the US
% Vaccinated in the USA
July 14: 56.4% at least once; 48.8% fully
Masks Back On
July 27, 2021: revising a decision made just two months ago, the Centers for Disease Control and Prevention said that people vaccinated against the coronavirus should resume wearing masks in public indoor spaces in parts of the country where the virus is surging.
C.D.C. officials also called for universal masking for teachers, staff, students and visitors in schools, regardless of vaccination status and community transmission of the virus. With additional precautions, schools nonetheless should return to in-person learning in the fall. [NYT article]
Federal Employee Mandate
July 29, 2021: President Biden announced that all civilian federal employees must be vaccinated against the coronavirus or be forced to submit to regular testing, social distancing, mask requirements and restrictions on most travel. [NYT article]
Vaccinated Breakthroughs
July 30, 2021: when revising its mask guidance earlier in the week to urge even vaccinated people to wear masks indoors in much of the country, the Centers for Disease Control and Prevention was criticized for not citing data in making that move.
On this date the CDC presented a study detailing a COVID-19 outbreak that started July 3 in Provincetown, Mass., involving 469 cases. It found that three-quarters of cases occurred in fully vaccinated people. Massachusetts had a high rate of vaccination: about 69% among eligible adults in the state at the time of the study.
It also found no significant difference in the viral load present in the breakthrough infections occurring in fully vaccinated people and the other cases, suggesting the viral load of vaccinated and unvaccinated persons infected with the coronavirus is similar. [NPR article]
70% of American adults
The U.S.  finally reached President Joe Biden's goal of getting at least one COVID-19 shot into 70% of American adults — a month late and amid a fierce surge by the delta variant that was swamping hospitals and leading to new mask rules and mandatory vaccinations around the country.
In a major retreat in the Deep South, Louisiana ordered nearly everyone, vaccinated or not, to wear masks again in all indoor public settings, including schools and colleges. And other cities and states likewise moved to reinstate precautions to counter a crisis blamed on the fast-spreading variant and stubborn resistance to getting the vaccine.
"As quickly as we can discharge them they're coming in and they're coming in very sick. We started seeing entire families come down," lamented Dr. Sergio Segarra, chief medical officer of Baptist Hospital Miami. The Florida medical-center chain reported an increase of over 140% in the past two weeks in the number of people now hospitalized with the virus. [AP story]
4,248,364 COVID Deaths Worldwide
August 2: 199,565,656 cases; 4,248,364 deaths worldwide
629,862 COVID Deaths USA
August 2: 35,895,980 cases; 629,862 deaths in the US
% Vaccinated in the USA
August 2: 57.7% at least once; 49.6% fully
200 Million Cases Worldwide
August 4, 2021: according to the Center for Systems Science and Engineering at Johns Hopkins University, the known total of global coronavirus infections surpassed 200 million this date , a daunting figure that also fails to capture how far the virus has embedded itself within humanity.
While always an imperfect measure of a virus that causes no symptoms in large parts of the populations it infects, case counts had provided a useful tool for much of the pandemic — like a flashing red light in the cockpit of a jetliner warning of imminent danger.
A surge in case numbers had in most cases been followed by a crush of people crowding emergency rooms and, several weeks later, a rise in fatalities.
The official tally stands at more than 614,000 deaths in the United States. More than 550,000 in Brazil. More than 425,000 in India. Mexico has recorded more than 240,000 fatalities, and Peru nearly 200,000. Britain, Colombia, France, Italy, and Russia have all recorded well north of 100,000 deaths. The global toll as of Wednesday was 4.2 million, itself a rough estimate given the discrepancies in the way nations record Covid-19 deaths.
Pandemic of the Unvaccinated
August 9, 2021: the NY Times reported that for the first time since February, the United States averaged more than 100,000 new coronavirus cases a day, a resurgence that hit especially hard in states where large portions of the population remained unvaccinated.
The pace of new case reports slowed in the spring as vaccination efforts picked up speed. A cautious optimism returned, and the summer was supposed to bring a joyous rebound to normalcy, but the seven-day average of new case reports had doubled in the last two weeks, according to a New York Times database, and deaths had nearly doubled, to an average of 516 a day.
The surge was tied to the highly contagious Delta variant of the virus. Vaccines provide a high degree of protection against the variant, which was first detected in India, but only half of the U.S. population was fully vaccinated.
Dr. Rochelle P. Walensky, the director of the Centers for Disease Control and Prevention, described the current stage as a "pandemic of the unvaccinated." [NYT article]
4,443,984 COVID Deaths Worldwide
August 22: 212,561,545 cases; 4,443,984 deaths worldwide
645,058 COVID Deaths USA
August 22: 38,545,144 cases; 645,058 deaths in the US
% Vaccinated in the USA
August 22: 60.7% at least once; 51.5% fully
Full Pfizer approval
August 23, 2021: the Food and Drug Administration granted full approval to Pfizer-BioNTech's coronavirus vaccine for people 16 and older, making it the first to move beyond emergency use status in the United States.
The decision set off a cascade of vaccine requirements by hospitals, colleges, corporations and other organizations. United Airlines had recently announced that it would require its employees to show proof of vaccination within five weeks of regulatory approval.
Oregon had also adopted a similar requirement for all state workers, as had a host of universities in states from Louisiana to Minnesota. The Pentagon had said it would mandate the shots for the country's 1.3 million active-duty troops once the Pfizer approval came through.
The approval came as the nation's fight against the pandemic intensified again, with the highly infectious Delta variant dramatically slowing the progress that the country had made over the first half of the year. The Biden administration hoped the development would motivate at least some of the roughly 85 million unvaccinated Americans who are eligible for shots to get them. [NYT article]
4,620,069 COVID Deaths Worldwide
September 9: 224,008,902 cases; 4,620,069 deaths worldwide
674,547 COVID Deaths USA
September 9: 41,561,156 cases; 674,547 deaths in the US
% Vaccinated in the USA
September 9: 62.7% at least once; 53.4% fully
Vaccinations Effective 
September 10, 2021: a day after President Biden issued broad vaccine mandates aimed at propelling American workers to get vaccinated against the coronavirus, federal health officials released a handful of studies highlighting how effective the shots are at preventing infections, hospitalizations and deaths — even while the highly contagious Delta variant has been dominant.
Three studies that drew data from different U.S. regions evaluated the protective power of the vaccines. One looked at more than 600,000 virus cases in 13 states, representing about one quarter of the U.S. population, between April and July, and concluded that individuals who were not fully vaccinated were far more susceptible to infection and death from the virus.
They were 4.5 times more likely than vaccinated individuals to become infected, 10 times more likely to be hospitalized, and 11 times more likely to die from the coronavirus, the study found.
Vaccine protection against hospitalization and death remained strong even when the Delta variant was the dominant form of infection. But the vaccines' effectiveness in preventing infection dropped from 91 percent to 78 percent, the study found. [NYT article]