Cambridge Midsummer Pop Festival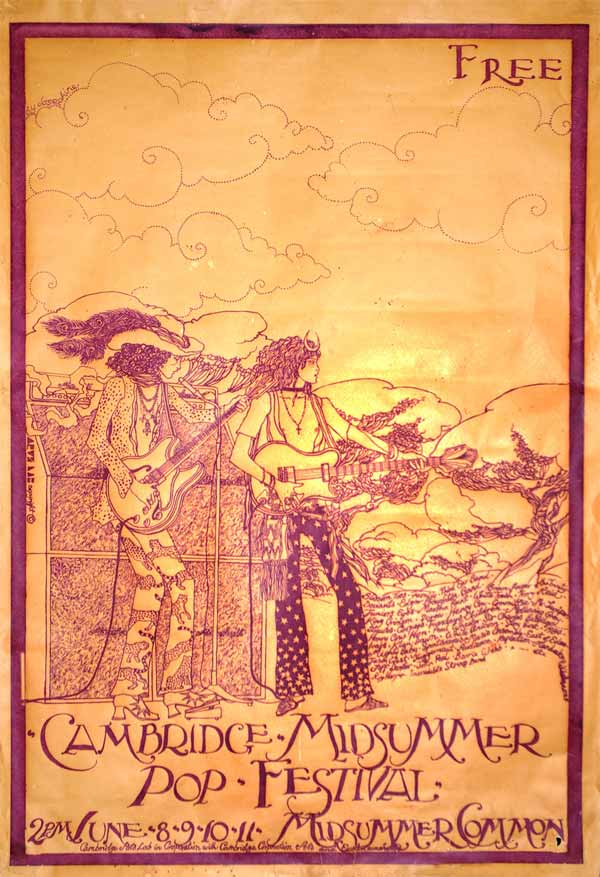 8, 9, 10, & 11 June 1969
On Midsummer Common
2 PM to dusk
1969 Festival #13
Like many historic events, claims are often exaggerated. For many years, the Phun City rock festival  held at Ecclesden Common near Worthing, England from 24 July to 26 July 1970 was considered the first large-scale free festival in the UK. Though it was "free," it, like the famous Woodstock festival, organizers did not intend it to be free. Circumstances dictated the change.
Also, there was the Cambridge Free Festival a year earlier and it was organized as a free festival from the beginning.
Cambridge Midsummer Pop Festival
UK's Free Festivals
Nearly all of the information about this festival was found at a post about it and other free festivals in the UK.
Here are photos of the performers and dates. Performers were not paid and some invited performers did not attend. Another page of the programme explains, "Admission to all these concerts is entirely free. This is because  every single group taking part is playing for free; the London groups have even had to pay their own expenses to get to Cambridge. So don't be disappointed if one or two groups don't turn up."
Cambridge Midsummer Pop Festival
Roger Kinsey
One of the people responsible for the free festival was Roger Kinsey. He wrote the following:
Hi,
I am pleased to see the site that you have constructed on the Cambridge free festivals. I was instrumental in helping to put the festivals together in 1969/70. My name is Roger Kinsey and at the time I was in a partnership business with two other people operating under the business name of Rufus Manning Associates. We were the leading entertainments management and agency business in Cambridge during those years. many of the bands featured on these festivals were either under our management or we acted as their agent.
For the first festival we worked very closely with the Cambridge Arts group. of which some of the members involved with that Group were also musicians in some of the bands/groups we managed. I was the lynchpin in persuading the then Cambridge City Council Entertainments Manager, Mr David Constant to actually give us the permission to hold the free festival over the three days on Midsummer Common. There was much bargaining and persuasion to be done as the councillors were not at all keen for this to go ahead.
As a result of the festival many local people who lived around Midsummer Common complained afterwards and as many of them were academics and influential persons they had their day and the following year in 1970 we had to move it to Coldhams Common. The poster for that festival was designed by our secretary Steff and I have a very clean and pristine copy of it. I also have a small cine footage of Tuesdays Children ( whom we managed ) playing on the stage at the 1969 festival.
Yours with many memories of those halcyon days of utter chaos and great unreliability of those bands and groups who said they would appear at these festivals
Roger M. Kinsey
Cambridge Midsummer Pop Festival
Steve McDermott
Steve McDermott provided the photos of the program and the festival poster. He wrote:
Hi,
I came across your wonderful archives today, and I noticed that although you mention the 1969 Cambridge Midsummer Pop Festival, nothing is recorded about it. I thought you would appreciate the attached copies of the poster, with details of the bands on the bill. The bedraggled poster is still on my wall, exactly 39 years on. (My friend Peter Reynolds framed his copy, and I bet he still has it – it will be in much better condition.)
I was 14 then, at school, at the Cambridgeshire High School for Boys, and I hated it. It was still very much the school that Roger Waters attended, and wrote about in The Wall. I went to the "Pop Festival" every day, after school and all day on the last day. It was absolutely great – warm sunshine, and a revelation, the music I was avidly absorbing from the John Peel Show being played right in front of me.
I vividly remember Family, who were fantastic, and the Spontaneous Music Ensemble, with John Stevens who I saw very often during the 1970's. I think I remember seeing Terry Reid, and King Crimson, and I know I saw Brian Auger and the Trinity, and the Third Ear Band. And Henry Cow, who played a lot in Cambridge in those days. Mr Lucifer, Mellowing Grey, Committee, and Sir Charles Babbages All Brass Computing Engine were all local bands who also played regularly around the Town, and at University events.
It was a lovely event, and deserves to be remembered. There was an article, and pictures, in the Cambridge Daily News, that you may be able to find from their files.
Regards, Steve McDermott
Cambridge Midsummer Pop Festival
Ian Maun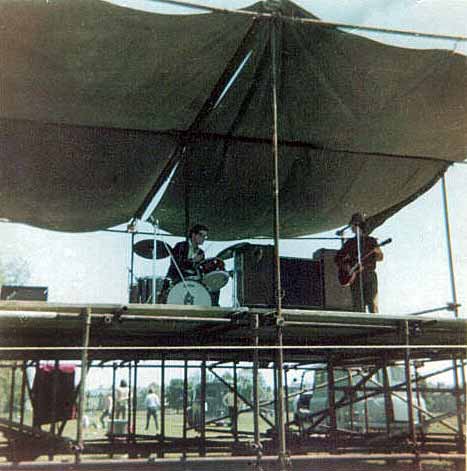 Ian Maun performed at the festival. He wrote:
Dear festival folk
What a great web-site!
I've just finished Rob Young's Electric Eden which mentions the 1969 Cambridge Midsummer Free festival.
At the time, I was the drummer with Natural Gas,a university band. I remembered playing early one day to about 10 people on Midsummer Common before Mighty Baby came on . I look up your website, and lo! Yes, it was on the Monday at two o'clock in the gap on the bill. I even have a fading colour photo.Later in the festival I stood beside the stage when Family were on, simply gazing in awe at Rob Townsend! Happy memories!
Pete Rickwood (bass) – not in photo;
centre – Ian Maun -drums;
right – Dave Price – lead guitar.
Best
Ian Maun (happily retired and still playing drums!)
Cambridge Midsummer Pop Festival
Hopefully More
This amount of information is more than some of those many other 1969 festivals, but I hope that those who read this and perhaps the site itself will find more. Fingers crossed as they say.
Cambridge Midsummer Pop Festival
Next 1969 festival: Newport 69 Pop Festival