Beatles 23 August
Based in Dublin, Ireland Nothing is Real is an outstanding podcast done by Steven Cockcroft and Jason Carty. They asked the question: Is there a single date in Beatle history, that is more significant than any other day?
Their conclusion? August 23.
Here's why.
Beatles 23 August
Tuesday 23 August 1960
August 1960 will be a month of tremendous growth as a band.  The Beatles are: John Lennon (19), George Harrison(17), Pete Best (18), Paul McCartney (18), and Stuart Sutcliffe (20).
Pete Best was the band's fourth following Colin Hanton, Tommy Moore, and Norman Chapman. The four Beatles knew Best already and he had a new drum kit. And that was enough.
They'd arrived on August 16, played their first gig on the 17th, and so on August 23, The Beatles are one week into their gig at the Indra Club, Hamburg, Germany. Their seventh of 48 consecutive nights performing there.
Accommodations are horrible. In a room behind a movie theatre screen the place has no heat, no wallpaper, two bunk beds, and is next to a bathroom. Movies began at 4 PM, a time when they likely were trying to sleep before their long nights.
Club manager Bruno Koschmider had contracted them to perform for four and a half hours each weekday night, from 8-9.30pm, 10-11pm, 11:30pm-12:30am and 1-2am.
They also had to play for six hours on Saturdays, from 7-8:30pm, 9-10pm, 10:30-11:30 pm, 12-1am, and 1:30-3am. Sunday hours were 5-6pm, 6:30-7:30pm, 8-9pm, 9:30-10:30 pm, 11-12 midnight and 12:30-1:30 am.
They've decided not to repeat songs and so have to learn dozens and also meaning that they probably were practicing live during their shifts. They listen to albums by Elvis, Buddy Holly, Gene Vincent, Carl Perkins, and others and learn those songs on the fly as well as elongating songs they already knew.
Beatles 23 August
Wednesday 23 August 1961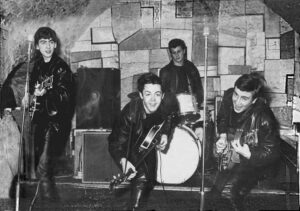 August 23, 1961 is a Wednesday and the Beatles are in the midst of  their Cavern  as well as their leather days.
From the Beatles Bible site for August 23, 1961: This was the fifth occasion on which The Beatles performed both lunchtime and evening shows in the same day at Liverpool's Cavern Club.
The group's lunchtime shows typically lasted from 12 – 2pm. This was their 28th lunchtime show, and their 38th appearance overall at the underground venue on Mathew Street.
They will play at least 155 lunchtime performances and 125 evening shows between 9 February 1961 and 3 August 1963.
Stuart Sutcliffe had remained in Hamburg (and will die there in less than eight months), so the Beatles are four.
Mona Best, Pete's mom, is running the business side of things for the band. Neal Aspinall, a friend of Paul and George, is their  road manager/van driver. He will eventually go on to head the Beatles Apple Corps.
His NY Times obituary stated that: When the Beatles were inducted into the Rock and Roll Hall of Fame, in 1988, George Harrison made a point of saying that Mr. Aspinall should be considered the fifth Beatle.
The claustrophobia quarters of the Cavern [from earcandy:  "the cellar, 11 feet below street level, is 58 feet by 39 feet with a stage at one end. The only means of access is a doorway from Mathew Street, then along a passage 3ft 6in wide, through another door 2ft 6 in wide and then down 17 steps"] gave listeners (5 to 6 hundred at night) gave fans an obviously close stance to the band which helped develop an enthusiastic base that in less than two years evolved into Beatlemania.
Yet at the moment, the Beatles were frustrated that broader success wasn't happening. At the same time they didn't have a specific plan how.  That plan will come with Brian Epstein in November.
Beatles 23 August
Thursday 23 August 1962
Some Other Guy
On August 22, 1962, the Beatles's growing fame took a big step forward when Granada TV filmed the band at the Cavern singing "Some Other Guy," but it was August 23 that was a big day as well.
John & Cynthia
John Lennon and Cynthia Powell had been dating for five years when in July 1962 she became pregnant.  On 23 August 1962 John Lennon married Cynthia Powell at the Mount Pleasant register office in Liverpool. Brian Epstein was the best man, and George Harrison and Paul McCartney were also in attendance. Absent was John's aunt Mimi, who had just found out about John's plans the day before disapproved of the union, although Cynthia's half brother and his wife were there.
Manager Brian Epstein brought Cynthia to the office, but overnight his car had had paint stripper poured over it. No reason was ever determined, but some feel it was due to a fan disgruntled with the recent dismissal of Pete Best or homophobia regarding Epstein's closeted life.
There was a small luncheon afterwards (Cynthia's brother and wife absent) at the Reece's Ballroom in Liverpool. It did not have a liquor licence so the toast was water, apparently bad luck.
No gifts. It was apparently a Beatle "thing" to not give gifts between themselves.
John described being married as "walking around with odd socks or with my fly open."
On their wedding night the Beatles, including John, played a show  at the Riverpark Ballroom in Chester, but with their latest drummer, Ringo, who hadn't attended John and Cynthia's wedding.
Epstein had sacked Best the week before at the request of the other three Beatles worried that Parlophone Record producer George Martin's comment that Best was too weak a drummer for recording, always a goal of any band.
So, enter Ringo Starr who had first played with the band on August 18 following a two-hour rehearsal at the Hulme Hall in Port Sunlight from 10 pm. The occasion was the local horticultural society's 17th annual dance.
The Remo Four were a Liverpool band and had been voted Number Three Group in a 1961 Mersey Beat poll,  They were on the same bill that night. During their set, John was upset with the Beatle songs the Remo Four were playing. John reportedly jumped up on the stage during a song and yelled, "How many more of our fuckin' songs are you going to play."
Happy anniversary John.
Beatles 23 August
Friday 23 August 1963
She Loves You & Happy 1st Anniversary John and Linda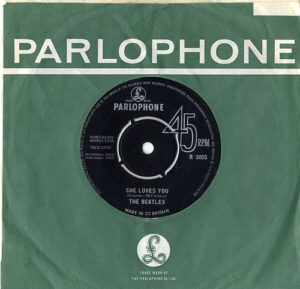 It's John and Cynthia's first wedding anniversary and this is the day that Parlophone released "She Loves You," the Beatles' fifth UK single, following My Bonnie (5 January 1962), Love Me Do (4 September 1962),  Please Please Me (11 January 1963),  and From Me To You (11 April 1963). The B-side is I'll Get You.
They'd recorded the songs on 1 July 1963 and would become the Beatles' first single to sell more than a million copies in Britain. This it did on 27 November.
The single entered the charts on 31 August and remained there for 31 consecutive weeks. It reached number one on 14 September, remained there for a month, and returned for a second time on 30 November.
It set and surpassed several sales records in the United Kingdom and  it remains the band's best-selling single in the United Kingdom and the top-selling single of the 1960s there by any artist. The songwriting credit on the label was switched to "Lennon–McCartney" for this release – a switch from the "McCartney–Lennon" order of nearly all previous Beatles releases – and remained that way.
The number one UK album on that date was their Please Please Me album which Parlophone had released on 22 March 1963, reached the #1 spot in May and remained there for 30 weeks.
For Americans, I Want to Hold Your Hand is typically associated with the first Beatle single success, but it is She Loves You that blasts open the door to their phenomenal following successes.
The song also included a number of falsetto "wooooo"s, which John Lennon acknowledged as being inspired by the Isley Brothers' recording of "Twist and Shout."
Humble Origins
Lennon and McCartney had started composing "She Loves You" on 26 June 1963 after a concert at the Majestic Ballroom in Newcastle upon Tyne during their tour with Roy Orbison and Gerry and the Pacemakers. They began writing the song on the tour bus, and continued later that night at their hotel in Newcastle eventually completing it the following day at McCartney's family home.
Allan W Pollack's amazingly thorough Beatle site has this description:
The phrasing throughout is totally four-square; the verse is four times four, and the refrain is a true middle eight.
The harmonic rhythm is fairly regular throughout with no extremes. The chords generally change every two measures. The few places where this pattern is broken by chord changes every measure would seem to be carefully staged, however subconsciously.
The harmonic scheme, in spite of a few localized touches of color, is rather static; the song is firmly in G throughout.
Follow the link above for much much more.
That night is the
This was the fourth of The Beatles' six consecutive dates in the English seaside town of Bournemouth. They played two houses on each night. Also on the bill were Tommy Quickly [ basically known for two things: he was managed by Brian Epstein, and managed to record a Lennon-McCartney composition, "Tip of My Tongue," that the Beatles never got around to releasing themselves.] and Billy J Kramer and the Dakotas.
The Beatles stayed at the Palace Court hotel on each night of the residency.
Sunday 23 August 1964
Hollywood Bowl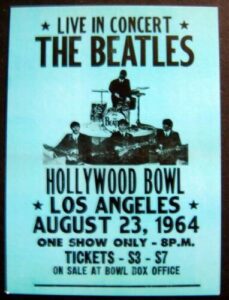 And what a difference a year makes. From Bournemouth to Hollywood and the Hollywood Bowl. Keep in mind that a year earlier, the band, despite huge success in the UK, was having trouble getting a single released in the US.
This was the fifth stop on their 1964 tour.  Following the Cow Palace in San Francisco, the Las Vegas Convention Center, the Seattle Center Coliseum, and the Empire Stadium in Vancouver, the Beatles' first Canadian concert .
Fearful of fan vandalism, the Ambassador Hotel cancelled Beatles reservations. Instead, they rented the home of British actor Reginald Owen.  The neighbors weren't too happy as those fans who might have vandalized the hotel ended up crushing the landscaping of their nearby home.
18,700 sell-out. 12 songs.