February 2020 COVID 19
It was February and we knew that "corona" was here in the United States, but we could still make fun of it.
In China, it was a far different story.
February 2020 COVID 19
February 2020
February 1: Dr. Li Wenliang tested positive for coronavirus.
China, confirmed cases now total 14,380 and the death toll rose above 300.
February 2: the first 2019-nCoV death outside China is reported in the Philippines. The patient was a 44-year-old Chinese male, and known companion of the 38-year-old woman who tested positive for 2019-nCoV on Jan. 30 and the first case in the Philippines. It also imposes travel ban for travelers coming from China, Hong Kong, and Macao, and a 14-day quarantine period for Philippine residents.
February 2: Trump told Fox News host Sean Hannity, "We pretty much shut it down coming in from China."
February 3: China launched a clinical trial of Gilead's antiviral drug remdesivir, previously tested in patients with Ebola, against the 2019-nCoV, just as China's Huoshenshan Hospital in Wuhan starts operations. The hospital was built in 10 days and is dedicated to treating 2019-nCoV patients.
WHO
February 3: WHO released the international community's Strategic Preparedness and Response Plan to help protect states with weaker health systems.
Italy
On February 4: Mayor of Florence Dario Nardella urged residents to hug Chinese people to encourage them in the fight against the novel coronavirus. Meanwhile, a member of Associazione Unione Giovani Italo Cinesi, a Chinese society in Italy aimed at promoting friendship between people in the two countries, called for respect for novel coronavirus patients during a street demonstration. "I'm not a virus. I'm a human. Eradicate the prejudice."
Hong Kong reported its first death of a patient with 2019-nCoV. The 39-year-old man had travel history from Wuhan, the outbreak's epicenter. This is the second death linked to the 2019-nCoV reported outside mainland China, after the Philippines. The total number of deaths from 2019-nCoV stands at 492, and confirmed cases globally over 24,000.
February 4: at a WHO briefing, Tedros Adhanom Ghebreyesus urged that there be no travel bans. "We reiterate our call to all countries not to impose restrictions that unnecessarily interfere with international travel and trade. Such restrictions can have the effect of increasing fear and stigma, with little public health benefit. … Where such measures have been implemented, we urge that they are short in duration, proportionate to the public health risks and are reconsidered regularly as the situation evolves." [NPR timeline]
February  5: ten passengers from a cruise ship currently docked in Yokohama, Japan, test positive for 2019-nCoV, bringing the total cases in Japan to 35, now the highest among countries with confirmed cases outside mainland China. Global cases total over 28,000, with 565 deaths, and a majority of cases in China. China state media Xinhua also reports a newborn has been infected with the virus, but the route of transmission is still unknown.
February 6: Japan announces a $10 million contribution for WHO's 2019-nCoV outbreak response fund to support countries with weak health systems as they prepare for the potential spread of the virus.
WHO unveils plans to host a global research and innovation forum from February 11-12 in Geneva to bring together leading scientists, public health agencies, ministries of health, and research funders. The forum is aimed at setting the research agenda for 2019-nCoV.
Total cases in China now at 31,161, and 636 deaths. Outside mainland China, cases at 310, with 2 deaths.
February 2020 COVID 19

February 7:  Dr. Li Wenliang died  after contracting the coronavirus. He was hailed as a hero by many for trying to ring early alarms that a cluster of infections could spin out of control.
The Asian Development Bank approved a $2 million to support response capacity efforts against the 2019-nCoV outbreak in the Asia-Pacific region. The fund would supplement the bank's technical assistance work in several Southeast Asian countries as well as China. The bank worked with WHO to identify areas for further possible financial assistance.
February  8 — At a press conference, WHO Director-General Tedros Adhanom Ghebreyesus criticized the levels of misinformation spreading around the virus, saying "we're not just battling the virus; we're also battling the trolls and conspiracy theorists that push misinformation and undermine the outbreak response."
He said WHO was engaging with Facebook, Google, Tencent, Baidu, Twitter, TikTok, Weibo, Pinterest, and others to promote accurate information about 2019-nCoV.
February 9: the death toll of victims of the 2019-nCoV was over 800, surpassing the death toll of the SARS epidemic in 2002 and 2003, which killed 773 people.
February 10: an advance team for the WHO-led 2019-nCoV international mission left for China.
WHO chief Tedros said instances of onward transmission from people with no travel history to China was concerning and that "the detection of this small number of cases could be the spark that becomes a bigger fire."
February 2020 COVID 19
COVID-19
February 11: WHO names the new virus COVID-19.
A United Nations Crisis Management Team was activated, led by Dr. Michael Ryan, executive director at WHO's Health Emergencies Programme.
February 12: the number of countries outside China reporting cases had not changed since February 4.
February 2020 COVID 19
Diamond Princess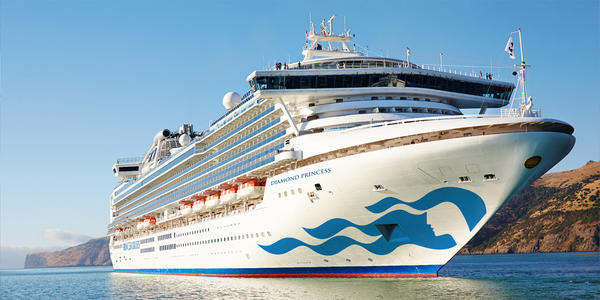 A total of 175 people had tested positive for COVID-19 on the Diamond Princess cruise ship, which ass quarantined in Japan.
February 13: overnight, China reported a spike in cases, with 14,840 cases in Hubei province. This was due to the fact that the Chinese government changed its reporting to include both laboratory-confirmed cases and clinically diagnosed cases. This includes a medical professional classifying a confirmed case on the basis of chest imaging. "We understand that most of these cases relate to a period going back over days and weeks and are retrospectively reported as cases, since some time back to the beginning of the outbreak itself," says Dr. Michael Ryan, executive director of WHO Health Emergencies Programme, during a press conference.
February 14: China reports that 1,716 health workers have contracted COVID-19 and that six of them have died. "We've seen this before with MERS, we've seen this before with SARS, we've certainly seen this with hemorrhagic fevers," says Dr. Michael Ryan, executive director of WHO Health Emergencies Programme, during a press conference. "Our understanding is that the cases amongst health workers peaked in the third and fourth week of January and that there has been a rapid fall-off in the number of cases that have occurred in health workers in the last two weeks."
Trump discussed the "very small" number of U.S. coronavirus cases with  Border Patrol Council members:
"We have a very small number of people in the country, right now, with it. It's like around 12. Many of them are getting better. Some are fully recovered already. So we're in very good shape."
Centers for Disease Control Director Robert Redfield had estimated that the "virus is probably with us beyond this season and beyond this year." Despite that view, President Trump continued to push the idea that it would be gone in a matter of weeks.
"There's a theory that, in April, when it gets warm, historically, that has been able to kill the virus," he said . "So we don't know yet. We're not sure yet. But that's around the corner."
February 15: France reported the first death from COVID-19 outside of Asia — an 80-year-old tourist from Hubei province.
February 16: an American woman who had been on a cruise ship that docked in Cambodia, tests positive for COVID-19 after flying to Malaysia. The ship originally set sail from Hong Kong on February 1, with 1,455 passengers and 802 members of its crew.
February 17: China published a paper with detailed information on more than 44,000 confirmed cases of COVID-19. The data appears to show that COVID-19 is not as deadly as other types of coronaviruses, including severe acute respiratory syndrome and Middle East respiratory syndrome. The data showed that more than 80% of patients have mild disease; about 14% of cases lead to severe diseases, including pneumonia; about 5% of cases lead to critical diseases including respiratory failure, septic shock and multiorgan failure; and about 2% of reported cases lead to death. Mortality rates increase in older patients, with few cases among children.
February 2020 COVID 19
Dr. Liu Zhiming dies
February 18: there were currently 92 documented cases in 12 countries other than China in which human-to-human transmission of the virus has occurred.
Liu Zhiming, director of the Wuchang Hospital in Wuhan, died from COVID-19.
February 19: the death toll from COVID-19 surpassed 2,000.
The Joint United Nations Programme on HIV/AIDS reports that, in a survey, nearly one-third of respondents living with HIV in China say they are at risk of running out of their HIV treatment in the coming days due to lockdowns and restrictions on movement amid the COVID-19 outbreak.
After a two-week quarantine, 443 passengers began leaving the Diamond Princess cruise ship. It was the first day of a three-day operation to offload people who tested negative for the virus and did not have symptoms. Passengers who shared cabins with infected patients remained on the ship. A total of 621 people aboard the ship were infected.
February  20: Peng Yinhua, a 29-year-old respiratory doctor in Wuhan, died from COVID-19.
Iran reported five cases of COVID-19 in two days, two of which had resulted in death. These are the first deaths from COVID-19 in the Middle East.
South Korea saw a spike in cases, bringing its count to 104. The country now has the second-highest number of cases outside of mainland China. The new cases are concentrated in the city of Daegu and the surrounding North Gyeongsang province.
February 20: WHO reported nearly 77,000 cases worldwide in 27 countries.
February  21: WHO says it is concerned about the rapid spread of COVID-19 in Iran, which has 18 cases and has seen four deaths in the past two days. The country reported its first cases on February 19.
WHO appoints six special envoys on COVID-19 to "provide strategic advice and high-level political advocacy and engagement in different parts of the world."
February  22: WHO conducted a survey of African countries to assess their overall readiness for COVID-19 and finds the regional readiness level is at about 66%. "We need urgently to prioritize strengthening the capacities for countries to investigate alerts, treat patients in isolation facilities and improve infection, prevention and control in health facilities and in communities," says Dr. Matshidiso Moeti, WHO regional director for Africa, in a press release.
February  23: South Korean President Moon Jae-in announced the highest level of alert after the country surpasses 340 cases of COVID-19, the majority of which were discovered in the past few days. This empowers the government to take measures such as restricting public transportation and banning visitors from certain countries.
Europe faced its first major outbreak as the number of reported cases in Italy grew from fewer than five to more than 150. In the Lombardy region, officials locked down 10 towns after a cluster of cases suddenly emerged in Codogno, southeast of Milan. As a result, schools closed and sporting and cultural events were canceled.
Speaking to reporters on the White House lawn, President Trump stated that  "We have it very much under control in this country."
February 24: "We must focus on containment, while doing everything we can to prepare for a potential pandemic," says WHO Director-General Tedros Adhanom Ghebreyesus during a press conference.
The Asian Development Bank advised delegates planning to attend its annual meeting that it was monitoring the situation in South Korea, where the number of confirmed COVID-19 cases is now over 700, according to the latest situation report by WHO. The bank's 53rd annual meeting is scheduled to take place from May 2-5 in Incheon, South Korea.
February 2020 COVID 19
Stock Market crashes
February 24: stock market plummeted as Dow Jones Industrials fell more than 1,000 points.
The same day, Trump asks for $1.25 billion in emergency aid. It grows to $8.3 billion in Congress.
He tweeted that the virus "is very much under control" and the stock market "starting to look very good to me!"
February 2020 COVID 19
Africa's first case
February 25: Algeria reports its first case of COVID-19 — an Italian adult, who arrived in the country on February 17. This is the second confirmed case on the African continent.
Switzerland, Croatia, and Austria reported their first cases.
Iran's deputy health minister, Iraj Harirchi, who is leading the nation's COVID-19 task force, has contracted the virus.
February 26: Brazil confirms its first case of COVID-19, marking the first case in South America. Cases of the virus have now been confirmed on every continent except Antarctica.
Greece, Georgia, North Macedonia, Norway, Romania and Pakistan report their first cases of COVID-19.
The first case emerged in California with no clear source, suggesting community spread of the virus.
In a news conference that day, Trump says the United States is "really prepared." He put Vice President Mike Pence in charge of  the White House task force.
Trump also criticized the media accusing them of creating the crisis and that all was fine.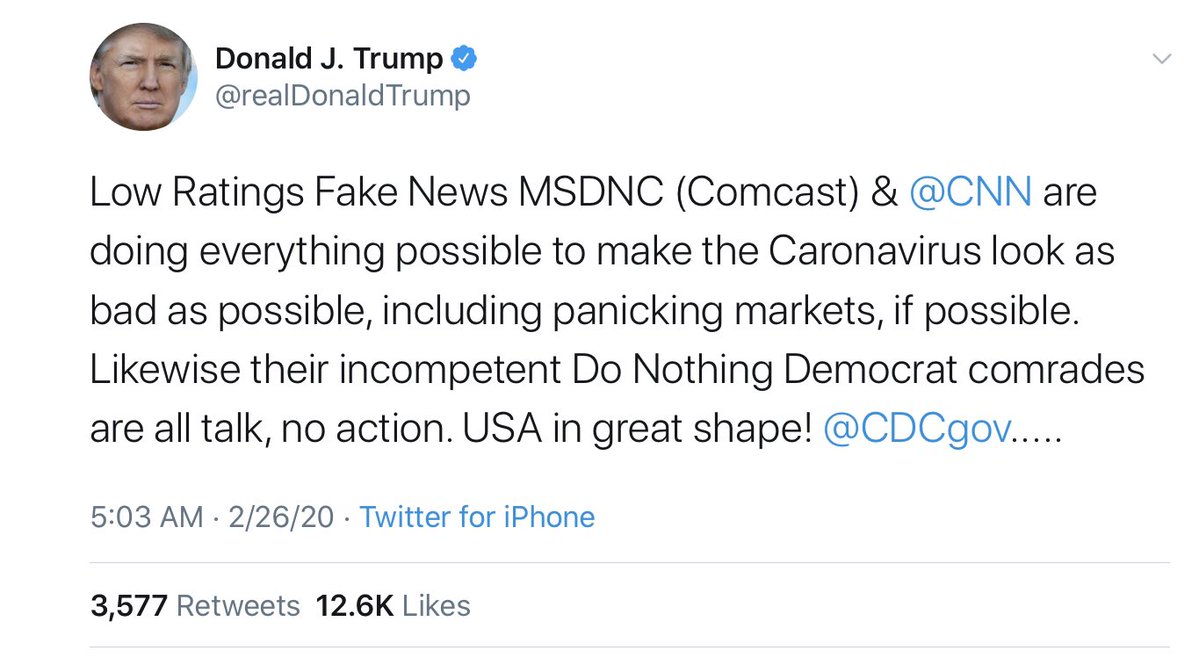 He added during a brief press conference: "We're going to be pretty soon at only five people," he said. "And we could be at just one or two people over the next short period of time. So we've had very good luck."
"I think every aspect of our society should be prepared," he added later. "I don't think it's going to come to that, especially with the fact that we're going down, not up. We're going very substantially down, not up."
February 27: the number of infections globally continued to grow. There were 3,474 cases of COVID-19 — including 54 deaths — outside of China in 44 countries.
President Trump stated, "It's going to disappear. One day — it's like a miracle — it will disappear."
February 28: the World Health Organization raised the global risk of spread of COVID-19 from "high" to "very high."
"This is a reality check for every government on the planet. Wake up. Get ready. This virus may be on its way, and you need to be ready," says Dr. Michael Ryan, executive director of the WHO Health Emergencies Programme, during a press conference.
Europe faced its first major outbreak as the number of reported cases in Italy grew from fewer than five to more than 150. In the Lombardy region, officials locked down 10 towns after a cluster of cases suddenly emerged in Codogno, southeast of Milan. As a result, schools closed and sporting and cultural events were canceled.
February 29: the World Health Organization updated its guidance on travel restrictions. While it continues to advise against travel or trade restrictions, it notes that in certain circumstances countries can use travel restrictions temporarily, such as in settings with few international connections and limited response capacities. It says that countries can only justify significant travel restrictions at the beginning of an outbreak to give a country time to implement preparedness measures for an outbreak.
"Travel bans to affected areas or denial of entry to passengers coming from affected areas are usually not effective in preventing the importation of cases but may have a significant economic and social impact," according to the guidance.
A patient near Seattle became the first coronavirus patient to die in the United States.
While speaking at the Conservative Political Action Conference, Trump again claims his administration has the coronavirus under control.
"I've gotten to know these professionals. They're incredible," Trump said. "And everything is under control. I mean, they're very, very cool. They've done it, and they've done it well. Everything is really under control."
It would be revealed later that a CPAC attendee tested positive for COVID-19, leading multiple Republican lawmakers who came into contact with him to self-quarantine.
February 2020 COVID 19
Fall 21 Winter 22 COVID 19