Rockarama at the Avalon
1969 Festival #1
5 Days of Music
Wednesday 26 March 1969
to
Sunday 30 March 1969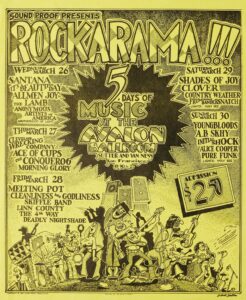 Knowing my interest in 1969 festivals in particular, friends send a link to a festival from that year. Most of the time, the festival is already on my list, but every once in a while, something new pops up.
I think I have all of what I personally define as a festival: outdoors and multi-day events that mainly showcase rock groups, keeping in mind how the definition of rock music had broadened by then.
I include Rockarama. Even though it does not meet my admittedly narrow definition, it's close enough to deserve at least a mention.
Having said that, a mention of the event itself is all it can get since there's little information I can find about it. Instead, I include something about the bands themselves and include a YouTube link if one is available, though not from Rockarama itself.
Given band's styles and YouTube samples available, the five days must have been very nice.
Rockarama at the Avalon
Wednesday 26 March
Santana
Of course, Santana was simply another band on March 26, 1969. Obviously a great band and a mostly unknown band. They didn't know that they were five months from fame.
It's a Beautiful Day: from an AllMusic bio: San Francisco psychedelic folk-rock unit It's a Beautiful Day was primarily the vehicle of virtuoso violinist David LaFlamme. After beginning his musical education at age five, LaFlamme later served as a soloist with the Utah Symphony, following an army stint by settling in the Bay Area in 1962. There he immersed himself in the local underground music scene, jamming alongside the likes of Jerry Garcia and Janis Joplin; after his short-lived Electric Chamber Orchestra splintered, LaFlamme also co-founded an early incarnation of Dan Hicks & His Hot Licks before assembling It's a Beautiful Day in mid-1967. The group — which originally included LaFlamme's keyboardist wife Linda, vocalist Pattie Santos, guitarist Hal Wagenet, bassist Mitchell Holman, and drummer Val Fuentes — issued its self-titled debut LP on Columbia in 1969, scoring their biggest hit with the haunting FM radio staple "White Bird." 
Rockarama at the Avalon
Allmen Joy
From a Darius…site: If Blue Cheer made cream cheese outta the air, then these guys musta crystalised the heavens on a good night. Some kind of a mix of Blue Cheer & Big Brother guitars, Country Joe & The Fish style ethereal moves & organ, & occasional Dead-like feedback & vocal insanity, mixed with 60s garage sounds & a nod to the Chambers Brothers… 60s West Coast manna from the vault.
Rockarama at the Avalon
The Lamb
From an AllMusic review: Lamb were formed by the duo of Texan singer Mauritz and multi-instrumentalist (though primarily guitarist) Bob Swanson. The two (writing both separately and together) was responsible for the band's material. They attracted attention in San Francisco when they opened for Crosby, Stills, Nash & Young for a few nights at Winterland in November 1969. Impresario Bill Graham became their manager, and producer David Rubinson, who had worked with notable groups such as Santana and Moby Grape, acted in that capacity for their first record. Their debut album on the Fillmore label, A Sign of Change, was perhaps their most uncompromising and experimental, relying largely on jazz-folk acoustic arrangements and spotlighting Mauritz's impressive voice on impressionistic, dream-like lyrics. 
Rockarama at the Avalon
Anonymous Artists of America
From a red-legacy article:The story of the AAA is fantastic. Their endeavor to be a band was jump-started by several gifts: the first was a full set of instruments financed by one of the artists, Lars Kampman, which was followed by Owsley Stanley's gift of 100,000 micrograms of (then legal) LSD. They were also given the second music synthesizer in the US by Don Buchla, its inventor, which took a year to build out at the highly influential Tape Music Center in San Francisco. The AAA were one of the first psychedelic bands at a time when rock and roll was redefined through massive advances in amplification technology and by music labels, like Capital Records who commissioned LSD fueled projects. The AAA frequently opened for the Grateful Dead and headlined at Ken Kesey's notorious Acid Test Graduation. Their performances went on for hours and weren't especially good, involving costumes and a topless bassist, handmade instruments and spontaneous improvisations that mixed with strobe lights and film projections, turning the show into a multi-sensory immersive experience.  
Rockarama at the Avalon
Thursday 27 March
Cleveland Wrecking Company
From the Roartorio site: The Cleveland Wrecking Company were formed in San Francisco in 1965. Their members came from jazz, flamenco and R&B backgrounds, but together their psychedelic brew verged on Blue Cheer heaviness. As perennial local favorites, they gigged at every stage in the area. They left behind no recorded artifacts during this time; a deal with Vanguard went nowhere, when their manager absconded to Mexico with the album advance on an ill-fated mission to buy a kilo of pot. A later incarnation of the band – with a completely different lineup and musical style – released a 45 that has since become a favorite of cratedigging DJs, but This is not That. These two tracks [follow link above] hail from 1967-8 : one studio, one live (the sonics on the latter may remind of the VU's "guitar amp" boot, but with a solo as overdriven and atonal as this, it's a plus). 
Rockarama at the Avalon
Ace of Cups
From their site: The Ace of Cups formed in San Francisco in 1967 and has been described as one of the first all-female rock bands. The members of the Ace of Cups were Mary Gannon (bass), Marla Hunt (organ, piano), Denise Kaufman (guitar, harmonica), Mary Ellen Simpson (lead guitar), and Diane Vitalich (drums). Making their mark in the burgeoning counterculture of the 1960's, they shared stages with Jimi Hendrix, Jefferson Airplane, and the Grateful Dead.
Rockarama at the Avalon
The Conqueroo
From a psychedelicbaby article: The Conqueroo were Ed Guinn (bass and keyboards), Charlie Pritchard (lead guitar), Bob Brown (guitar and lead vocals) and what seemed like a never-ending succession of drummers, who included Gerry Storm and Alvin Sykes. Somehow whilst the Elevators and co. all got deals at the time, the Conqueroo only got to release one 45 on Sonobeat and a posthumous LP put out in the 80s, From the Vulcan Gas Company.. The band was known for its blues based psychedelia, particularly its fuzzed-out, free form jams and wonderful deconstructed cover versions such as 'Knock on Wood' and 'Positively Fourth Street'.
Rockarama at the Avalon
Morning Glory
From an AllMusic review: The popularity of California rock bands with both female and male vocals was simply immense in the wake of the Mamas & the Papas and Jefferson Airplane. Morning Glory pay significant tribute to both bands on "Two Suns Worth," their obscure and only LP, though you can certainly hear some Byrds in some of the guitar licks, as well as traces of Bay Area psychedelic groups like Moby Grape in some of the arrangements. It's well-sung (with the sole woman in the group, Gini Graybeal, handling most of the lead vocals) and tightly played, with Abe "Voco" Kesh, most famous for his work with Blue Cheer, handling the production.
Rockarama at the Avalon
Friday 28 March
Melting Pot
I can find a song by this name by the UK band called Blue Mink from 1969, but cannot find a band by this name. Anyone?
Rockarama at the Avalon
Cleanliness and Godliness Skiffle Band
The band was descended from the Instant Action Jug Band (November 1964 – November 1965), which included Joe McDonald in its original lineup. Cleanliness and Godliness formed in December 1966 and went through various personnel changes. In March 1969, the band consisted of Judy Linsky (flute), Richard Saunders (bass), Tom Ralston (drums), Gary Salzman (dobro, mandolin), Phil Marsh (guitar, vocals), Annie Johnston (guitar, vocals), and Brian Voorheis (harmonica, guitar, vocals). The Chicken On a Unicycle site has a very thorough tree showing the band's various permutations.
Rockarama at the Avalon
Linn County
From Iowa Rock and Roll site: Linn County had its roots in Cedar Rapids, Iowa with Danceland and Armar Ballrooms providing a meeting place for musicians. Stephen Miller – organ, piano, vocals, Fred Walk – electric guitar, 12-string acoustic guitar, Dino Long – bass, Jerome "Snake" McAndrew – drums, Larry Easter – soprano & tenor saxophone, & Jay Magliori – baritone saxophone.  All Music said: An unusual late-'60s band that combined horn-embellished soul-rock with more interesting material utilizing jazz-colored arrangements and somewhat spacy songwriting. There were few parallels for this kind of thing at the time, other than perhaps the only slightly less obscure Insect Trust. A minor group, but at their best an intriguing one.
Rockarama at the Avalon
The 4th Way
From Springer link site: Formed in 1968, musical group The Fourth Way was among the first bands to merge rock, jazz, and non-Western musical approaches in a way that mirrored the mixed-race membership of the band—white New Zealander pianist Mike Nock, black American violinist Michael White, white American bassist Ron McClure, and black American drummer Eddie Marshall—a notable feature at the time. The band's eponymous debut and their second release, a live recording titled The Sun and Moon Have Come Together, were recorded in the fall of 1969. Their final recording,  Werwolf, was a live recording of their appearance in the 1970 Montreux Jazz Festival in Switzerland. However, with the exception of a small number of dates clustered around the band's appearance in Montreux, The Fourth Way rarely performed outside of the San Francisco Bay Area, limiting their exposure. 
Rockarama at the Avalon
Deadly Nightshade
There is a band called Deadly Nightshade, but it formed in 1970 from an all-female band called Ariel, so I'm pretty sure they didn't play Rockarama. There was a Deadly Nightshade lightshow out of San Francisco at this time, so… Here's a bit about that:  In 1967 and 1968, Deadly Nightshade [originally] consisted of myself [the author never identifies himself] , Carolyn Bunch, Tom Stewart, John Bossi and Bob Kano. Our equipment was a couple of overhead projectors with 650 watt halogen lamps, six manual slide projectors, an old 8mm film projector, and various special effects devices for doing reflectives.  We did shows at the UOP and towns around the San Joaquin Valley, but mostly at the club in Stockton. The bands we played with were mostly local, but occasionally we would get gigs with bands from LA (the Liquid Blues, Smoke) or the Bay Area (Steve Miller Band), who were touring through the California Valley. Starting in 1969 Deadly Nightshade focused on performing more in the Bay Area, including Napa,  Santa Rosa, Davis, Hayward, San Jose and San Francisco. Because we were new in the scene we made an effort to do anything we could for exposure and engagement. We were lucky to work with the San Francisco Tape Music Center and Don Buchla. We helped them produce the Pillow Show, and staged it in the newly renovated Exhibition Hall at the Palace of Fine Arts. The lightshow was projected on the outside of an inflatable translucent plastic "pillow" with capacity for about 20 people listening and viewing from the inside at one time. The effect was disorienting, but very much of the times.
Rockarama at the Avalon
Saturday 29 March
Shades of Joy
From AllMusic: The mysterious Shades of Joy recorded the wholly instrumental album The Music of El Topo in San Francisco, the LP finding release on the Douglas label in 1970. …it's an odd but listenable mix of early jazz-rock fusion, psychedelia, funk, and the kind of meditatively somber and pretty music you might expect to hear on the soundtrack to a period drama. And in fact most of the compositions are credited to film director Alejandro Jodorowsky, who was responsible for the early-'70s cult film El Topo. Fifteen musicians are credited with playing on the album, the most noted of them being occasional Grateful Dead/Jerry Garcia sideman Howard Wales (on electric keyboards), though there are also numerous percussionists, brassmen, and flutists; in fact, there are three combination flutist/tenor saxophonists alone. Martin Fierro (who played flute, tenor sax, alto sax, and cowbells, as well as being credited as a "scratcher") seems to have been the musician most involved with the project, also doing the orchestration and horn arrangements. 
Rockarama at the Avalon
Clover
From Discogs site: Clover had a two part career, the first in the late 1960's and early 1970's in the US and the second in the later 1970's in the UK. The group was formed in San Francisco in 1967 when Johnny Ciambotti joined up with John McFee, Alex Call and Mitch Howie who were members of a group called the Tiny Hearing Aid Company. Clover's first gig was July 4 1967. They performed around the Bay Area over the next two years eventually signing with Fantasy in 1969. They recorded two albums and one single for Fantasy in the early 1970's. Eventually an expanded line-up of the group moved to the UK in 1975 or early 1976. There they released two further albums, and (uncredited) backed Elvis Costello on his debut album My Aim Is True (1977). The group broke up in 1978 after returning to the US. The group is most well known outside the US for their version of Route '66 in the Levis Jeans commercial. Around 1976, Huey Lewis joined this band (credited as Huey Louis) and appeared on the two final Clover albums released 1977.
Rockarama at the Avalon
Country Weather
From AllMusic: Country Weather was one of the minor bands that were part of the San Francisco music scene of the mid- to late '60s. The group was formed in the San Francisco suburb of Walnut Creek, CA, by high school students Dave Carter (bass and vocals) and Steve Derr (rhythm guitar and vocals) as a cover band called the Virtues in 1966. They were joined by Paul White (lead guitar) and Craig T. Nelson (drums) (not the actor of the same name), who were soon replaced by Greg Douglass and Bill Baron. In 1967, they auditioned for promoter Chet Helms, who suggested they change their name and stop playing covers. Soon after, they became Country Weather. Over the next few years, they played frequently at such San Francisco venues as the Avalon Ballroom, the Fillmore Auditorium, and Winterland, opening for many of the renowned acid rock bands of the day, as well as up and down the West Coast. But they were never signed to a national record contract. In 1969, they recorded their own one-sided, five-song disc, which earned airplay on local radio stations.
Rockarama at the Avalon
Fruminous Bandersnatch
From Psychedelicized site:  from Lafayette, CA, Frumious Bandersnatch is often said to be one of the most underrated bands to emerge from the San Francisco scene in the late 60s. Their sole EP is regarded as one of the better offerings of the period that should have found much greater success. Originally known as All Night Flight, they changed their name in 1967 to Frumious Bandersnatch after a character in the Lewis Carroll poem 'Jabberwocky'. Original members included Dave Denny (lead guitar, vocals), Jack King (drums, vocals), Brian Hough (bass) and George Tickner (guitar). Denny soon left the band for a brief period and was replaced by Kaja Doria (vocals) and Bret Wilmot (guitar). It was this lineup that first recorded the band's material, including an early version of 'Cheshire'. Nothing was officially issued at the time.
Sunday 30 March
Youngbloods
From AllMusic: The Youngbloods could not be considered a major '60s band, but they were capable of offering some mighty pleasurable folk-rock in the late '60s, and produced a few great tunes along the way. One of the better groups to emerge from the East Coast in the mid-'60s, they would temper their blues and jug band influences with gentle California psychedelia, particularly after they moved to the San Francisco Bay Area. For most listeners, they're identified almost exclusively with their Top Ten hit "Get Together," but they managed several respectable albums as well, all under the leadership of singer/songwriter Jesse Colin Young. 
A.B. Skhy
From AllMusic: A.B. Skhy was a blues-rock quartet from San Francisco consisting of guitarist Dennis Geyer, keyboard player Howard Wales, bass player Jim Marcotte, and drummer Terry Andersen. This lineup made the group's debut album, A.B. Skhy, in 1969, with a seven-piece horn section. The album failed to chart, but the instrumental "Camel Back" hit number 100 on the Hot 100 for one week in December. Andersen and Wales then left and were replaced by guitarist James "Curley" Cooke and drummer Rick Jaeger for the group's second album, Ramblin' On (1970), which was produced by Kim Fowley. They broke up during the recording of their third album.
Initial Shock
From Psychedelicized site: Originally formed in 1966 as The Chosen Few, The Initial Shock was a psychedelic rock band from Missoula, Montana.  Composed of members from Missoula bands Mojo's Mark IV and The Vulcans, the band changed its name to The Initial Shock in 1967, moving to San Francisco that same year. The band only produced two records during their incredible time together as a band. "Mind Disaster" b/w "It's Not Easy" and "You've Been a Long time Coming" backed with "I Once Asked". Both were regional hits in the western USA and also in the Top 10 Southern Survey where the lead singer, Mojo Collins was, and still is from. Members of the band included Mojo Collins, (guitar, lead vocals), Brian Knaff, (drums, vocals),George F. Wallace, (lead guitar), Steve Garr, (bass) and George A. Crowe (road manager).
Alice Cooper
The now well-know band had just recently become "Alice Cooper"  and would release their first album in June. From Wikipedia:  Originating in Phoenix, Arizona, in 1964, "Alice Cooper" was originally a band with roots extending back to a band called The Earwigs 1964, consisting of Vincent Furnier [Alice Cooper] on vocals and harmonica, Glen Buxton on lead guitar, and Dennis Dunaway on bass guitar and background vocals. By 1966, Michael Bruce on rhythm guitar joined the three and Neal Smith was added on drums in 1967. The five named the band 'Alice Cooper' and released their debut album in 1969 with limited chart success.
Rockarama at the Avalon
Pure Funk
A popular Indiana college funk band, founded in 1969 by keyboard player, Michael Read, vocalist, Asher "Adam Smasher" Benrubi, and guitarist, Rob Swaynie. The band later became the more successful Roadmaster. Fifty years later…
Poster Art: Gilbert Shelton
Gilbert Shelton's talents surfaced early with his silly superhero spoof 'Wonder Warthog' which was published in a campus magazine in 1959 (Ranger). In May 1968 he introduced 'The Fabulous Furry Freak Brothers' in the newspaper Rag, starring Phineas, Freewheelin' Franklin and Fat Freddy.
Rockarama at the Avalon
Next 1969 festival: Palm Springs Pop Festival.