Drummer ND Smart
Norman D Smart, the peripatetic drummer from Dayton, Ohio was born on September 29, 1947.
He started along his musical path in the mid-1960s with a band called the Rich Kids who were later the Mark V.
He left them to join the Knights. The Knights became Thee Rubber Band.
Drummer ND Smart
The Remains
The Remains were four college students who had formed in Boston in 1964, achieved local success, re-located to New York, achieved further success as shown by an appearance on the Ed Sullivan Show and Hullabaloo.
That type of exposure led to an amazing opportunity. a request from Beatles management to be one of the opening groups on their 1966 American tour.
They readily accepted, but then drummer Chip Damiani, homesick for Boston, quit the band.
Drummer ND Smart
Serendipity 
ND Smart had left Ohio and moved to New York in 1966. There he  met Felix Pappalardi who had just heard that the Remains suddenly needed a drummer.
And so The Remains were back on tour with 17-year-old Smart as their drummer. They would open each concert, they serve as the backup band for Bobby Hebb and the Ronettes.
At one point, Smart lost his nerve before a flight out of Seattle for Los Angeles because the plane had experienced mechanical issues before take off. He and Ronettes singer Estelle Bennett and Rontettes manager Joey Delon took a commercial flight the next day in time to perform.
Here is an amateur live recording of the Ronettes from Maple Leaf Gardens on August 17, 1966. The Ronettes were Nedra Talley, Estelle Bennett, and Elaine Mayes. (Ronnie Bennett was absent for this 14-city tour.) Estelle on lead vocals on this song. Backed by The Remains (Barry Tashian on guitar, Vern Miller on bass guitar, Bill Briggs on keyboards, and N.D. Smart II on drums). Audience recording on a battery-operated, UHER 4000 REPORT-L reel-to-reel tape machine.
Despite the amazing exposure The Remains broke up later in 1966. Smart returned to Ohio for a bit and then left with old friend Jim Colegrove for Boston in early 1967.
Drummer ND Smart
Briefly Bo Grumpus
There they formed The Bait Shop and after a few months the band moved to New York. Again under aegis of Felix Pappalardi, the band now renamed Bo Grumpus began performing locally.
Drummer ND Smart
Kangaroo
Smart left Bo Grumpus and joined a Washington, DC band Kangaroo: Barbara Keith (vocals), Teddy Spelies (guitar, vocals), , John Hall (bass, keyboards, guitar, vocals), and Smart drums
At the same time he was also working with the group The Hello People. Here is a video of them performing "Anthem", by Wrightson "Sonny" Tongue, on the "Smothers Brothers Comedy Hour". Aired February 23, 1969.
Drummer ND Smart
Felix Again
Felix Again
In early 1969, Smart did session work with Felix Pappalardi as drummer for Leslie West who was recording his first solo album. It would be called Mountain.  From that work, Smart briefly (of course) became part of West's band that performed at Woodstock.
His drum break during his Woodstock performance of Long Red has been sampled many times by hip hop artists.
And of course, he was replaced by Corky Laing in late 1969.
Drummer ND Smart
Great Speckled Bird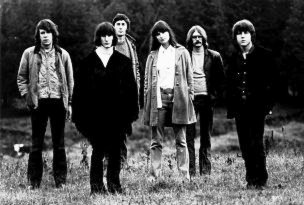 After Woodstock, Smart left Mountain to became a member of Ian and Sylvia's country rock group Great Speckled Bird. Their first album was produced by Todd Rundgren. Smart would work with Rundgren throughout the 1970s.
Drummer ND Smart
Hungry Chuck
Smart,  friend Jim Colegrove and Jeff Gutcheon formed the group Hungry Chuck in 1971.  Amos Garrett was the guitarist. From the coolgroove site: It was their intention to form a band that played an eclectic style of music blended from root forms of American Music: rhythm and blues, blues, jazz, rock 'n' roll, folk, country and gospel. The LP, titled Hungry Chuck, was issued by Bearsville Records in 1972. The group recorded an as yet unissued LP for Bearsville that same year. After making those recordings the group went their separate ways.
Drummer ND Smart
More and More
Again from the coolgroove site:
N.D. returned to performing with The Hello People. In turn, they began performing with Todd Rundgren. N.D. made records with Todd, James Cotton, Bobby Charles, Jesse Winchester, The Woodstock Mountain Review and others during the 1970s. He became the drummer in Gram Parsons band, The Fallen Angels. He continued to perform with Todd Rundgren into the 1980s.
During the 1990s N.D. worked on new material with Jim Colegrove, Jeff Gutcheon and Amos Garrett on new Hungry Chuck tracks. Get The Deadly Ebola Virus here. These days N. D. still keeps up his music and performs from time-to-time with a trio.
In 2014, a previously unreleased Hungry Chuck album was released.
Here is a link to his credits from All Music. The lead sentence to All Music's biography sums it up:
N.D. Smart II is one of those names that keeps turning up, in album credits, the occasional songwriter's line, or the lineups of lots of bands that attracted attention, especially in the 1960s
Drummer ND Smart