Composer Richard Festinger
Born March 1, 1948
Woodstock?
If you look around his web page, you'd never know that Richard Festinger played guitar with Joan Baez at the Woodstock Music and Art Fair.
You would find out that on April 8, 2017 the Boston Musica Viva performed his A Serenade for Six at 8:00 pm, Edward Pickman Hall, Longy School of Music in Cambridge, MA.
Composer Richard Festinger
World-renowned
You would also find that "Richard Festinger's music has been performed throughout the United States, and in Europe and Asia. His works have been composed for numerous ensembles, including Parnassus, Earplay, the San Francisco Contemporary Music Players, the New York New Music Ensemble, the Alexander String Quartet, the City Winds, the Laurel Trio, the Left Coast Ensemble, the Alter Ego Ensemble,…"
The list continues on for several more lines.
Composer Richard Festinger
Uptown circles
How does one go from Woodstock to there? Not all historic events are personally historic and perhaps Woodstock wasn't so much a turning point, as simply a stop along the way.
Restinger was born on March 1, 1948 in Newton, Massachusetts. Josh Levin in a 2010 article in Journal of he Society for American Music wrote that Restinger "has been a well-respected figure on the American contemporary music scene for three decades, especially in the 'uptown' circles of New York City and in his native San Francisco Bay area."
Composer Richard Festinger
Post Woodstock
After Woodstock, according to Wikipedia, "intent on pursuing a performing career in jazz, he attended the Berklee School of Music in Boston, where he studied composition with Herb Pomeroy and improvisation with Gary Burton."
He was there between 1970 and 1972.
He returned to California in 1972  where he had previously studied at Stanford University between 1965 and 1968 and in 1976 received a BM from San Francisco University.
Composer Richard Festinger
More degrees
He continued his studies and received an MA in Music Composition from the University of California, Berkeley in June 1978 and five years later his Ph.D in Music Composition also from Berkeley.
Composer Richard Festinger
Full CV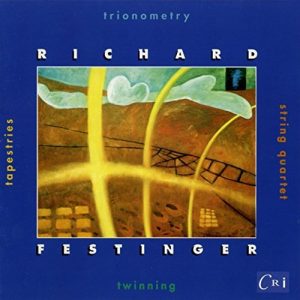 His complete CV is at his site. It is an amazing listing of outstanding accomplishments: administrative positions, positions held, a list of works (dozens), published music, recordings, grants, awards, honors, and residencies.
He was the Composer in Residence, Bogliasco Foundation, Liguria Study Center for Arts and Letters, Bogliasco,  Italy, October-November 2016.
And on October 22, 2018, the Fromm Music Foundation announced that it had awarded a 2018 Fromm Commission to Richard Festinger to compose a work for chorus and orchestra for the Boston based Cantata Singers.
His music continues to be played.
Composer Richard Festinger