1966 November 5 Music
It was 1966. Beatlemania, the civil rights movement, and the Vietnam  may have dominated the headlines, but the most popular music didn't always mirror those headlines. The November 5 #1 single subtly did, but the #1 album did not. 





The Monkees and Dr Zhivago offered Americans differing sensibilities.
Monkees, Last Train to Clarksville
Vietnam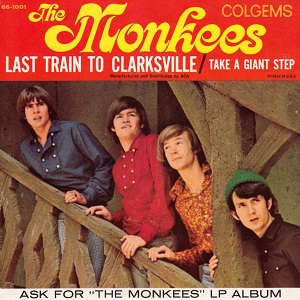 November 5 – 11, 1966: "Last Train to Clarkesville" by the Monkees #1 on the Billboard Hot 100. Tommy Boyce and Bobby Hart wrote it. They were a songwriting team who came up with many songs for the Monkees,

Colgems released the single on August 16, 1966. The song was also on the Monkees first album. The song's lyrics tell the story of someone asking his girlfriend to meet him at the railroad station as he's leaving. Because of the context [1966 and Vietnam] it was understood to mean that the man was leaving for that war and "I don't know if I'm ever coming home."

The Songfacts site states: according to the liner notes on the 1994 reissue of the album...members of a group called the Candy Store Prophets did the instrumental backing on this track at a session that took place July 25, 1966 at RCA Victor Studios in Hollywood. The Candy Store Prophets were Tommy Boyce and Bobby Hart's band, and included Boyce on acoustic guitar, Gerry McGee on electric guitar, Larry Taylor on bass and Billy Lewis on drums. Additional musicians on this track were Wayne Erwin and Louie Shelton on guitar, and Gene Estes on percussion.
1966 November 5 Music
Dr Zhivago, Soundtrack
November 5 – 11, 1966: the soundtrack to Dr Zhivago is the Billboard #1 album. David Lean directed the film which starred Omar Sharif and Julie Christie. The story is set in Russia before World War I and the Russian Revolution in 1917. The  movie was based on the Boris Pasternak novel which was popular in Western countries but banned in the Soviet Union. It was filmed mostly in Spain.

The New York Times said of the film, "In the 3 hours and 17 minutes (not counting intermission time) it takes to move Robert Bolt's dramatization of Boris Pasternak's 'Doctor Zhivago' across the screen, a few rather major things happen." (NYT review)
Please follow and like us: