BST Lew Soloff
February 20, 1944  –  March 8, 2015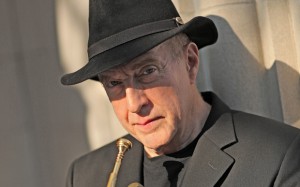 Soloff was born in Brooklyn and raised in Lakewood, NJ where he began studying piano at an early age. When he was ten, he took up the trumpet, eventually attending the Juilliard Preparatory School and, later, the Eastman School of Music in Rochester, NY.
He became one of the most respected jazz musicians of his generation.
After one year of graduate school at Julliard, Lew became involved in the New York Latin jazz and jazz scene, playing with artists like Maynard Ferguson, Joe Henderson, Tito Puente and Gil Evans.
He joined Blood, Sweat and Tears in time to be part of their second album, Blood, Sweat & Tears (he replaced Randy Brecker). The album won GRAMMYs for Album Of The Year and Best Contemporary Instrumental Performance ("Variations On A Theme By Eric Satie").
From February 10, 1969
BST Lew Soloff
Woodstock Music and Art Fair
Blood, Sweat and Tears performed early Monday morning at the Woodstock Music and Art Fair after Johnny Winter and before Crosby, Stills, Nash (and Young).
For some artists, Woodstock was a pinnacle. Blood, Sweat, and Tears did not get much traction out of Woodstock as they did not appear in the movie or on the album, but they were already Grammy successful.
Soloff remained with BS & T for four more albums and remained in music playing with dozens of different bands for the rest of his life.
BST Lew Soloff
Much more later
The Allmusic.com site synopsis states:  Soloff was closely associated with Gil Evans from 1973 on, and also played with George Gruntz's Concert Jazz Band, the Manhattan Jazz Quintet, and Carla Bley; he was also teamed with the colorful trombonist Ray Anderson on several often-humorous recordings.
Daniel E Slotnick wrote in the New York Times, Mr. Soloff had little use for genre limitations. He was a session musician for Barbra Streisand, Frank Sinatra and Lou Reed; he was the lead trumpeter of both the Carnegie Hall Jazz Band and the Lincoln Center Jazz Orchestra; he tackled Bach as a member of the quintet Manhattan Brass.
The man play A LOT! Here is his discography at Wikipedia or here for the AllMusic list. Your fingers will tire.
BST Lew Soloff
Death
Lew Soloff died of a heart attack in Brooklyn on March 8, 2015. His daughter, Laura Solomon, wrote the following at her Facebook page:
Tonight I lost my dad. We flew to New York to spend the week with him and my sister, enjoyed the day together, had dinner at our favorite grub spot. On the way home, he suffered a massive heart attack and collapsed into my arms on the sidewalk in front of my husband and children. I performed CPR with the help of a passerby and continued to assist after EMTs arrived. He died at the scene, was resuscitated, made it through an angioplasty but couldn't stabilize afterward and passed away just before 1:00 AM.
My dad was amazing. He could drive me fucking crazy, but that didn't make him any less essential to my life. He loved his grandkids. He loved my sister and me. He was one of the greatest trumpet players in the world and I'm so proud to be his daughter. I'm so happy to carry on a fraction of his musicality in the now rare moments that I pick up my violin.
Dad had more friends than anyone I know. He was always on the phone. Always. Even when it was totally inappropriate. He was so loved by so many. His life overflowed with people who cared for him. I am so thankful for you all.
I am devastated. I can't picture my life or my kids' lives without him in it. It doesn't seem real. It's definitely not fair. But I am so grateful to have spent my dad's last day on Earth together in New York City.
Please keep my family in your thoughts and respect our privacy during this awful time. We're hurting badly.
BST Lew Soloff
Lew Soloff
Lew Soloff performs the Hoagy Carmichael classic, "Georgia on my Mind" at the Velvet Note in Alpharetta, GA. Kenny Banks on piano, Che Marshall on drums and Kevin Smith on bass. Photographed and edited by Richard Angle.
Reference >>> UK Telegraph obit
BST Lew Soloff