Percussionist Bobby Torres
How do you get your ticket punched for Woodstock?  Many ways. For Bobby Torres it was to begin by growing up in New York City, the child of parents from Puerto Rico, and to love playing the congas.
OK, but what about becoming part of Joe Cocker's Grease Band?
Percussionist Bobby Torres
Grease Band
Well, in 1969 [in an interview with Mike Walker] Bobby relates: I saw him in 1969 playing at Fillmore East, playing with Rod Stewart and the Faces. He had the hit "Feelin' Alright," which was recorded with a conga player, but when he played it live he didn't have a conga player. So he was billed at the Fillmore East, and he went to Ungano's where I was playing on a Monday night, and asked me if I could sit in. And I said, "Sure.""
Percussionist Bobby Torres
LA > Portland > Tom Jones
The Grease Band disbanded soon after Joe Cocker left them and Bobby Torres moved to Los Angeles for the 70s where he became a key session player and then in the 80s he moved to Portland, Oregon but was often on the road as part of singer Tom Jones's band.
Percussionist Bobby Torres
Bobby Torres Ensemble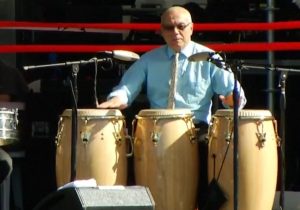 By the 90s, Bobby Torres was back full time in Portland and became in integral part of that city's musical scene, both jazz and Latin, with his Bobby Torres Ensemble.
Mike Walker of Portland's McMenamins Crystal Ballroom says that, "Bobby's ensemble has been a monthly feature of the Crystal Ballroom's Salsa con Sabor program, staged weekly in Lola's Room on the building's second floor. "
Percussionist Bobby Torres
Tito Puente
Bobby Torres wants everyone to know that his musical hero is musician, songwriter and record producer, the The King of Latin Music Tito Puente. Puente was based in New York City and Torres went to hear him play whenever given the chance.
Percussionist Bobby Torres
More recently
2009
inducted into the Oregon Music Hall of Fame

performed for Archbishop Desmond Tutu

Time Magazine published "Woodstock, How Does it Sound 40 Years Later?" an article which included a photo of Bobby in performance on stage with Joe Cocker at Woodstock
2015
Bobby performed with the Tadeschi Trucks band to a crowd of over 25,000 people at the Lockin' Festival in Virginia. This concert was a tribute to Joe Cocker and featured many of the original members of Mad Dogs & Englishmen.
2016
Bobby was given the Jazz Journalist's Association Jazz Hero Award. This award is given to advocates, altruists, activists, aiders and abettors of jazz who have had significant impact in their local communities.
Percussionist Bobby Torres
Nowadays
He's still busy…just as he's been for decades.
Percussionist Bobby Torres
The Letter
Percussionist Bobby Torres