1965 Beatles Release Help album
UK, August 6, 1965
US, August 13, 1965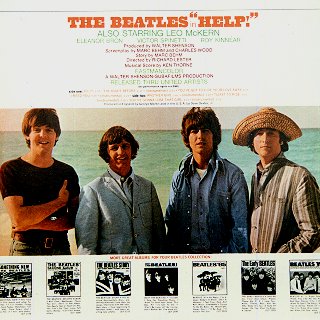 1965 Beatles Release Help album
UK
Parlophone released the Beatles' fifth UK album, Help!, on August 6, 1965.
It was mainly the soundtrack to the movie of the same name. The premiere of Help, the movie, had occurred the week before on July 29 at the London Pavilion Theatre. Princess Margaret and the Earl of Snowdon attended.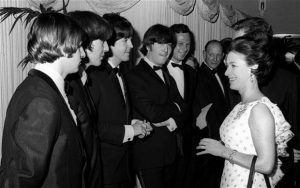 Critics, at the time, did not praise the movie Help! as enthusiastically as they had the 1964 A Hard Day's Night.
The New York Times Bosley Crowther wrote at the time, "Those royal rock'n'rollers, the Beatles, are making merry in a movie again—this time in a plush and far-ranging color picture entitled "Help!" And the kindliest way to describe it, with malice toward none and charity for all, is to label it 90 crowded minutes of good, clean insanity."
1965 Beatles Release Help album
The UK album
The first side of Help! featured seven songs from the film. The flip side contained another seven songs.
Side one

Help!

The Night Before

You've Got the Hide Your Love Away

I Need You

Another Girl

You're Going to Lose That Girl

Ticket to Ride

Side two

Act Naturally

It's Only Love

You Like Me Too Much

Tell Me What You See

I've Just Seen a Face

Yesterday

Dizzy Miss Lizzy
1965 Beatles Release Help album
The American album
The North American version was the the band's eighth Capitol Records album. It included the songs in the film plus selections from the orchestral score composed and conducted by Ken Thorne.
Three other American albums had all of the non-movie tracks from Side 2 of the British album.
Here is the spread:
Beatles VI: "You Like Me Too Much", "Tell Me What You See", and "Dizzy Miss Lizzy."

Rubber Soul: "It's Only Love" and "I've Just Seen A Face"

Yesterday and Today: "Yesterday" and "Act Naturally"
1965 Beatles Release Help album
Semaphore
Though in slightly different poses, the Beatles appear on both covers with arms out at different angles. Clever fans realized that the boys were using semaphore–the flag system that Claude Chappe and his brothers had developed in France in 1790. Letters depend on the arm angles.
Thus to signal the letters to spell help, the person would do the following: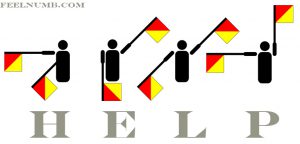 Unfortunately, the Beatles' arm angles do not spell out H-E-L-P,  but…
1965 Beatles Release Help album
Help,  Beatles Release Help,  Beatles Release Help,