Resting Miles Davis Beaten
Miles Dewey Davis III was born on May 26, 1926 in Alton, Illinois and raised in East St Louis.
He became a jazz trumpeter, a bandleader, and a composer, and is among the most influential and acclaimed figures in the history of jazz and 20th-century music.
In 1955 and 1957 he was voted Best Trumpeter in the Down Beat Readers' Poll. 
He was nominated for 32 Grammy Awards and won 8, including a Lifetime Achievement Award.
Oh yea, he was an African American.
August 25, 1959
On August 17, 1959 Columbia Records had released his Kind of Blue album. Kind of Blue is regarded by many critics as the greatest jazz record, Davis's masterpiece, and one of the best albums of all time.
A week later, on August 25, Davis had just finished a set recording an Armed Forces Day broadcast for Voice of America. at the famous Birdland  in New York City. He'd been with Cannonball Adderley, John Coltrane,  Wynton Kelly, Paul Chambers, Jimmy Cobb, and Ray Barrett.
Around midnight and before the next set, he went outside to get a taxi for a friend and then had a cigarette.
A cop–white–came along and told Davis to move along.
Resting Miles Davis Beaten
"That's my name up there"
From the boatagainstthecurrent.blogspot.com site:
"Move on, what for?" Davis asked. "I'm working downstairs. That's my name up there, Miles Davis."
The officer repeated his command, then decided to make an arrest when Davis gave him a hard stare. The cop claimed that Davis pulled away, then tried to grab his nightstick; Davis, who'd taken boxing lessons, said he was moving forward to cushion the force of any blow that might come.
One of three detectives passing by saw the cop falling forward, then rushed toward the musician, pounding him repeatedly on the head with his nightstick.
The beating occurred in a terrible moment in New York, when a deeply racist police force was bringing to the surface long-simmering anger among African-Americans. Not long before, the arrest of a drunken woman in Harlem had led to a riot that required the intervention of boxer Sugar Ray Robinson to quell.
This time, with more than 200 people yelling for the cops to stop beating Davis, the potential for trouble seemed just as great. Hauled down to the 54th Street precinct headquarters, the musician was, he said later, constantly provoked by cops, then booked for disorderly conduct and assaulting an officer. A doctor from St. Clare's Hospital put five stitches in his scalp.
Resting Miles Davis Beaten
In His Own Words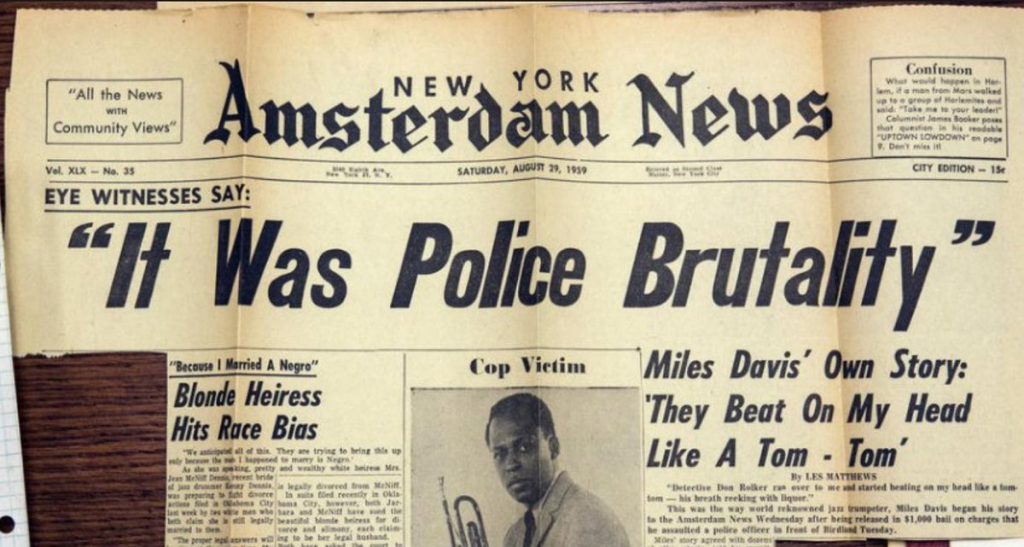 From Davis's autobiography:
I had just finished doing an Armed Forces Day broadcast, you know, Voice of America and all that bullshit. I had just walked this pretty white girl named Judy out to get a cab. She got in the cab, and I'm standing there in front of Birdland wringing wet because it's a hot, steaming, muggy night in August.
This white policeman comes up to me and tells me to move on. I said, "Move on, for what? I'm working downstairs. That's my name up there, Miles Davis," and I pointed to my name on the marquee all up in lights.
He said, "I don't care where you work, I said move on! If you don't move on I'm going to arrest you."
I just looked at his face real straight and hard, and I didn't move. Then he said, "You're under arrest!" He reached for his handcuffs, but he was stepping back…I kind of leaned in closer because I wasn't going to give him no distance so he could hit me on the head…A crowd had gathered all of a sudden from out of nowhere, and this white detective runs in and BAM! hits me on the head. I never saw him coming. Blood was running down the khaki suit I had on.
Resting Miles Davis Beaten
Media view
The NY Times reported the following day: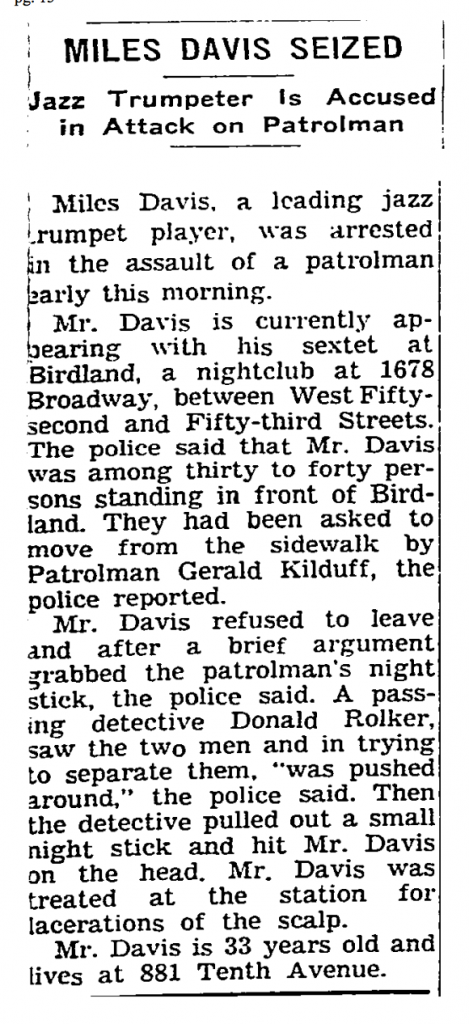 On August 27 it reported: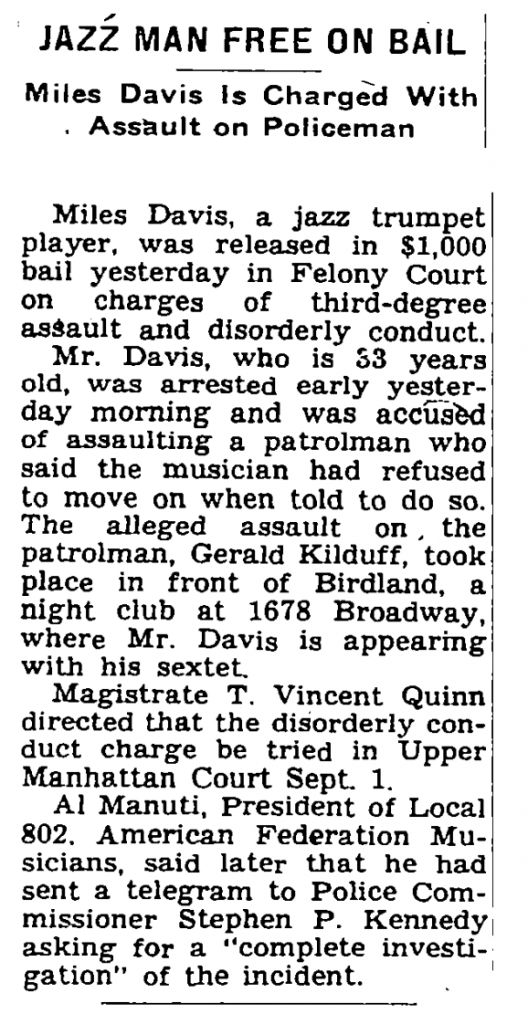 It was more than a year later that justice was finally served:

Note well that Gerald Kilduff, the arresting officer, "may well have been guilty of misguided zeal and not a deliberate violations of law, in placing the defendant under arrest for disorderly conduct , a charge later dismissed in the Magistrate's Court."
That's about all the "justice" a innocent black person could get.
Resting Miles Davis Beaten